Microsoft Edge includes a performance booster that helps launch the browser rather quickly. It is the Startup Boost feature that can reduce the loading time. But, recently, users have reported that the Microsoft Edge Startup Boost is greyed out or turned off. In this post, what you can do if the Microsoft Edge startup boost is greyed out or turned off.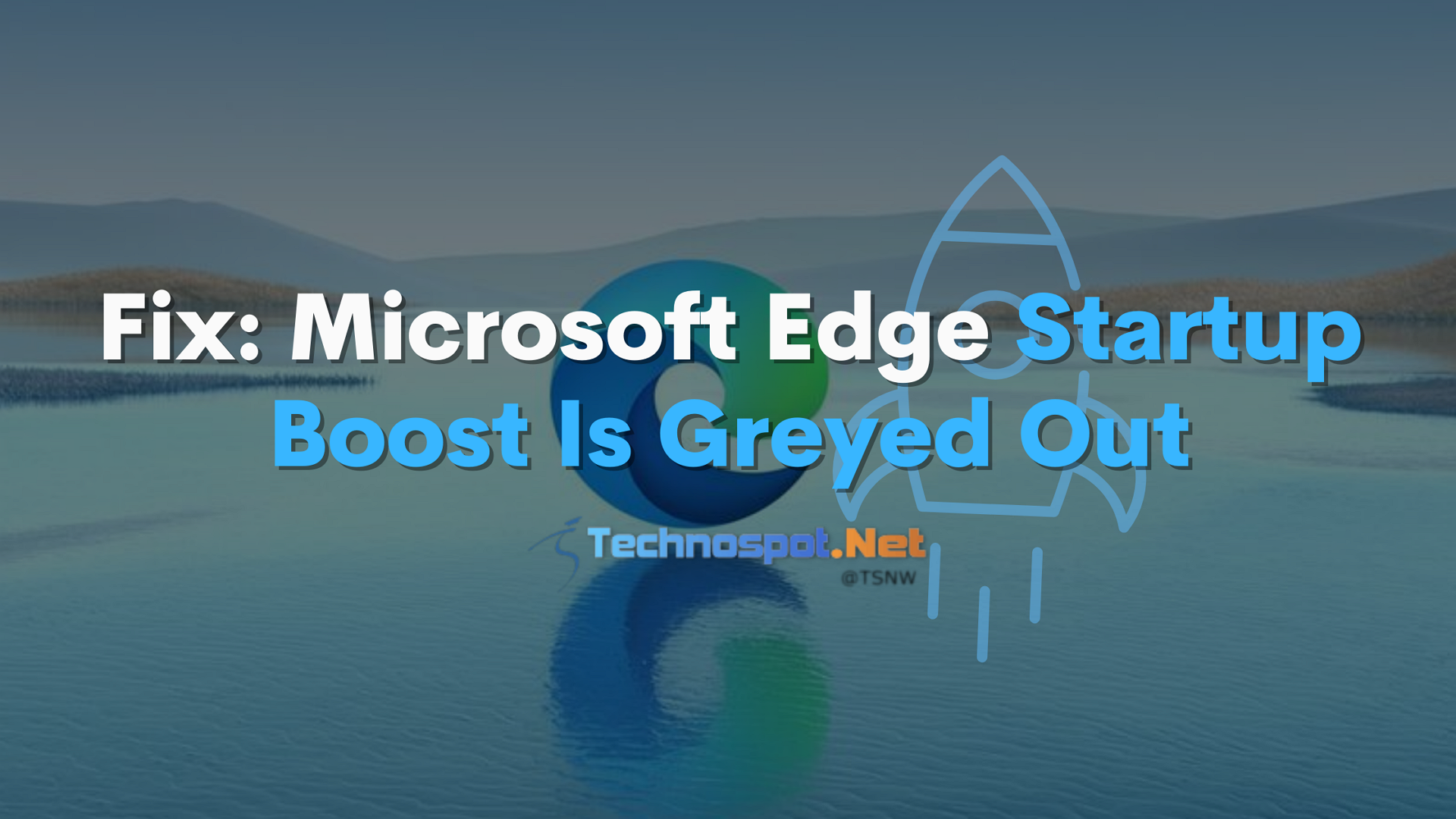 What Is Microsoft Edge Startup Boost?
As you may have guessed, this Startup Boost feature improves the startup speed of Microsoft Edge. This feature uses as few resources as possible to run a set of Microsoft Edge processes in the background. When enabled, even after you close all of its browser windows, several processes continue to run in the background to help you open the browser quickly when you launch it via the taskbar or desktop shortcut.
Microsoft claims that when the Startup Boost feature is enabled, the startup time improves from 29% to 41%. Also, processes running in the background don't impact system resources.
To check if this feature is enabled, you can go to the Startup menu in the Taskbar and check if Microsoft Edge is visible or not.
Fix: Microsoft Edge Startup Boost Is Greyed Out or Turned Off
If you are experiencing this issue, there are multiple methods you can use if the Microsoft Edge Startup Boost feature is greyed out. You may proceed with the instructions without obtaining Administrative permission.
Disable Extensions
Disable Sync for Extensions
Create New Profile
Enable using Registry Editor
Reset Microsoft Edge
We'll take a quick look at each step. You should be aware that these steps should only be taken if you see the Startup Boost toggle is greyed out the feature. Check if you can turn on the boost feature after each method.
1] Disable Extensions
We all use extensions in our browsers to make our job easier. But sometimes, these extensions can be the cause of this issue. If there's any problem with the extensions, the browser will point it out.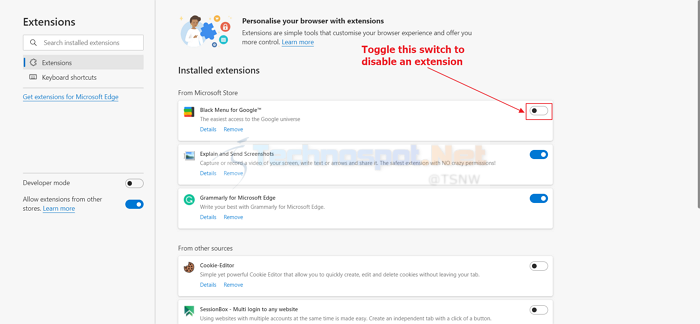 Go to Microsoft Edge Settings > System & Performance. Then locate the Startup Boost section and check whether there's an issue with the extensions. If yes, note the name of the extension.
Then go to edge://extensions/ and toggle off the extension causing the problem. And if there's no prior warning and the option is still greyed out, disable all the extensions. Try turning them on one by one and figure out which one is the root of the problem.
2] Disable Sync for Extensions
Data sync is now a standard feature found across all the browsers. If you have data sync enabled across all your devices, it will sync extensions, favorites, passwords, etc.
So whatever extension you install on one PC will also sync to another PC because of the data Sync. It is a possible extension from your other PC that is creating a problem here.
If that's the case, you should disable the syncing of extensions. Go to edge://settings/profiles/sync in the address bar, and turn off the option for extensions. Once done, remove whatever is not needed on that PC

3] Create A New Profile
If the above methods didn't work for you, try creating a new profile or deleting the current one. By creating a new profile, the Microsoft Edge browser launches with everything new without any prior existing faults.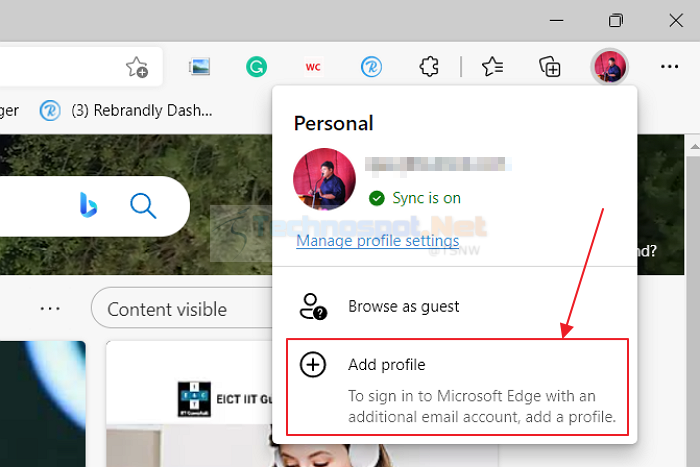 To create a new profile, click on the profile icon on the top-right corner of the screen, and click on Add Profile. Be sure to create it without any data or an Email account.
Finally, open Edge, go to the edge://settings/system, and check if you can enable the Microsoft Edge Startup Boost. If yes, go ahead, and set up your profile.
4] Enable or Disable Startup Boost on Microsoft Edge using Registry Editor
If you are trying to enable or disable Startup boost in Microsoft Edge, but due to an error, it does not work, here's how you can do it manually by modifying the registry entry,
Close Microsoft Edge and ensure it's not running in the background
Open the Registry Editor by typing regedit in the Run prompt and pressing the Enter key
After opening the Registry Editor, go to the following path:
HKEY_LOCAL_MACHINE\SOFTWARE\Policies\Microsoft
If you can't find Edge there, create it. Right-click on Microsoft and choose New > Key
Type the name Edge and press Enter.
Right-click on the empty space in the right pane.
Select New > DWORD (32-bit) value.
Enter StartupBoostEnabled and hit Enter. Now, double-click on it.
In the Value data, enter 0 (disabled) or enter 1 (enabled).
Press the OK button.
5] Reset Microsoft Edge
If you've tried everything and none of the above methods have worked, your last option is to reset the Microsoft Edge browser completely. It will undoubtedly resolve all of your current browser issues. Keep in mind that resetting your browser will result in the deletion of your existing data, irreversible.
To Reset, open Edge Settings and click on Reset settings. Then click on the Reset button to complete the process.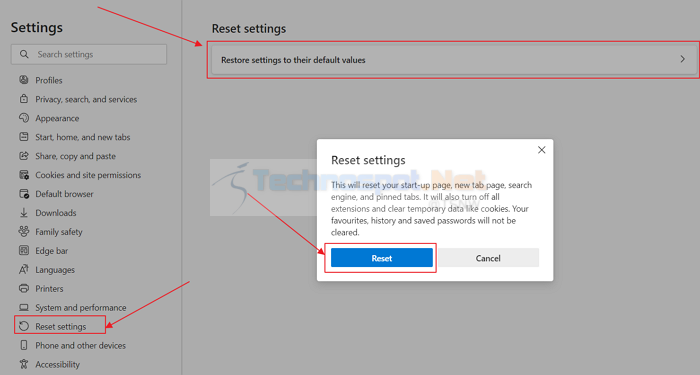 We hope the post was easy to follow, and you were able to fix the Microsoft Edge startup boost is greyed out or turned off issue.
Why Is the Startup Boost Feature Not Enabled by Default on My PC?
There are certain eligibility criteria for systems that support the startup boost feature. If your device has more than 4 Gigs of RAM or more than 1 GB of RAM, the feature will be automatically enabled. If not, you have to manually enable the feature by following the method that we discussed earlier in our article.
Does the Startup Boost Feature Impact the System Resources of Your PC?
No matter how much they deny it, if a process is running in the background, it will likely consume a significant amount of resources or have a minimal impact on the system resources. So, if you have a low spec PC, it is recommended to turn this feature off.