Even though Microsoft keeps updating Windows to remove any possibilities of malware and viruses, to introduce new features, Windows often with the latest update is known to crash a few drivers or applications. Network Connection issues are highly prevalent in Windows 10. In this post, I will guide you on how to fix network connection issues on Windows 10.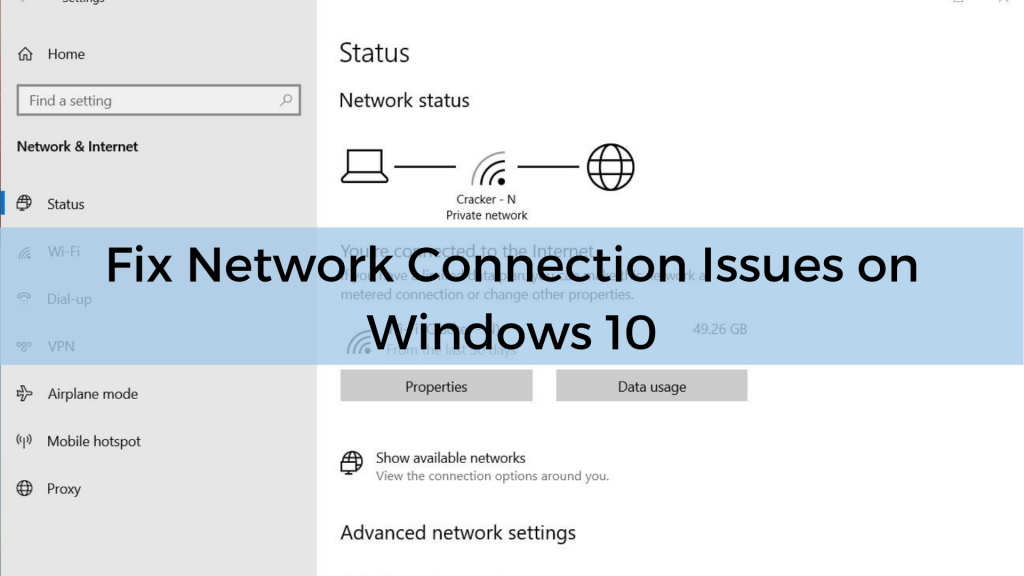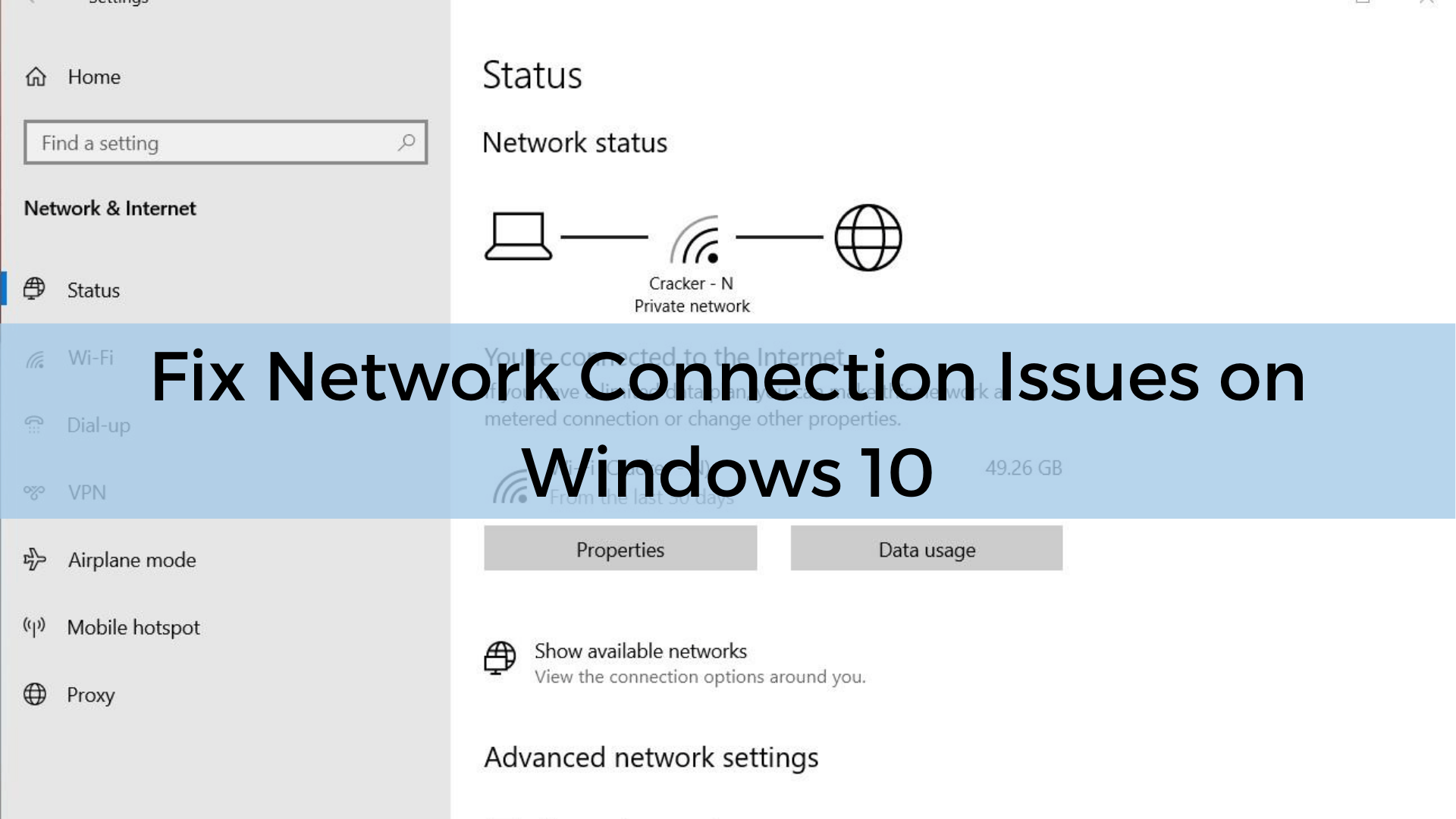 Fix Network Connection Issues on Windows 10
There could be several reasons for the failed working of the network on a Windows 10 PC, varying from outdated drivers to issues with network adapters. Here's a list of methods we will be following in the guide below:
Check if the Internet is working by changing DNS
Check if Network Adapter is enabled
Run Network Troubleshooter
Reset Network adapter
Update Network Driver
Starting from the easiest, we do recommend you to follow the options one by one, in case any of the methods don't work out for you.
1] Change DNS on Computer or Router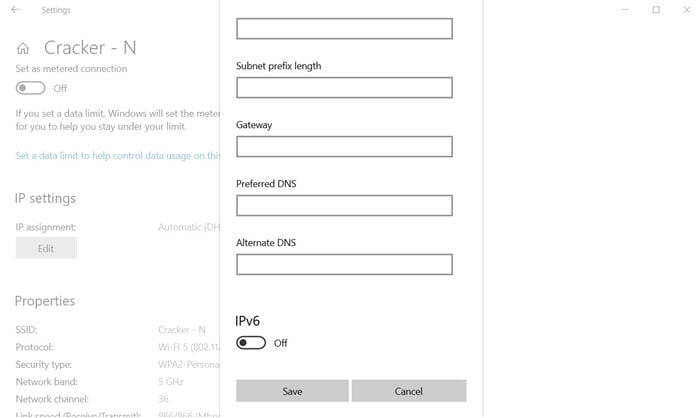 Domain Name System (DNS) is a service that allows a user to type a friendly domain name in the web browser to open a web page, and without them, it'd be a horror to surf the Internet. It may be the one causing the issues when loading webpages. Here's how to change DNS and check whether it's causing the problem.
Open the Settings Panel on Windows 10 (Win + I)
Navigate and select Network and Internet. Now, based on your connection, either Wi-Fi or Ethernet, select it from the side menu.
Choose the name of your Wi-Fi/Ethernet Connection, and from here, select the Edit button under IP Settings.
Here, switch it to Manual, turn on IPv4, and under the Prefered DNS entry box, enter your DNS and click on save.
You can also try changing Router DNS if you are having the issue across devices.
2] Check Network Adapter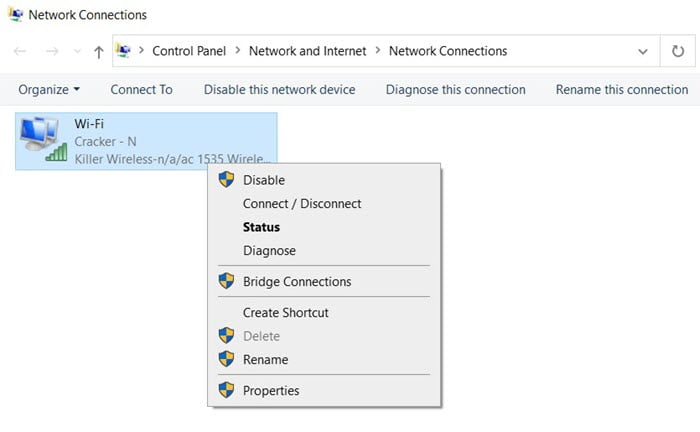 A disabled Network Adapter may also cause issues with the network connection. Here's how to check whether the Network Adapter is enabled or disabled.
Open the Control Panel on Windows 10
Navigate to Network and Internet -> Network and Sharing Center
From the left pane, choose Change Adapter Settings, the page will now list all your available network adapters.
Right-click on the network adapter, and if you notice an option named "Enable," click on it to enable the network adapter, in case you notice "Disable," do not click on it.
3] Run Network Troubleshooter
The built-in tool from Microsoft for Windows could help in troubleshooting network connection issues on Windows, here's how to access it:
Open the Settings Panel on Windows 10 (Win + I)
Navigate and select Network and Internet. Please scroll down to find Network Troubleshooter, click on it and wait for the PC to diagnose the problems and bring out a solution.
Please tap on the required solution for Windows to start taking action against it.
4] Reset Network Adapter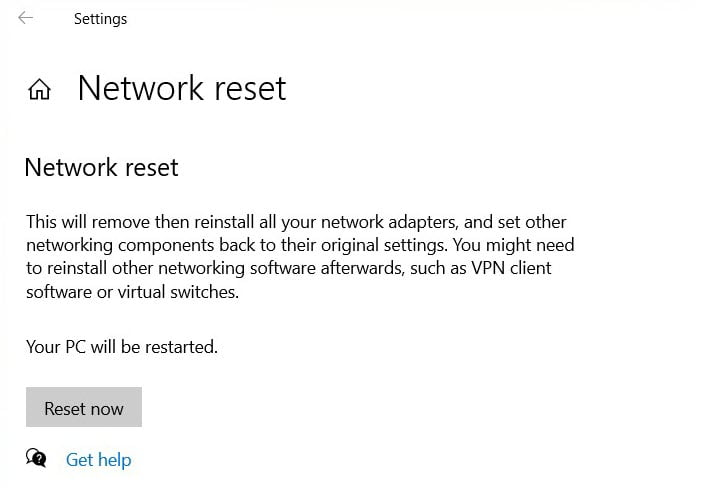 If none of the above methods worked out for you, you could try resetting the network adapter to check whether it brings an end to your network problem. Here's how:
Open the Settings Panel on Windows 10 (Win + I)
Navigate and select Network and Internet. Please scroll down to find the Network Reset option, click on it and select the Reset Now option. Your PC will restart, and the network adapter would be reset.
Note: Do note that with the network adapter being reset, you'll lose all your saved passwords for the Wi-Fi networks.
5] Update Network Driver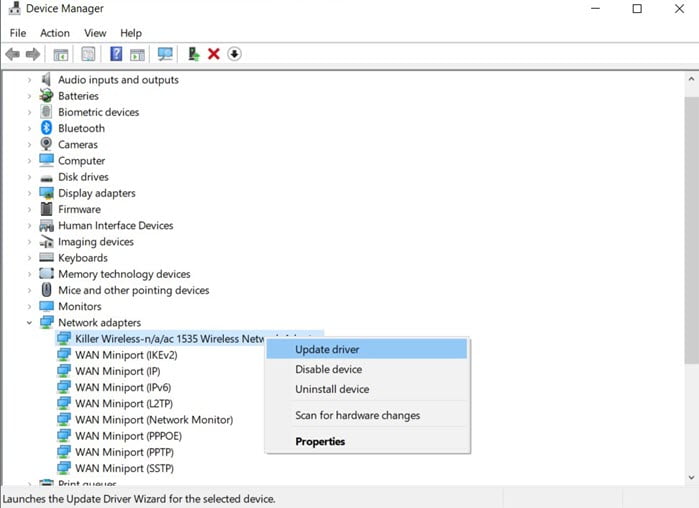 Finally, Maybe an old network adapter's drivers are causing an issue on your machine. Upgrading it to the latest one may fix the problems. Here's how:
Open the Device Manager utility on Windows 10 (by searching for the same in the Start Search Box and selecting the main listed result)
Navigate and expand the Network Adapter's menu
Find and select your adapter, make a single right click and click on Update Drivers, and choose "Search for Drivers automatically."
Now, wait for Windows to search and automatically install the latest drivers for your adapter.
I hope this post was useful, and you were able to Fix Network Connection Issues on Windows 10. With that said, How often do these issues occur? Do drop a comment down below.