NVIDIA is a well-known name in the graphics and gaming industries. The NVIDIA Control Panel allows you to manage NVIDIA graphics driver settings and other NVIDIA utilities you may have installed on your system. It offers essential tools for controlling different graphics card settings. However, some users have received an error that says NVIDIA Display Settings Are Not Available.
The error message indicates that the system cannot access the NVIDIA graphics card's settings or functionality. This can prohibit the user from modifying the graphics card settings, affecting the computer's performance. It may also impede the user from fully utilizing the graphics card's capabilities. In this post, let's look at the causes behind the problem and the various steps one may take to address the error.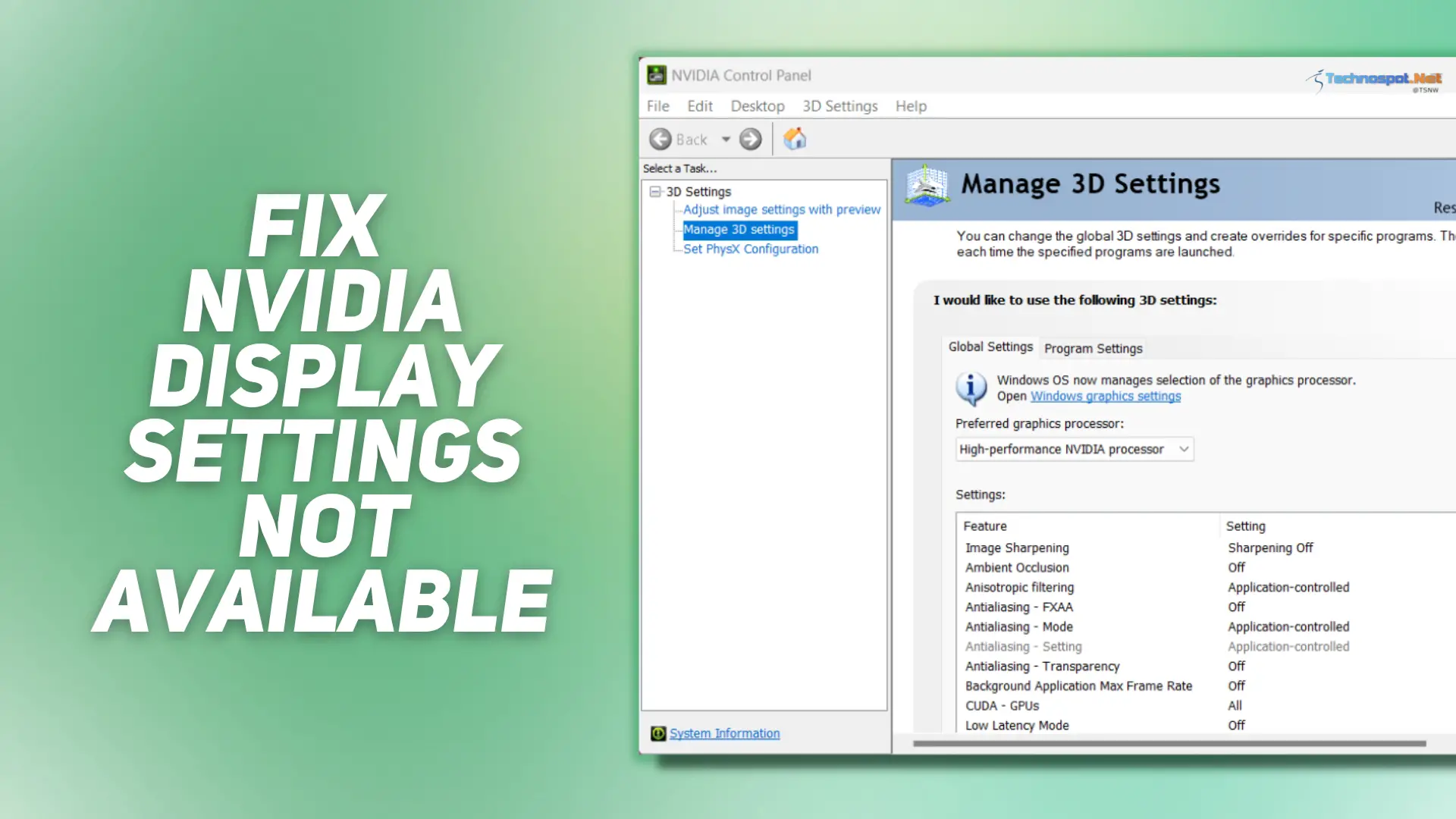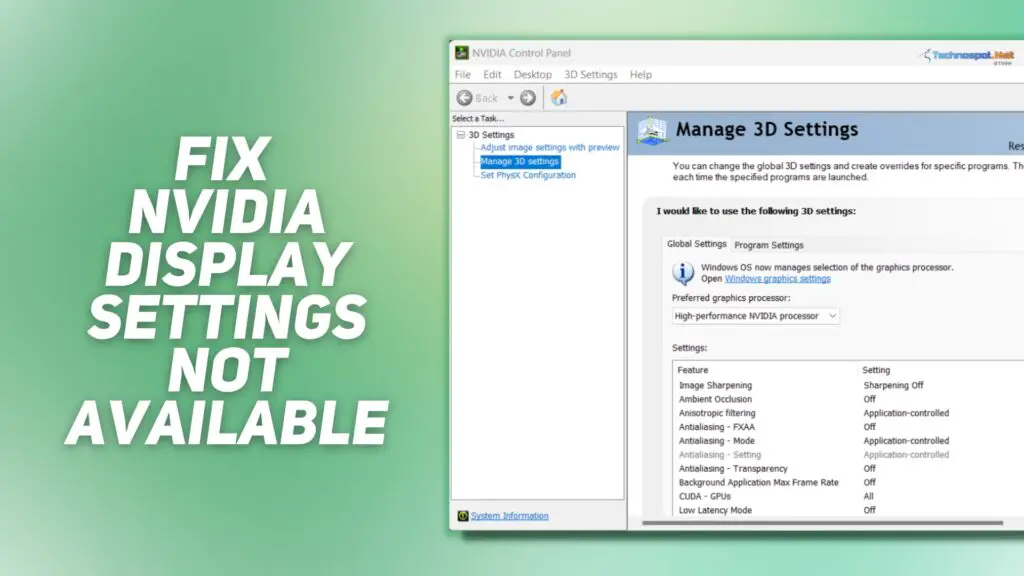 Why Does the Error "NVIDIA Display Settings Are Not Available" Occur?
This problem has no natural explanation and might occur as a result of one or more of the following possibilities:
Outdated NVIDIA Graphics Card Drivers: If you haven't updated your graphic drivers in a long time, you may be using an outdated version that is no longer compatible with newer versions of Windows.
Corrupted Graphics Card Drivers: The graphics card driver may get corrupted or disabled, resulting in errors.
Incorrect Configuration: The issue may also occur if you have wrongly configured the display settings to the incorrect GPU or if there is a problem with the graphics card's hardware, such as a failed or malfunctioning component.
Conflicts: The issue has also been discovered to occur when there is a conflict between the NVIDIA graphics card and another piece of hardware or software on the system, such as Windows' PowerTools.
Graphics Card Drivers: If there is a problem with the graphics card drivers installed on your PC, the error may appear.
Fix: NVIDIA Display Settings Are Not Available
Here are five methods using which you may attempt to fix the NVIDIA Display settings that are not available or any other issue that occurs with the application.
Update NVIDIA Graphics Driver
Check Display Settings
Check for Conflicts
Re-Install Graphics Driver
Check for Hardware Issues
You will need an administrator account to execute the suggestions.
1] Check for Updates for Your NVIDIA Graphics Driver
It is critical for your PC that your graphics driver works optimally. Updating the drivers can address any existing issues and add new features. Follow these steps to learn how to update your NVIDIA Graphics Driver: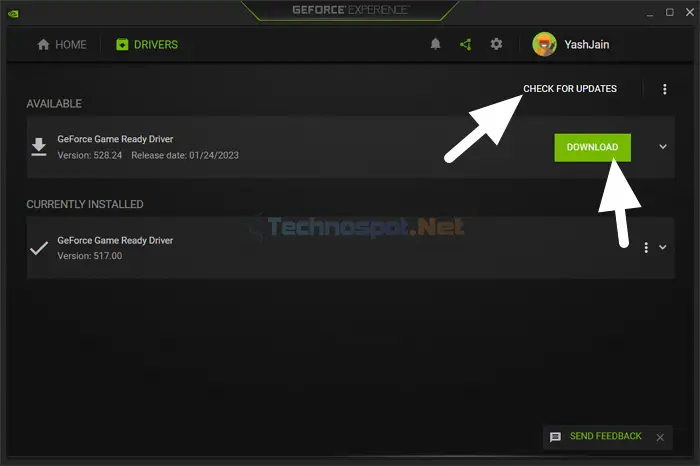 Begin by pressing the Start button on your keyboard and searching for GeForce Experience, then selecting the first shown result. If it isn't already installed on your PC, go to NVIDIA's official webpage (listed here) and download it.
Once the application is open, head to the Drivers tab from the top navigation pane and click Check for Updates.
If newer graphics drivers are detected, the application will prompt you to upgrade them. Install the most recent drivers, restart your computer, and check whether the problem has been repaired.
Related: Fix: NVIDIA installer cannot continue.
2] Check That Your Display Settings Are Set to the Correct GPU
If you have a PC with a dedicated graphics card, which most current systems have, you have multiple display output ports at the rear of your CPU. One of the output ports is for the integrated graphics on the motherboard, while the other is for your dedicated NVIDIA graphics card.
Verify that your monitor is connected to the dedicated Graphics Card output port and not the other way around. Make the necessary modifications and restart your computer for the changes to take effect.
3] Check for Any Conflicts With Other Software
Checking for conflicts with other applications is an essential step in diagnosing any computer problems you may be having. Identifying and resolving conflicts can enhance your system's stability and performance.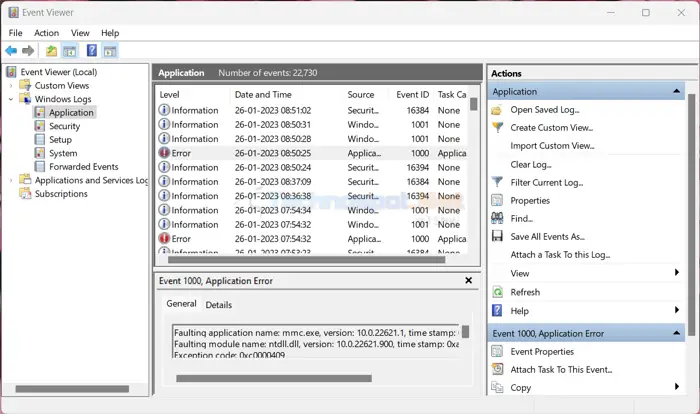 Begin by opening the Start Search Box by choosing the Windows logo on the Taskbar and typing in Event Viewer.
Afterward then, go to Event Viewer > Windows Logs > Applications. Please remember that this page may take a few seconds to load.
Now, open NVIDIA's Control Panel and watch the Event Viewer for any warnings. Close or disable the programs that create the alerts individually to determine which is causing the problem.
PowerToys, Avast Antivirus, and other comparable apps have already been linked to similar issues. You know what to do if you have them on your PC.
4] Uninstall and Reinstall the NVIDIA Graphics Driver
Uninstalling and reinstalling the NVIDIA graphics driver can effectively resolve any issues you may be experiencing with your graphics card. This process will remove corrupt or outdated drivers and replace them with a new, up-to-date versions.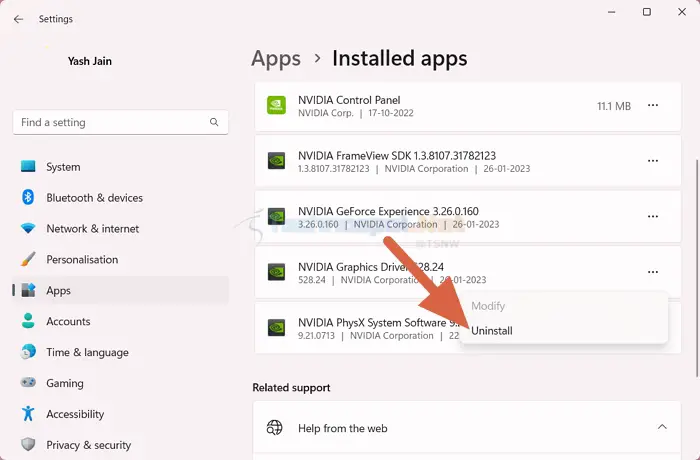 Press the Windows + I keys on your keyboard to quickly launch Settings.
Next, navigate to Settings > Apps > Installed Apps and search for NVIDIA in the available search box.
Now, locate NVIDIA Graphics Driver and click on the three-dotted icon next to it.
Next, click on Uninstall from the drop-down and wait for Windows to complete the uninstallation.
Finally, head to NVIDIA's official graphics driver download page and install the latest drivers.
You can also install the latest drivers using the GeForce experience application onboard.
5] Check for Any Issues With the Graphics Card
Windows offers Hardware Troubleshooter that can detect hardware issues for anything connected to the PC. Before concluding that the GPU has issues, run the troubleshooter and check the results. Read out the complete guide on how to run Hardware Troubleshooter.
The graphics card is probably defective if the problem is still not fixed. We recommend that you take this to an authorized service center to get it checked and fixed.
Conclusion
Checking for updates to your NVIDIA graphics driver, checking for conflicts with other applications, checking for hardware problems, and uninstalling and reinstalling the NVIDIA graphics driver can help you fix the NVIDIA Display settings unavailable. You should be able to fix the issue and reclaim access to your NVIDIA Display Settings by following these instructions.0
To avoid this problem in the future, it is advised that you check for updates to your NVIDIA graphics driver and keep your computer's software up to date. You may reduce your chances of seeing this error again by routinely maintaining your computer and looking for any problems.