Is your Printer causing a problem? Some Windows users say that their printers periodically pause and then stop printing. In this article, we will discuss ways to fix Printer Status is Paused, Cannot Resume.  This works in all versions of Windows including Windows 11 and Windows 10.
When your Printer stays unfunctional for a certain period, it means that the device is gone into pause or sleep mode. The Printer may be paused because of a setting on the Printer, or another issue may be related to the Printer. With the Printer Paused option, you can manually alter or change any job during operation. Upon completing the printing task, you can re-enable the pause printing option and continue printing. With the Printer in pause mode, you can only complete the scanning task on the Printer.
What Causes a Printer to Pause?
There can be several reasons due to which your Printer may be put on Pause mode. The most common cause of this error is hardware. Some more reasons are:
Damaged USB cables are used for connections.
When the Print Spooler software fails
When the Printer Software and driver gets outdated
There is an issue with paper jamming.
There is an issue with ink cartridges not working.
How Do I Unpause My Printer Status?
Follow these steps given below to unpause your printer status in an effortless way:
Go to Start > Search Control Panel and open it.
Click on Hardware and Sound > Select Device and Printer.
Select your Printer> Click on Printer from the top, and uncheck Pause Printing.
Look at the explanation below for more details.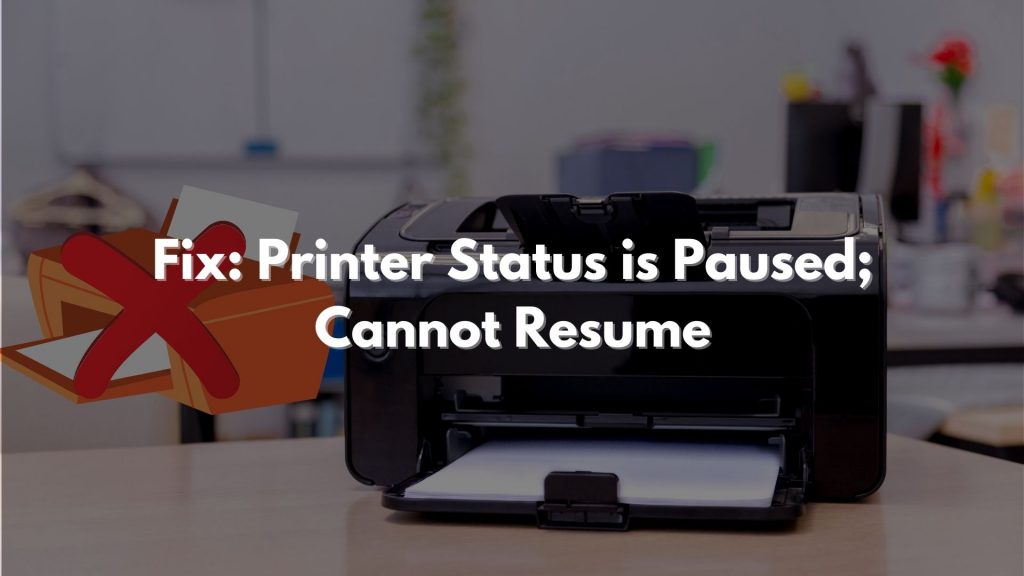 Fix Printer Status is Paused, Cannot Resume error
Here are few methods which you can follow to fix Printer Status is Paused, Cannot Resume error message on Windows computers:
Disable Pause Printing.
Start or Restart Print Pooler Service
Use Printer Troubleshooter
Reinstall Printer Drivers.
Let us discuss them in detail.
1] Disable Pause Printing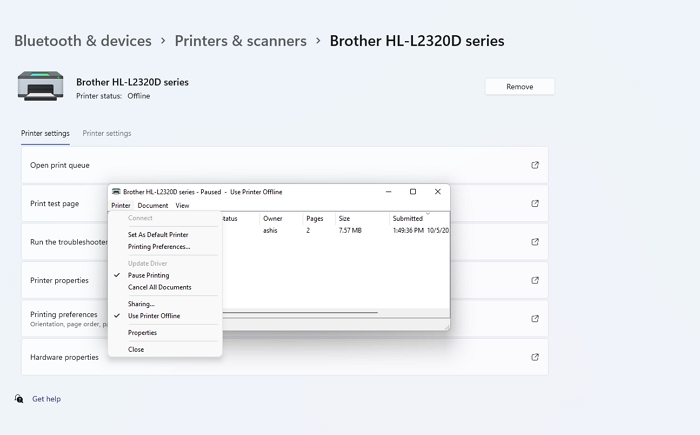 In case your printer status indicates that it is paused, the first thing you have to do is resume it. You can do this by following the given steps.
Open Windows Settings (Win + I) and go to Bluetooth and devices
Click on Printers & Scanners and then click on the Open Print queue option.
Click the Printer menu available at the top of the window, and uncheck Pause Printing.
Now, restart your computer and Printer and see if the issue is fixed.
2] Start or Restart Print Spooler Service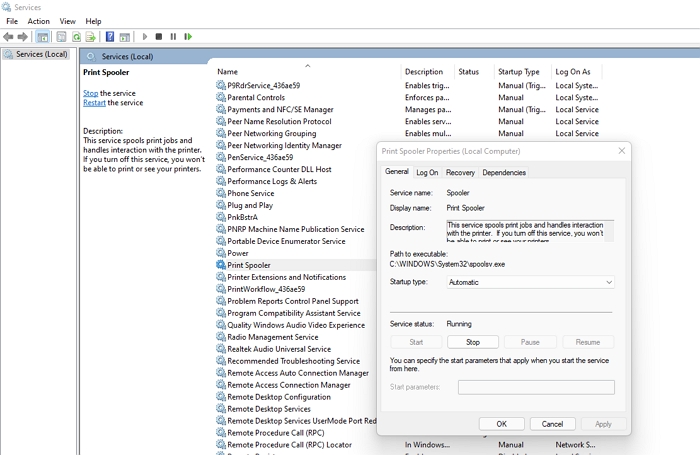 Alternatively, you can also try starting or restarting the Print Spooler service to resolve this problem. You need to follow these steps to fix this:
Go to Start >Type Services and open it once it appears > Locate Print Spooler service.
Right-click on it and click Start and if it's stopped and Stop if it's working.
When you disable the service, you must restart your computer and then restart the print spooler to check if the issue is still present.
Hopefully, this will then be fixed.
3] Use Printer Troubleshooter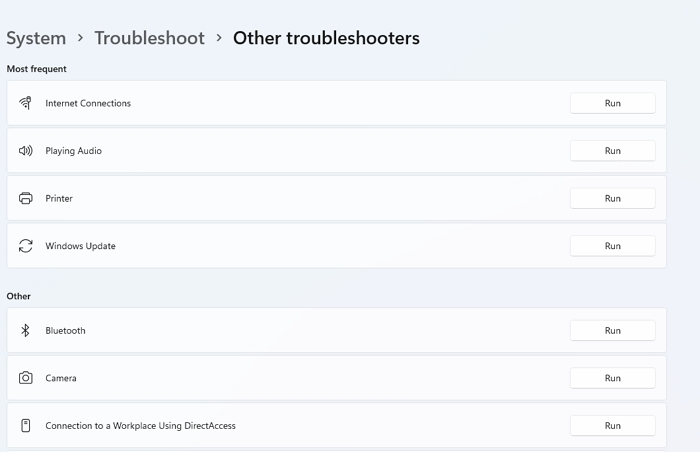 When nothing seems to work, try running Printer Troubleshooter. The tool is an in-built feature of Windows that will usually fix most issues on its own. Below are some steps you can follow to access the Printer Troubleshooter.
Press Win + I to open Settings.
Click on Devices > Printer & Scanner.
Now, click on Run the troubleshooter.
It will then scan and if the problem is found, ask you to Apply this Fix or Skip this Fix.
Choose to apply, and wait for the process to complete and see if the issue persists.
4] Reinstall Printer Drivers
It would be best if you try reinstalling your printer drivers. You need to follow these steps to do that simply:
Go to the Start Menu > Open Device Manager.
Double click on Printer queues to expand it.
Now, right-click on your Printer and click on Uninstall device.
You can also right-click on Pinter queues > Select Scan for hardware changes to reinstall the driver.
You can also download the latest version of the driver from the OEM website, and update it. Also, try detaching and reattaching your Printer and see if it fixes the problem.
Hopefully, you will be able to resolve the issue with the help of these solutions.
What is the Use of Printer Spooling?
The Printer spooling method allows you to send large or batches of documents to a printer immediately, without waiting until the present task is complete. It is similar to a buffer or cache. After a previous printing job is completed, it's a place where your documents can assemble and prepare for printing.
How do I Change my Printer Status to Online?
Go to the Start icon on the bottom left of your screen.
Choose Control Panel > Click on Devices and Printers.
Right-click the Printer in question and select See what's printing.
Choose Printer from the menu bar at the top > Select Use Printer Online from the drop-down menu from the window that opens.
What Does it Mean When it Says your Printer is Offline?
The offline message on your Printer means that it's having trouble communicating with your computer. The reason for this can be a number of things, including printer problems, connectivity issues, etc.
How do you Get an HP Printer Back Online?
Go to the Start menu > Select Settings > Devices > Printers & scanners.
Then select your Printer> Open queue.
Click on Printer from the top and make sure the Use Printer Offline option is not selected.
Why is my Printer Not Responding to My Computer?
An outdated printer driver can cause the Printer not responding message to appear. However, you can solve this problem by simply updating your Printer's drivers. The easiest way to do so is through the Device Manager. If there is a driver available for your Printer, Windows will try to download it. If this doesn't work, it could be a hardware issue, and you need to connect with the service center.
I hope this post will help you fix Printer status is paused; cannot resume.