Windows 11/10 introduced a slew of new features as well as a complete overhaul of the user interface. Despite those significant upgrades and changes, there are some older underlying issues with Windows that do not appear to be going away anytime soon. The disk usage spike problem is the most common example. Many Windows users have complained about increased disk usage, even when the computer is idle. Further investigation revealed that their hard drives are being used at full capacity, with no discernible reason.
A higher disk usage can slow down your PC significantly, or worse, freeze it. This is why you need to take this issue seriously. In this post, we're going to discuss the reasons why disk usage spikes without any apparent cause, and how we can efficiently fix it.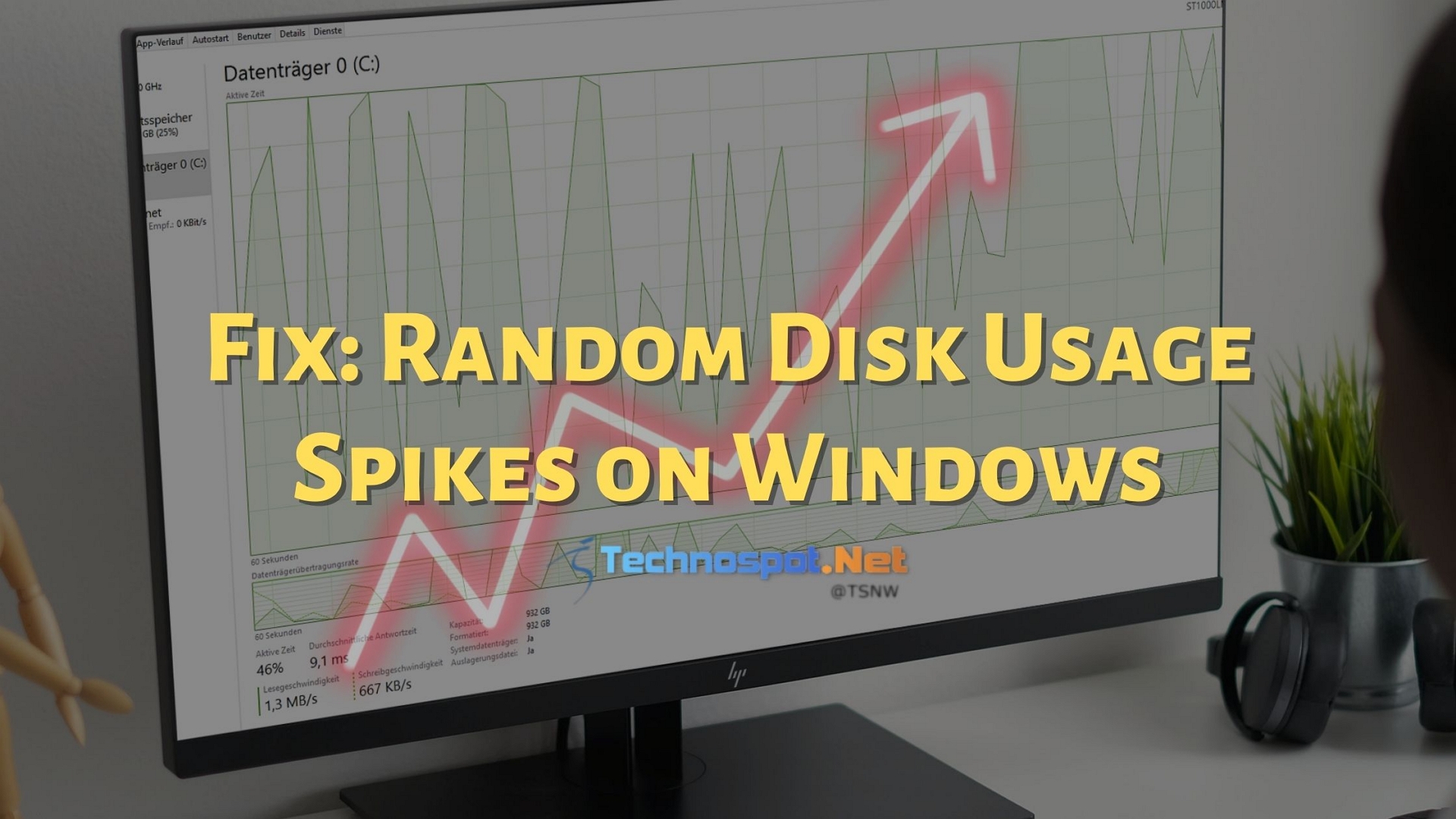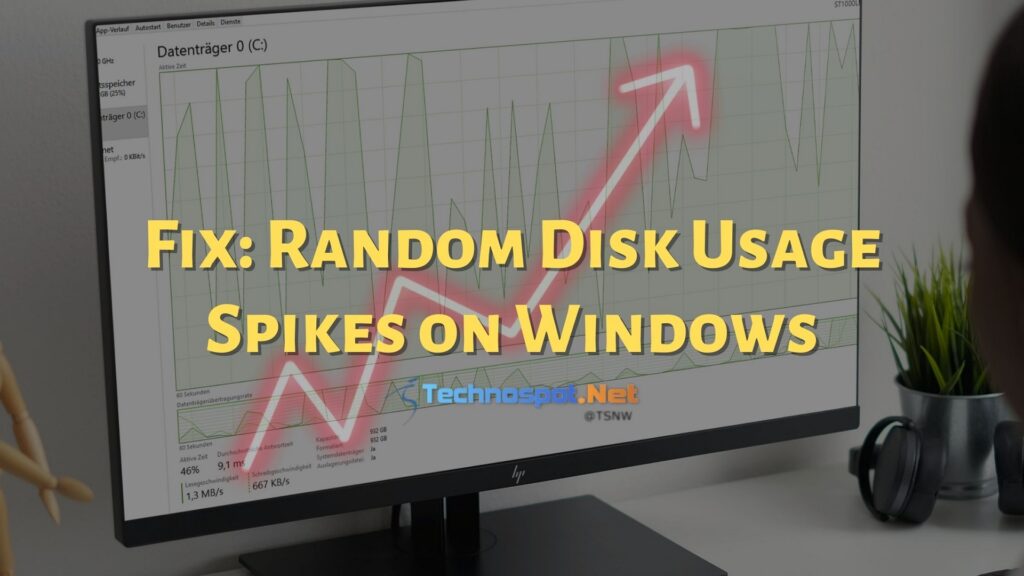 Reasons for Random Disk Usage Spikes On Windows 11/10
There are numerous reasons why this problem happens to your Windows PC. Here, we've listed down some of the most common causes, let us take a brief look at them.
1. Drive Fragmentation
If your hard drive is disorganized, it may likely be the most prominent reason for this issue. In case, you are using an old-school HDD, and you've opted not to optimize your disk, it will result in disk spikes. To solve this problem, you must defragment the drive.
2. Failing Hard Drives
As hard drives age, they tend to deteriorate. If you've been using an older hard drive for a while, it's possible that it's reached its limit before failing permanently. The primary symptom of this is when you see frequent 100% disk usage indications in Task Manager during a period of inactivity. It is recommended that you check the health of your hard drive. In a moment, we'll discuss how to do this.
3. Third Party Startup Item Interference
One major reason that goes unnoticed by most of the users is the interference of a third party, which is consuming the entire resource of the computer. If the third-party app or software is running in the background, it may take up the whole disk space making your PC sluggish. It is recommended that you dig this third-party interference out and stop it, this can easily be done in Clean Boot State. We'll also discuss how you can perform this action further in the article.
How To Fix Random Disk Usage Spike On Windows 11/10
Now that we've discussed the most prominent reasons why you've been facing 100% disk usage in your Windows PC, it is time we fix it. Here are some of the best-handpicked methods that will help you resolve your problem efficiently. We'll discuss each method one by one.
Check for Failing Drives
Disable Windows Search
Troubleshooting Clean Boot for Third-Party Interference
Run the Disk Check Utility
Defragment the Operating System Drives
1. Check For Failing Drives
It is critical to keep track of your hard drives because they contain all of your current data and important files. It is normal for an HDD to fail after reaching its capacity; eventually, it will fail, resulting in 100 percent disk usage on your computer. There are numerous platforms online that you can use to precisely check the health of your HDD.
You should regularly check your hard disk health and bad sectors to ensure nothing goes wrong with them. Also, create backup storage for your important data. This is the most basic approach that you can take before going to more serious measures.
2. Disable Windows Search
In most cases, Windows Search is the main culprit for 100% disk usage in Windows. Many of the users have reported that Windows Search was the prime cause of their problem, and disabling it did the job for them. We are going to follow in the same footsteps.
However, keep in mind that it will also affect the files and folder search on your File Explorer on your PC. You won't be able to search for files and folders, hence, make up your mind before following this method. If you regularly use the search feature then you can move on to the next solution, but if you are comfortable with Windows Search being disabled, proceed with the following steps:
Press Windows + R on your keyboard to launch the Run utility.
Type services.msc and press Enter.
Now, look out for Windows Search, and open it.
Set the Startup type to Stop. It will stop this service immediately.
Restart your PC to see the changes.
Following this method might solve your issue regarding disk usage spike, but if not, there are plenty of options left.
3. Troubleshooting In Clean Boot For Third-party Interference
There are many unnecessary services that keep running in the background of our PC without us noticing anything about it. In the end, it contributes a lot in racking up disk usage. Troubleshooting in Clean Boot is a very optimum option to troubleshoot this entire issue. If you're new to the term Clean Boot, it means starting your PC with only important files and services due to which you can easily figure out which services are interfering with the disk usage. Here's how you can perform Clean Boot on your Windows 11 PC:
Press Windows + R to open the Run utility.
In the dialogue box, type MSConfig.
Now, go to the services tab, and click to check the box that says, Hide all Microsoft Services.
Disable them all and restart your computer.
This method has a pretty good success rate. After restarting your PC, check whether the disk usage has improved or not. If not, refer to the next solution.
4. Run The Disk Check Utility
This may come as a surprise for you, but your Windows 11/10 PC has an in-built disk checker utility. It is specifically used to check the condition of a disk. Here's how you can perform a disk check:
Open Windows Terminal in admin mode by right-clicking the Windows start icon and selecting Windows Terminal (Admin) option from the menu.
Type chkdsk.exe /f /r
Now, the system will respond by saying, Chkdsk cannot run because the volume is in use by another process.
Type Y to schedule and to check it the next time your PC restarts.
Finally, restart your PC and check for disk usage.
This should resolve the issue, as it has worked for several other users who have been facing the same problem.
5. Defragment The Operating System Drives
As more files are added to the mix, your chances of experiencing a disk usage spike increase because the file system on your operating system partition becomes disorganized. This can be fixed by running the Optimize Disk utility. Here are the instructions on how you can optimize the problematic drive:
Press Windows + R, it'll open a Run dialogue box.
Type dfrgui.exe and press Enter, now the Optimize Drive utility will open.
Inside the Optimize Drive utility, choose your HDD operating system drive, and press the Optimize button.
Now, click Yes to grant admin access to the User Account Control menu.
Just wait till the completion of the process, and avoid stopping it in between as it can create more issues instead of solving them.
Is It True That 100% Disk Usage Has An Impact On Gaming Performance?
Definitely. It has a severe impact on the gaming performance of the device. It might affect the loading time of your games as well as the overall performance. Clear all background processes before launching a game to have the best experience.
Why Does The Disk Usage Keep Spiking On My Windows PC?
As we've already mentioned earlier in our post, it has several reasons including, drive fragmentation, deteriorating hard drives, third-party interference. But, these issues can be fixed by the methods that we've already discussed in brief.
Well, this was all for our article, we hope one of these fixes worked for you. If they don't please wait for some time for Microsoft to acknowledge and fix the issue. If the issue persists for an extended period of time, please try reaching out to experts. We hope this article was helpful for you, please make sure you share it with others.