Many Windows users use the WhatsApp Desktop application on their laptops for personal or professional work. However, several users have stated that the WhatsApp desktop app frequently crashes when they use the application to chat, conduct phone calls, or download and upload files.
Why is WhatsApp constantly crashing? Some possible causes include an out-of-date operating system or an out-of-date version of WhatsApp. So, in this article, we will discuss the solution to fix the WhatsApp desktop app crashing or freezing on Windows PC.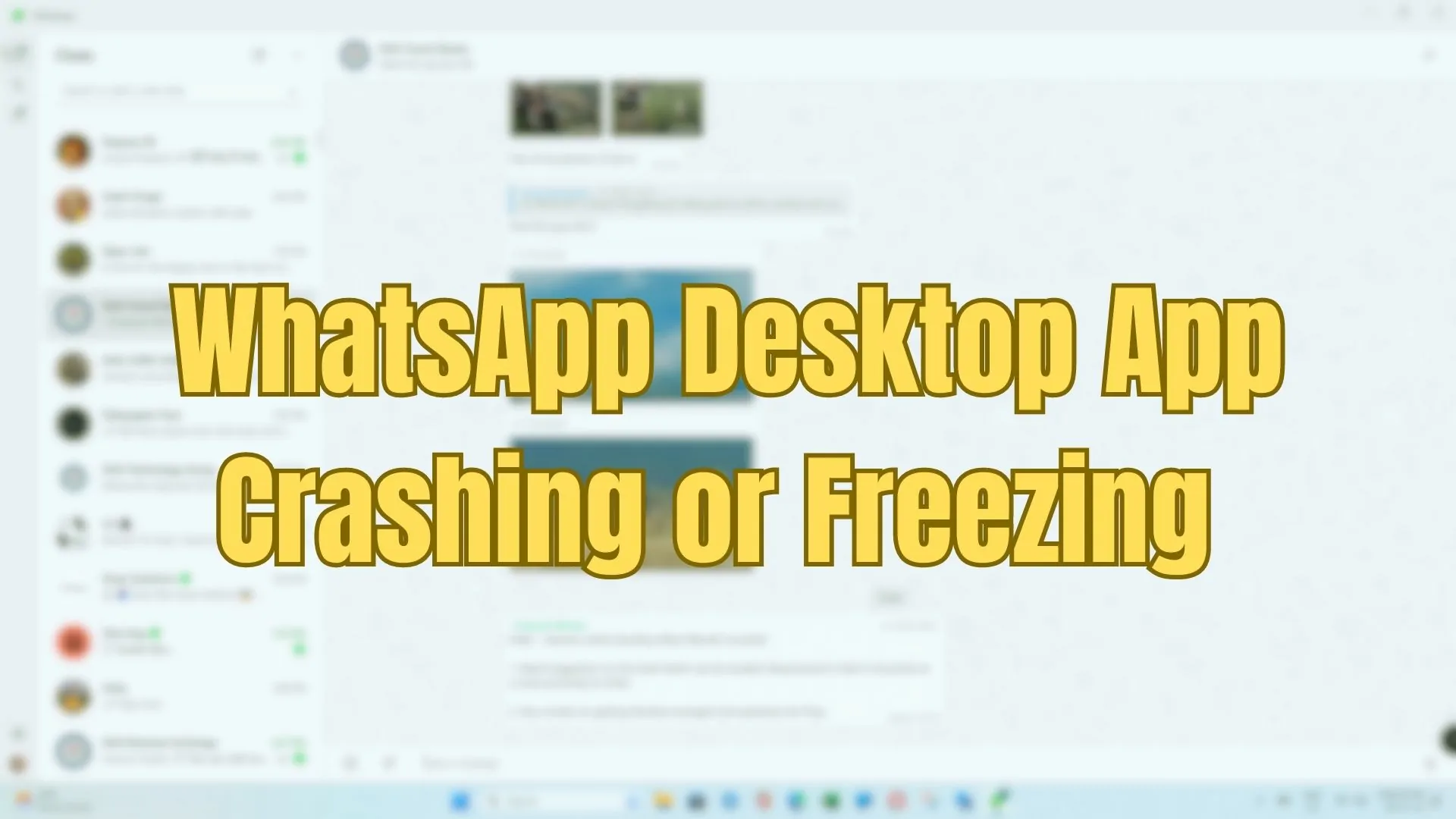 Fix: WhatsApp Desktop App Crashing or Freezing on Windows PC
Given below are four fixes to help your WhatsApp desktop app from crashing or freezing on your Windows PC:
Uninstall and Reinstall WhatsApp
Update WhatsApp to Its Latest Version
Disable WhatsApp Notifications
Run the update.exe File of WhatsApp
Your account should have enough permission to uninstall the apps. Also, check if the issue has been resolved after trying out each method.
1] Uninstall and Reinstall WhatsApp
Uninstalling and reinstalling WhatsApp can help with various issues, including crashes and freezes. Follow the steps given below to uninstall and reinstall WhatsApp on your Windows PC:
The first step here is to uninstall WhatsApp. Go to Settings > Apps > Apps & features.
Search in the App's list for WhatsApp, click on the three dots menu next to it, and click on the Uninstall option from the context menu.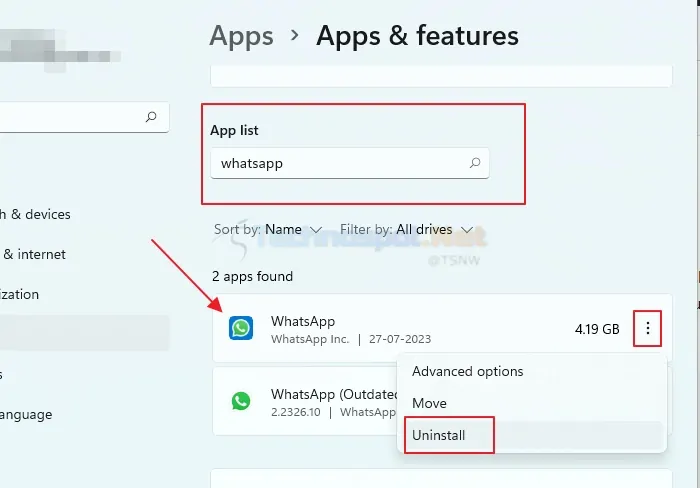 Click on the Uninstall button again when prompted.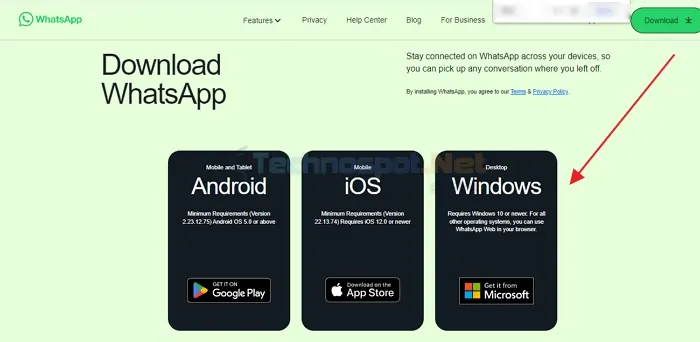 Now, you need to reinstall the app again. You can go to WhatsApp's download site for Windows desktops and reinstall its latest version on your PC.
Read: Add Remove Program still shows entry after uninstall
2] Update WhatsApp to Its Latest Version
If your WhatsApp is crashing or freezing, it could be because it is still running on its outdated version. So you can check whether the app is outdated or not. If so, here is how to update WhatsApp to its latest version:
Open Microsoft Store on your Windows PC.
Search for WhatsApp in the Store.
Check if there are any updates available for WhatsApp. If so, update the app to its latest version.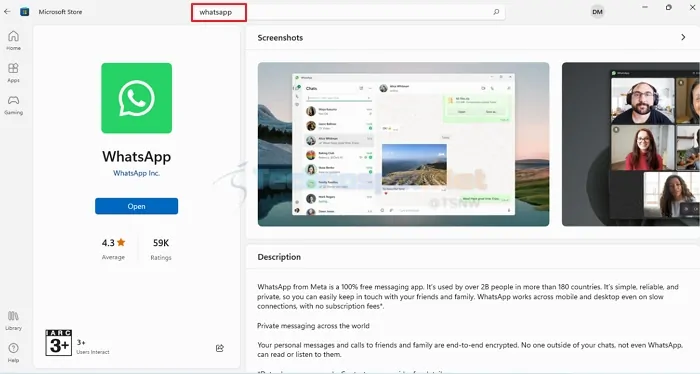 Launch WhatsApp when the update is complete to check if the crashing problem has been repaired.
It is critical to update WhatsApp because bugs are frequently rectified, and performance is improved during updates.
3] Disable WhatsApp Notifications
The WhatsApp desktop app may crash if the Notifications of WhatsApp (due to a software bug) are incompatible with the OS. Disabling WhatsApp's sound and notifications may solve the problem in this scenario. This is how you disable WhatsApp notifications:
Open the WhatsApp desktop app and click the Settings button at the bottom left corner.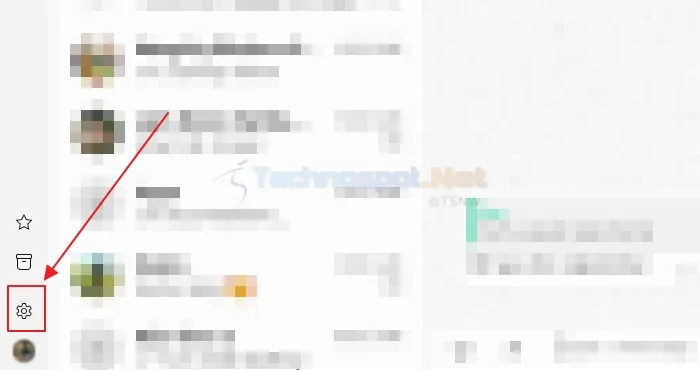 Click on Notifications from the left pane. Next, toggle off notifications for messages, calls, etc.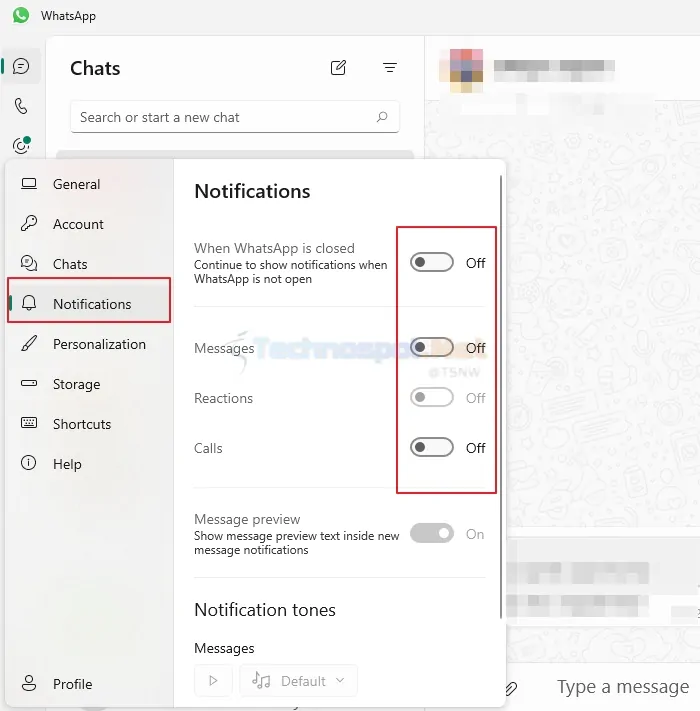 After you are done, open WhatsApp again and check whether it is crashing or freezing.
4] Run the Update.exe File of WhatsApp
If a WhatsApp update is not applied correctly, the WhatsApp desktop app could crash at random. Running the Update.exe file may repair the error and resolve the WhatsApp desktop app crashing issue. This is how you run the Update.exe file of WhatsApp:
Before you begin, ensure no WhatsApp-related processes are active on your PC.
Press the Windows key + R to open the Run command box, copy and paste the following command and press OK.
%localappdata%\WhatsApp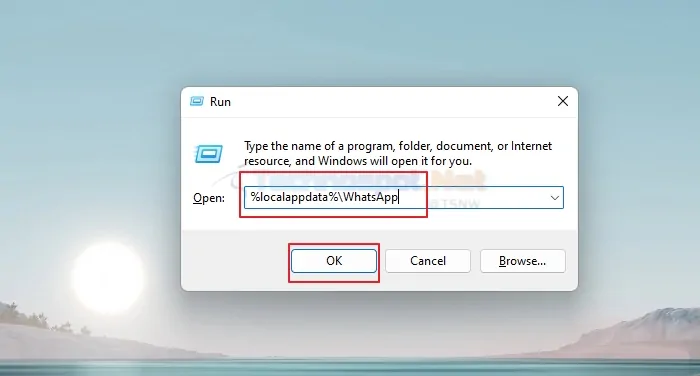 In the WhatsApp File Explorer windows, locate and right-click on Update.exe and select Run as Administrator from the context menu.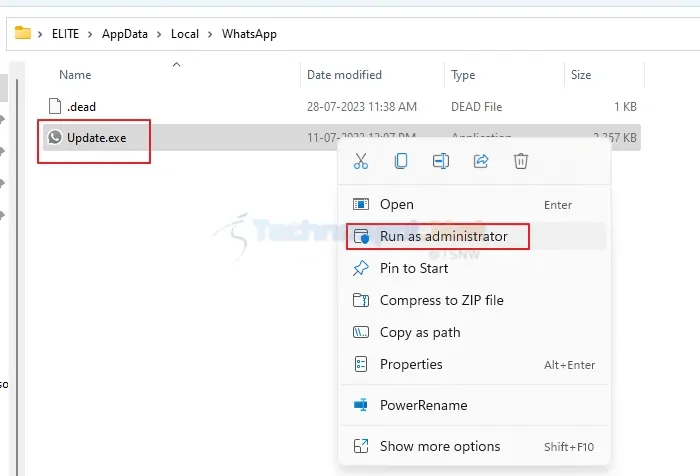 Wait until the update procedure is finished, and then restart your computer. After restarting, launch the WhatsApp desktop app and check that it is operational.
Conclusion
To summarize, if WhatsApp crashes or freezes on your Windows PC, there are many approaches you can use to troubleshoot and resolve the problem. Checking for updates, deactivating notifications, uninstalling and reinstalling the application, etc., are all methods for resolving the issue and getting WhatsApp operating again on your device.
You can resolve the issue by following the instructions in this article. However, if you continue to have problems, it is recommended that you use WhatsApp Web, as the beta version allows you to access your WhatsApp messages even when your phone is not connected to the internet.