Are you facing some problems with your Windows clipboard? In this guide, I will tell you how to fix Windows 11/10 clipboard history not working.
Clipboard History is a vital component of any ecosystem or platform, whether it's a phone or a PC. The tool works silently behind the scenes and ensures keeping a record of recent copied entries that you can see.
What is Clipboard History?
Clipboards are temporary storage areas for data where you copy items and paste them. Up to 25 items, such as text, data, and graphics, can be copied to a document or pinned. However, you can copy only one piece of content at a time to the Clipboard, and you cannot view the copied content. To overcome these limitations, Windows 10 October 2018 Update introduced Clipboard History.
The Clipboard History can now be viewed and pasted, and you can copy multiple items to the clipboard. Moreover, you can sync items copied to Clipboard History across Windows 10 and Windows 11 devices.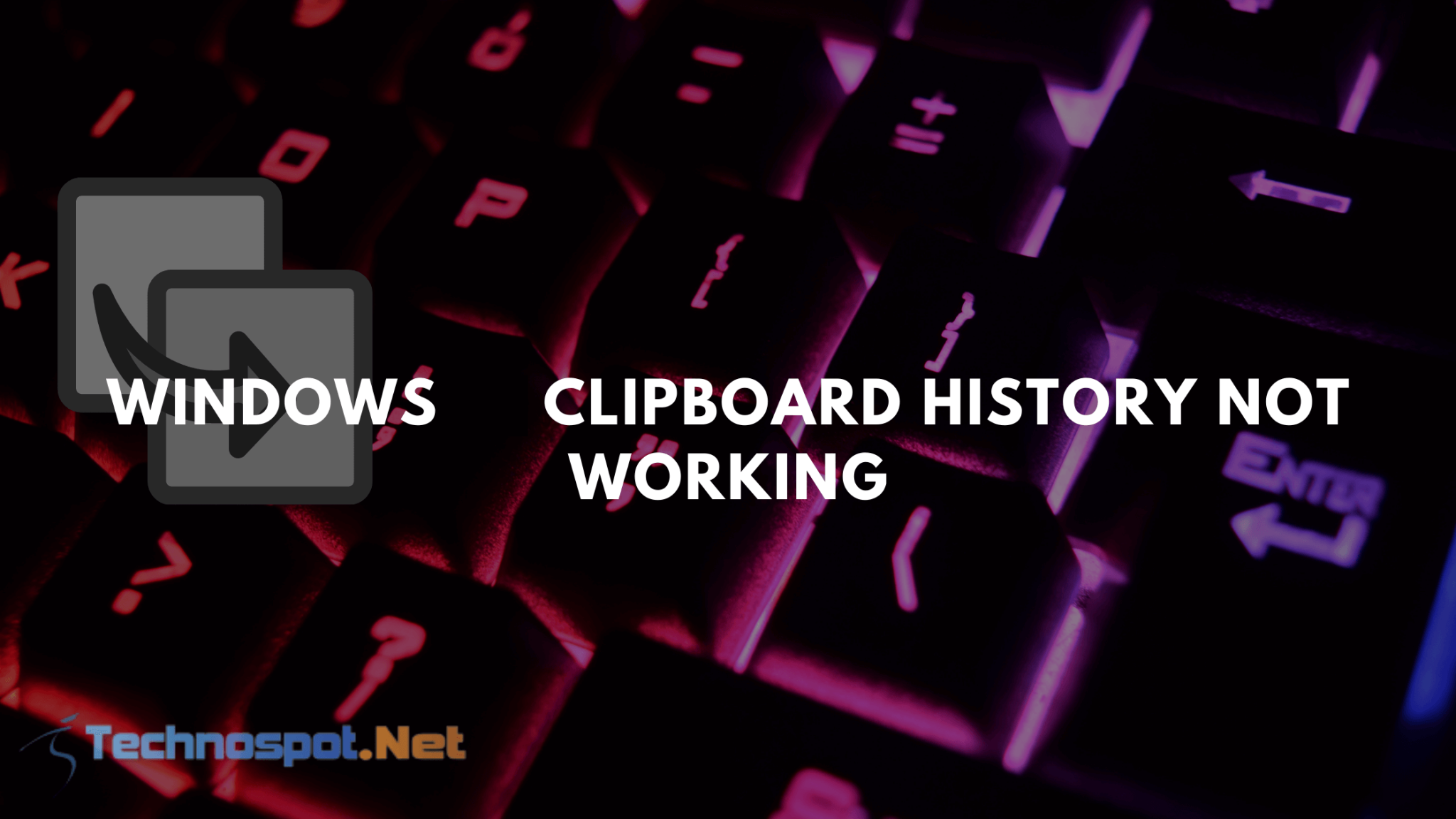 Windows Clipboard History Not Working (Windows 11/10)
The clipboard history is one of the most utilized features in Windows 11/10, as it enables users to copy and paste either images or text from one application to another. Despite this, some Windows users are complaining about problems they are experiencing while using this feature. Follow these simple methods to have clipboard history working in no time:
Turn on Clipboard History
Restart File Explorer
Syncing via Microsoft Account
Enable via Registry Editor
Enable via Group Policy Editor
Clear Clipboard Data
Let's discuss these methods in detail.
1] Turn on Clipboard History
The first step in enabling Clipboard History is to ensure it has not been previously disabled. If you have not activated it, follow these steps to do so now: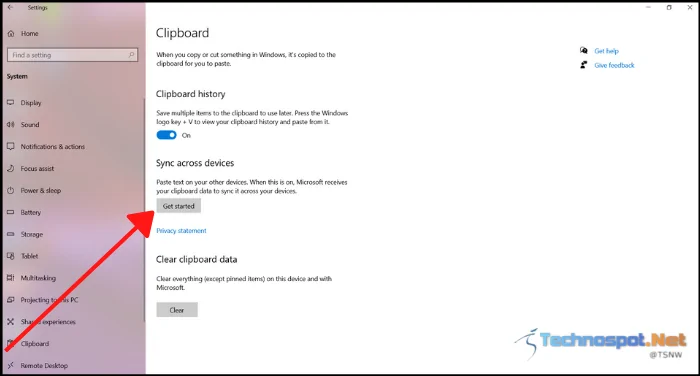 Press the Windows+I key to open
Click on System > Select Clipboard on the left pane.
Toggle the Clipboard history setting ON.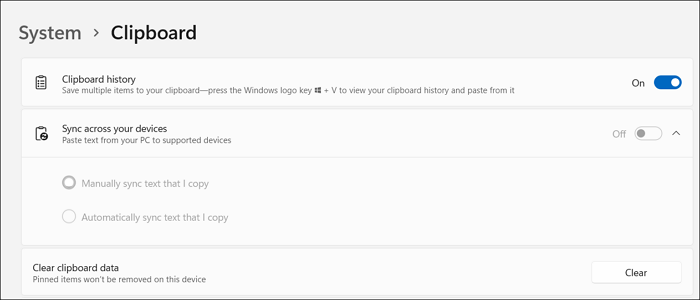 Next, if you access it on any other device, you will see the same saved clipboard data on all devices. Now, check if the clipboard history shows up on clicking Windows + V hotkey.
2] Restart File Explorer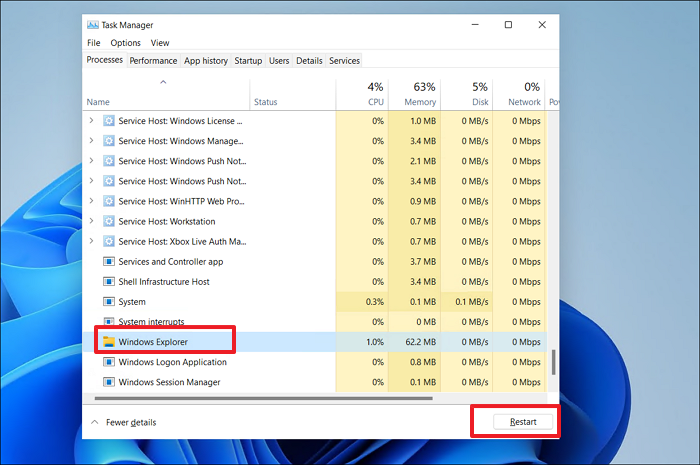 Restarting File Explorer is another simple method to fix the clipboard history not showing up. Follow these steps to do so:
Open Task Manager using (Cntrl + Shift + Esc) nu. You can also use Ctrl + Shift + Esc keys to launch Task Manager.
Go to the Processes tab > Select Windows Explorer.
Click the Restart button at the bottom right.
Check if this solves your issue.
3] Syncing via Microsoft Account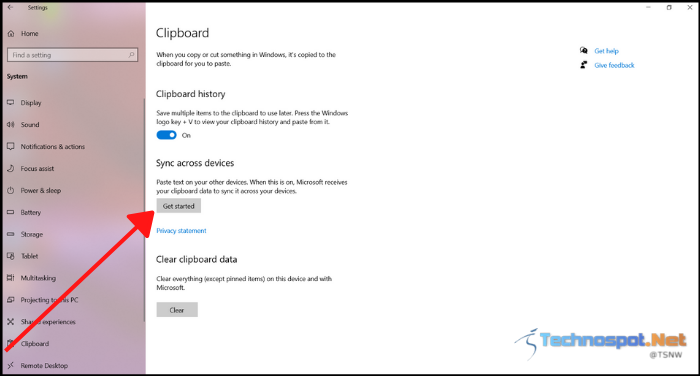 Signing in to Windows 11/10 with a Microsoft account is also one of the solutions. By this, you can sync the clipboard across devices. Follow the steps given below:
Open Settings > Go to the System > Clipboard
Click on the Get started button under Sync across devices section.
Select Automatically sync text that I copy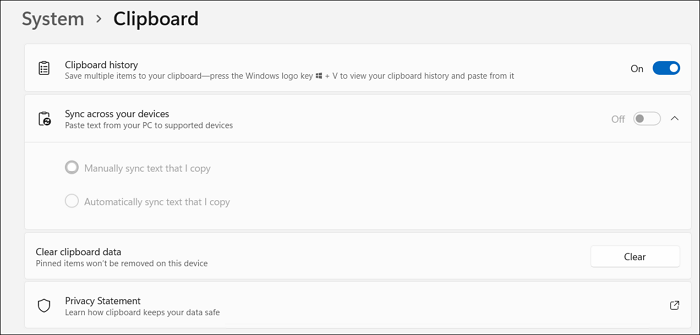 Check if the issue has been resolved.
4] Enable Clipboard History via Registry Editor
Back up the current Registry state as editing the Registry could damage your system. The clipboard history can be enabled using the Registry Editor app to see if this resolves the problem. Follow the below steps for that: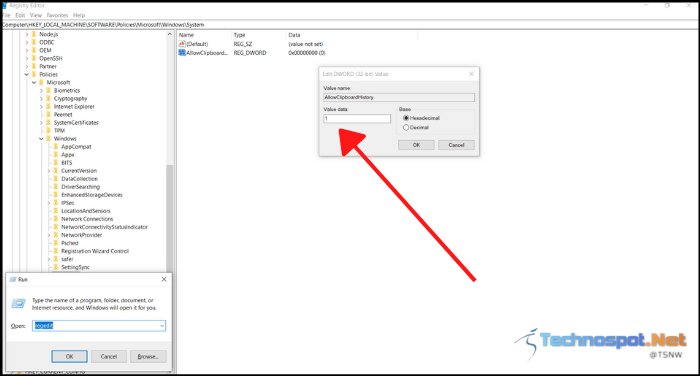 Press the Windows+R key to open the Run box.
In the run box, type regedit > Press Enter to open the Registry Editor.
Navigate to this location:
Computer\HKEY_LOCAL_MACHINE\SOFTWARE\Policies\Microsoft\Windows\System
On the right-hand side, right-click on the space and then click on New > Click on DWORD (32-bit) Value.
Name the new key as AllowClipboardHistory, double-click on it, and set the value to 1
Similarly, create an AllowCrossClipboardHistory DWORD and enter the value 1
Click on Apply > OK.
Exit the Registry Editor app and restart your PC. Check if the Clipboard history works.
5] Enable via Group Policy Editor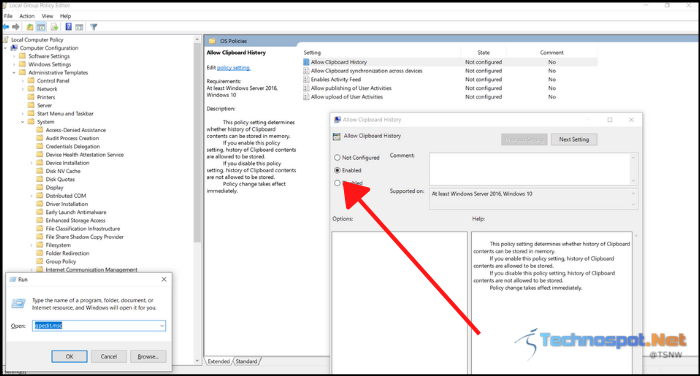 The Clipboard Sync feature is also a frequent issue. You should be able to sync the clipboard items between two devices if you use the same account on both (for example, a tablet and a PC). However, this is rarely the case.
As such, if the above trick fails to resolve your issue, it's time to dig a little deeper into the Group Policy advanced settings. Follow these steps to do it:
Press the Windows+R key to open the Run box.
In the run box, type gpedit.msc > Click OK to open the Local Group Policy Editor.
Navigate to the following path:
Computer Configuration > Administrative Templates > System > OS Policies
On the right-hand side, double click on the Allow Clipboard History
In the pop-up window, choose the Enable
Click Apply > OK.
Similarly, on the right-hand side, double click on the Allow Clipboard synchronization across devices.
Enable it > Click Apply > OK.
Close the Local Group Policy Editor window and see if you fixed your issue.
6] Clear Clipboard Data
Sometimes clearing the Clipboard data may solve the problem. Follow these steps below to do so:
Press Windows key+I to open
Click on System > Clipboard
On the right-hand side, scroll down and under Clear clipboard data settings. Click on it.
Check if the problem is solved.
I hope this post will help you fix Windows Clipboard History not working in Windows 11/10.
How do I enable Windows clipboard?
Clipboard is enabled in Windows 11 by default; you can access it anytime.
Press Windows logo key + V at any time to access your clipboard history. You can also paste and pin frequently used items by selecting an item from your clipboard menu.
Does the clipboard save data until you delete it?
Yes, either you delete the pasted content from the clipboard or restart your system; your data will be saved unless you are not doing any of these.
How far back does Windows clipboard history go?
The clipboard contents will persist until you log out or until an application decides to clear it. Whenever you attempt to exit Excel or Word while there is large data on the clipboard, you will be prompted whether you wish to clear that data and free up some memory.