Windows has many drivers and pre-installed software that provides a seamless experience to the user; still, sometimes things go south. One of these common problems is that of audio issues in the Windows Operating System. Sometimes you can not hear sound on your computer, for example, while playing music or any video. This post will help you to restore sound on Windows 11 and Windows 10 PC.
What Are the Leading Causes of an Audio Issue?
It might be caused due to some audio cable that is either loose or connected to any wrong port, which is very basic and easy to solve. Sometimes it is because the volume level is set to mute.
Another reason causing an audio issue in your computer could be a disabled sound card or an outdated or corrupted driver. Restoring sound in your computer may require troubleshooting, but you can get it working again.
Another reason that occurs often is that the audio output is set to different audio devices. You might have a wired headphone, but the audio output is set to the speaker.
Let's take a look at the how-to restore sound to your computer.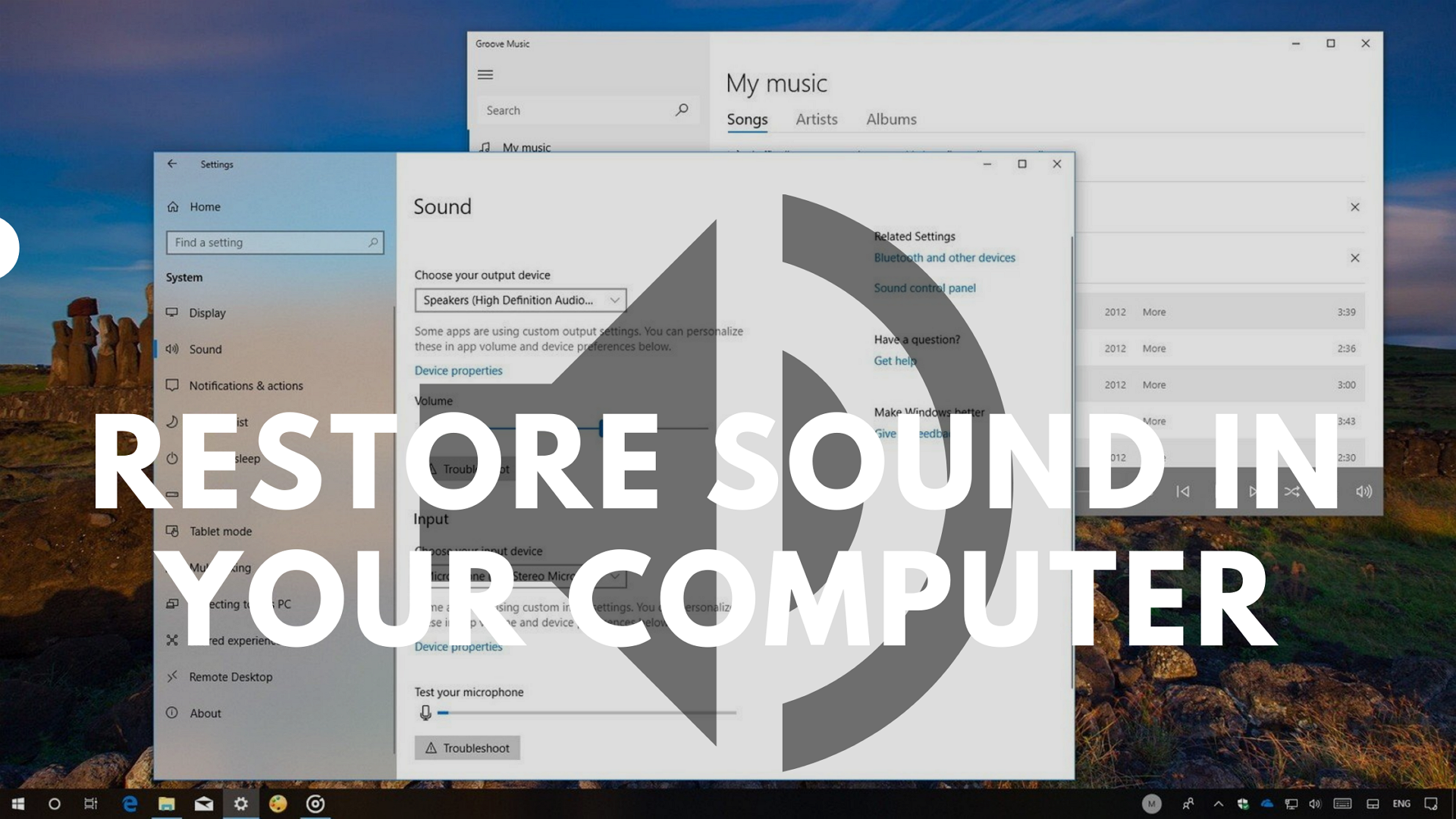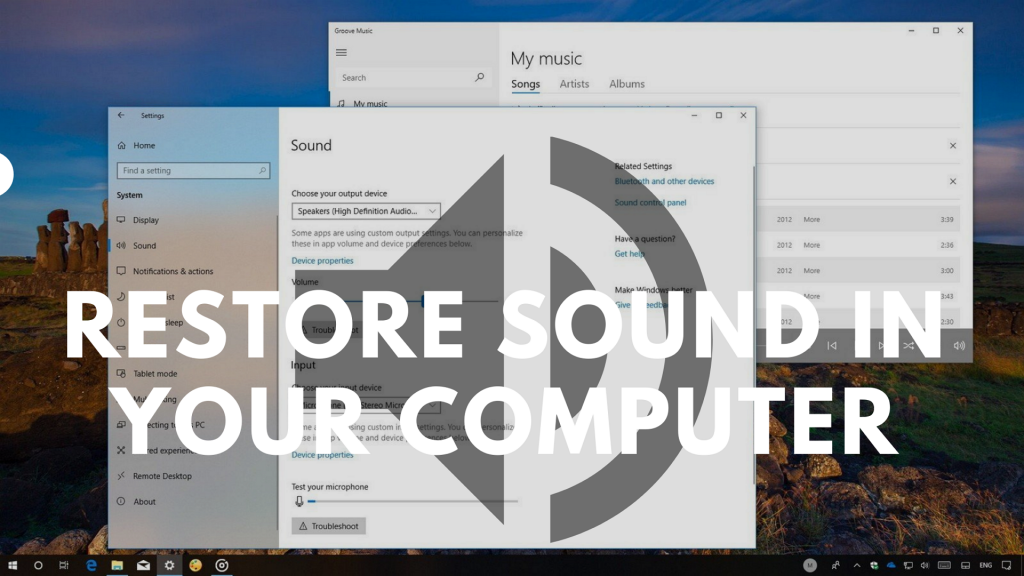 Fixed: How to Restore Sound to my Computer
You can follow the below-mentioned methods to fix no sound on your computer and have your computer back on track so that you can enjoy listening to music and playing your favorite game with an immersive audio experience again.
Connection Issues & Default Device
Check Audio Settings
Reinstallation of Audio driver
Update the audio driver
Troubleshoot the Sound Issue
System Restore
You will admin user account to follow some of these suggestions.
1] Connection Issues & Default Device
Connectivity is one of the most common reasons when the audio is missing. You may also need to check the audio output of the device which you are using. Take a look at the steps below to troubleshoot.
Check at the rear of your computer to see whether the speaker is attached correctly and to the correct port. Usually, they can be identified with color.
If you are using a wired headphone, then make sure it is connected properly. Play an audio or video on the computer, and then disconnect it from the computer. If you hear sound from the computer speaker, then there is a problem with your headphone.
To check which audio device is being used, you can click on the Volume icon to reveal the list of the playback devices. Select the one from which you want the audio to play. Play a piece of music or video file to confirm.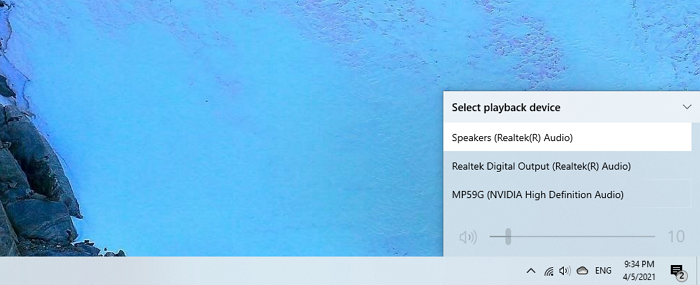 If clicking on the volume icon opens the Quick Action panel, then click on the arrow next to the volume slider to reveal the list of audio devices, and then choose to switch.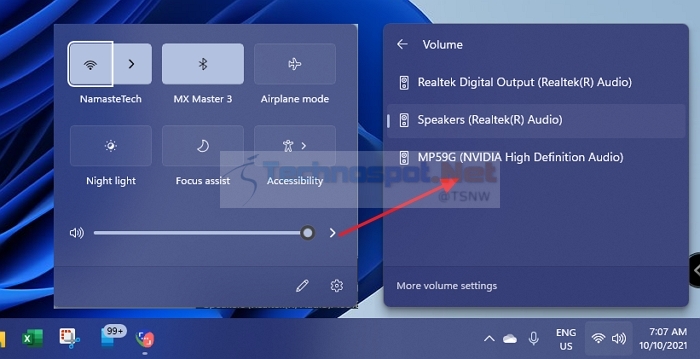 2] Check Audio Settings
Maybe you or someone else who has access to your computer misconfigured the audio settings, and if that's the case, be assured that any changes made can be easily reverted to their normal stage, and sound can be restored.
Right-click on the Speaker Icon on the system tray and then select Open Volume Mixer.  Now make sure that all the volumes are not minimized or muted. Set the volume as per your level.
Now check if your system's devices are not disabled in the audio setting. Select Start, and click on the Settings icon. Then navigate to System  > Sound.
In Windows 11: Go to Settings > System  > Sound and select the device by clicking on the radio button next to it.  Then click on the arrow of the selected audio output device and make sure the button next to General > Audio says Don't Allow. If you click on this button, it will disable the audio device and change it to Allow.
In Windows 10: From the Input and Output dropdown, select your Audio Device and select Device Properties for both input and output devices. It will reveal the list of all the devices. You can then select the device and make sure it is enabled.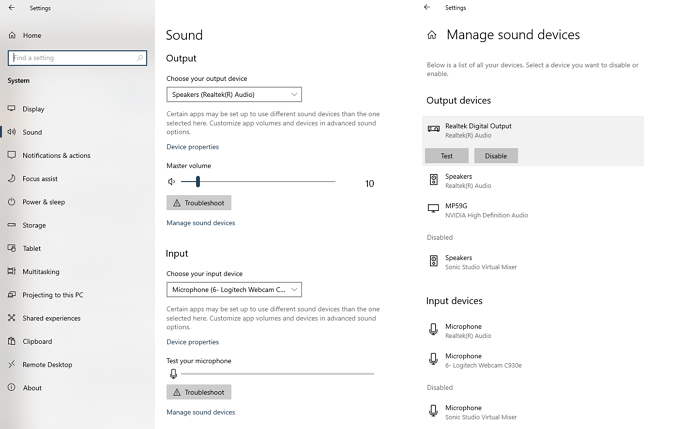 3] Reinstallation of Audio driver
Incompatible or outdated or corrupted audio drivers can cause fluctuation or no sound at all. You can completely uninstall and install the driver again to fix the problem. Follow the steps given below to reinstall your audio driver:
Open Device Manager and expand Sound, video, and game controllers.
Right-click on the audio card, and click Uninstall device, e.g., Realtek Audio
Select Delete the driver software for this device > Uninstall in the popup window to delete it. The audio driver will automatically be installed on your computer once you restart it.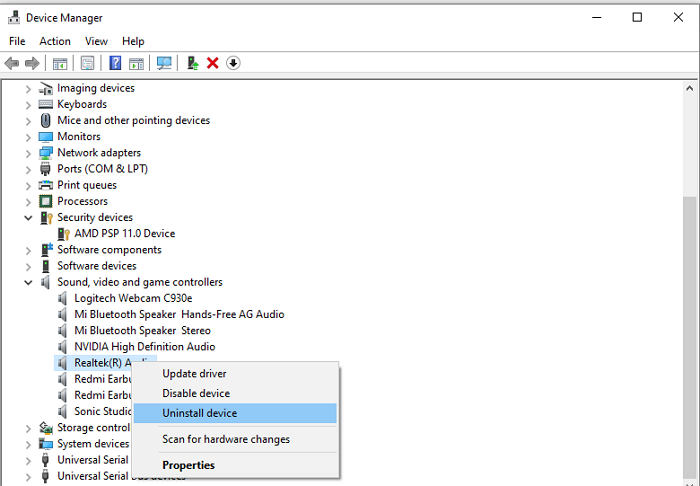 4] Update the Audio Driver
If reinstalling the audio driver may not solve your problem, you can also fix it by updating the driver in two ways- Manually and automatically.
Manually – Search for the latest and correct driver matching your Windows OS on the manufacturer's website and install it on your computer. Before installing the driver software, make sure to create a system restore or back up your computer.
Automatically – You can use any third-party app to download and install the driver.
5] Troubleshoot the Sound Issue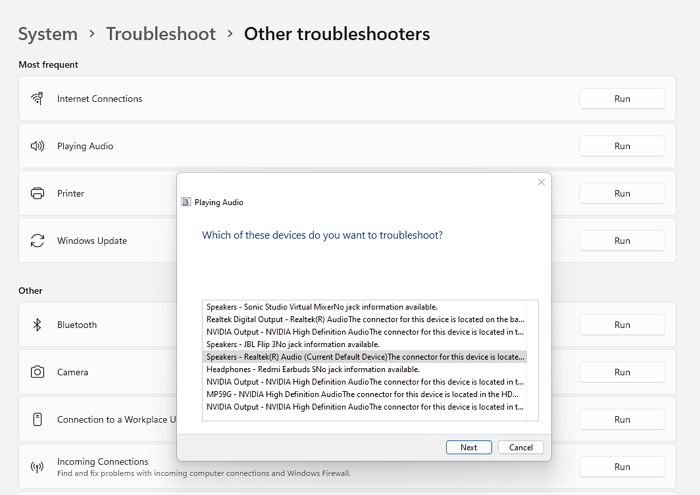 Windows offers an inbuilt troubleshooter in Windows 11/10 and can fix your audio issue on its own. To do so, follow the steps given below:
Select the Start and type Troubleshoot and click on it.
Then click on Additional troubleshooters.
Locate the Playing Audio option, click on the Run the Troubleshooter button.
Let the wizard complete its job, and check if you can hear the audio once the process is complete.
6] System Restore
As a last resort, if none of the above methods solves your problem, you can restore the system to the point at which it was working. To do this, you can perform a restore that can be done by following steps.
Open Start and search for Create a Restore Point and click on System Restore. ( If the option is greyed out, then that means you have no restore point available. )
Click Next and select the restore point to revert to it.
Click Next > Finish.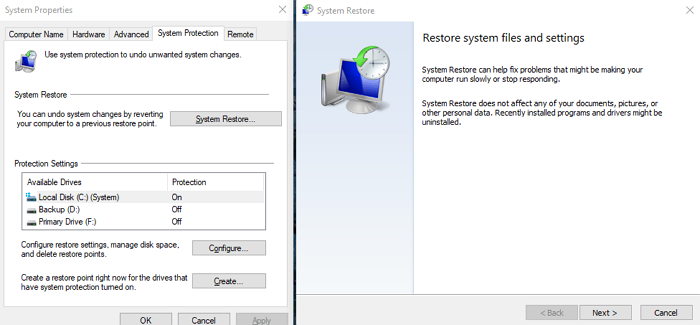 After this, your system will be restored to a working state, fixing your audio problem too.
These were the six easy steps to restore sound on your computer. Audio issues can happen for various reasons, and in this article, we tried to cover the most common ones. You can follow the methods one by one until you get your audio fixed, start by checking all the hardware is working, and then proceed to other complex solutions.
If you have any further questions or are still facing any problems, you may feel free to ask in the comments below, and we will try our best to solve all of your queries.
I hope this post will surely help you restore sound to Windows 11/10 computers, PCs, and Laptops.
How Do I Fix No Sound From Headphones in Windows?
In case your Headphones are not working with your system, you should do two things to fix them:
Update Driver
Run the Troubleshooting tool.
Update Driver:
After upgrading your Windows, a computer experiencing sound problems may benefit from an updated audio driver. The best way to figure that out is by visiting the OEM website and checking if your hardware has a driver update. Most OEMs offer an installer or a program to keep checking if there is an update and install it.
Run the Troubleshooting tool:
Open Windows Settings
Navigate to System > Troubleshoot > Other troubleshooters
Click on Run next to the Playing Audio tab.
The troubleshooter will detect problems and will make changes after a few minutes.
Once the Troubleshooting completes, it will list all the problems that have been found and the changes to the system that have been made.
You can choose to Apply this fix or continue searching for other issues if a recommended fix appears.
A Troubleshooting tool is a tool that automatically fixes common system problems, such as audio problems.
How to Lower the volume of an individual application while keeping the volume for others the same?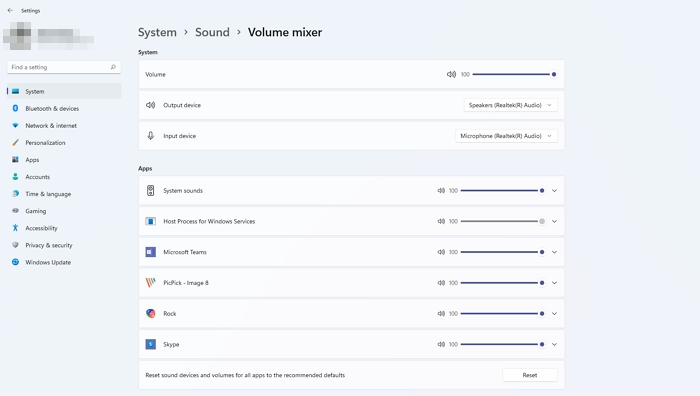 If you want to adjust the volume of each app on your Windows individually, you can do that by following the steps below:
Right-click on the sound icon from the system tray located at the bottom-right of the screen.
Click on the Volume Mixer option.
All apps that are currently open or running in the background and create audio will be mentioned, and you can slide their volume as per your preference.