There is no scarcity of PDF readers in the market, there are a lot of options, and browsers also support it. Generally, the readers available allow you to read the PDF files as a simple document, where you keep on switching from one page to another either by scrolling or using arrow keys. But if you want to flip pages in PDF files, then here is a list of special PDF readers and converters. Using these can you Read PDF file and flip a page of PDF file like you flip pages of a real book.
Why a Reader with Flip pages (like a book) functionality?
While using a reader of this kind, you can actually flip the page like a real book. Personally, I don't find them very useful as such, but it's all about the feel. I have heard people saying that the pleasure of holding a book in hand is far more than reading an e-book on your computer. Probably for the same reason these readers are in trend, though they can't make you feel exactly like reading a real book but can definitely fulfill that pleasure to certain extent.
Apps to Read PDF like a Book, Flipping Pages
Here is a list of some awesome free desktop applications which allow you to read your PDF files or E-Books in PDF format in flip style.
Soda 3D PDF Reader
Pokat
KooBits
A-PDF Page Turner
Etext reader
Some of these apps or software can instantly give you flip page effect, while others are converters.
1] Soda 3D PDF Reader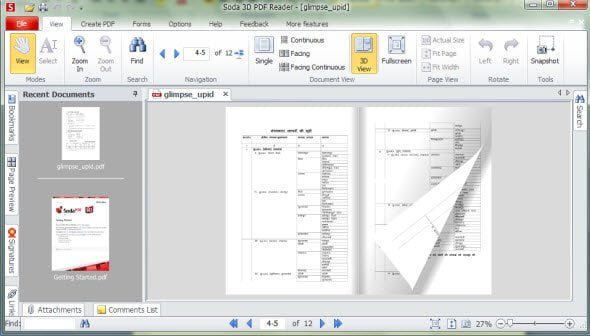 I have been using different PDF readers which allow flip-style reading, and this one is my latest favorite. a really nice program with loads of other awesome features.
Installing and using Soda 3D PDF Reader doesn't mean that you are forced to read a PDF file in flip style. In case the fonts are too small to be read with a two-page view, you can choose to switch to another mode for a better reading experience like a single page view, continuous page view, facing page view, etc.
Another great thing about Soda 3D PDF is that it allows you to create PDF files from almost any printable file, like Word file, Excel file, PowerPoint Presentations, image files, etc. Also, there is a facility to take snapshots from the PDF file.
Summarily the list of features for Soda 3D PDF Reader, as given on the official website –
Open, view and print any PDF file
View any PDF file in 3D without transformation of the file
Browse catalogs, books, magazines, etc. on your PC!
Create PDF from Word, Excel and 300+ formats (registration required)
Zoom in and out easily while in 3D view
Use customizable viewing options, including Full Screen
Download Soda 3D PDF Reader
2] Pokat
You should use this only when you want to read PDF files in flip page style, and nothing else. When using this tool, it will force in a fullscreen view as well. Personally I feel it is a pretty decent choice as long as you need a PDF reader with flip-style. If you want even a single feature more than this, Pokat is not for you. Here is a detailed post about the Pokat reader.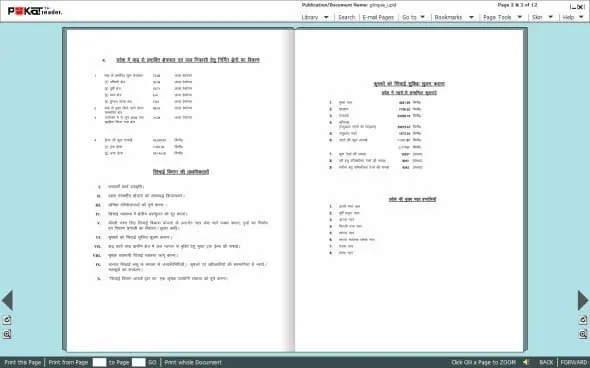 However, it supersedes Soda 3D PDF Reader in one thing, and that is, Pokat allows better readability. It's because Pokat opens in fullscreen mode. The dedicated space for the PDF pages is more compared to Soda 3D PDF Reader. In the later, a lot of space is taken by the left and top panel of the program.
3] KooBits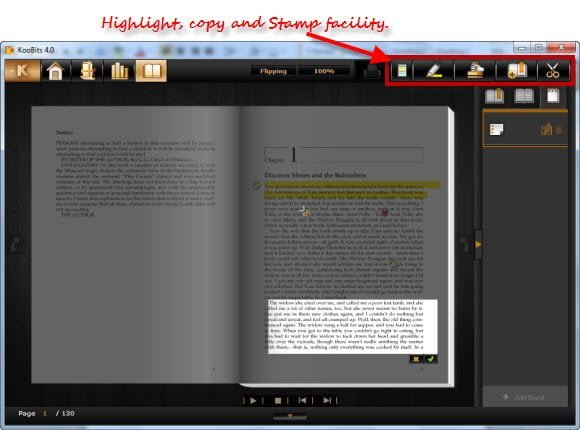 It is an e-book reader that supports several e-book file formats. The only reason we are enlisting it here is it allows flip-style reading. KooBits is a reader which is something in between Soda 3D PDF Reader and Pokat when it comes to the functionality. However KooBits has a lot to offer if we talk in terms of an e-book reader, you can read more about KooBits here.
4] A-PDF Page Turner
It is a software that can convert any PDF or document into PDF pages of which can be flipped. The trial version ads watermark which makes it a little annoying. However, its great for personal usage. Read more about it here.
5] Etext reader
It looks similar to PDF reading but is limited to just 2 pages. You can flip the pages but you can always scroll down. Moreover, the advanced options to customize front, borders, etc are pretty neat. Read more.
As per me, these are the best options to read PDF files in flip-style, if you know about more such apps do share with us via comments, if you choose any of the applications listed here, do share with us the name of the application you opted for.