Search for Food recipes is something which my wife does often these days and being a vegetarian recipes which doesn't have certain ingredients like Fish, meat and any other item to which one is allergic is a huge task.
Searching around I came around an impressive recipe search engine, Foodily, which solves the problem. The basic search allows you to find a recipe without something, so if you are looking for a cake which doesn't have seafood or egg , the job is made easy here. The search result is even more lavish as it includes an image of ready food along with ingredients listed which can be quickly added to your filter list.  This helps to get even more refined search and find a recipe which you are looking for.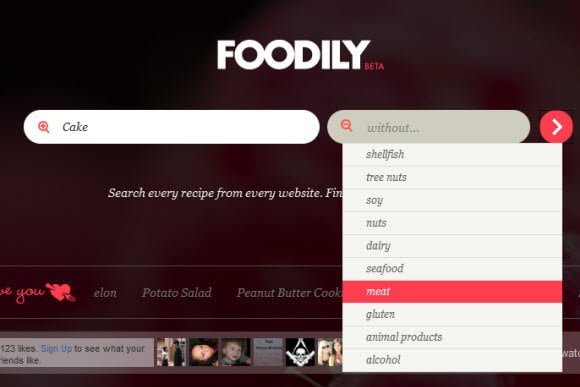 Feature List :
Visually rich search.
Easily filter in an existing search
Get to know how much time the recipe will take to prepare.
Navigation is very smooth. All you need is to use slider on top or click on the left right arrow button on sides.
If you connect this with facebook, you will get to know what your friends like.
The only thing you do not get here is the calorie values for each food where Google Recipe Search is a clear winner. So my suggestion will be to combine both of them as the list of websites which is included in Foodily are pretty impressive. Check out Foodily