Blogs which use more pictures for example a photo or a food blog should take the advantage of the new Image features introduced in the live writers latest version. In the last post I had to use lot of images to give the clear idea. Aligning images, adding color effects like sepia and adding a watermark to avoid other people directly copying or using your image are some of the features which we can use and give impressive post to our readers. Lets get to know how to use it.
Image tips for Windows Live Writer
Note: In case you find the images smaller, click on it and it will give you a better view.
#1 Aligning Images to center:
There is no direct way of setting the images to center as the options available are inline, left and right. People who are comfortable with HTML Tags can just place a center tag around it. For people who don't want to mess with it – Try this small trick.
After inserting you image, write a text right below it. Now select the image and text together.
Go to Format > Align and you will see the Center text enabled . Click on it.
Now if you have a habit of putting a text under images ( which is good) just press enter and align it back to left.
If not, remove the text, press enter and set alignment back to left. Check how I did in the images.

#2 Using Image Tab in Image Properties
Whenever you select an image, the sidebar changes to Image Properties. Now this has 3 tabs – Image , Advanced and Affects.Here we will discuss about Image Tab.
In the Text Wrapping , You get options for Inline, Left and Right. If you want a center align please follow the above trick.
In Margins , You can go for custom margins. They are nothing but to make some spaces around the image. This avoids mixing of image with the surrounding element.
In Border, You get three options

Drop Shadow – To give a shadow affect to your image. Check the first image above.
Photo Wrapper – This gives you a small white frame around the image which looks similar to photo print we take out. I would recommend this one.Check the image below.
Inherit from Blog: This will simply use the same settings which your blog theme is containing.
None: This will override all the things and will have no settings. Avoid using it.

In Link to, This is a useful feature which I realized later.

The first step is normal where you an link to an image or any URL.
Now if you are showing a smaller image here and want to show a bigger when clicked. Just click on Options button which is located right there. This will give a option to choose and set a size. ( This concept is similar to what wordpress attachment does but gives more flexibility on the size display.) to display when clicked
#3 Using Advanced Tab in Image Properties
The advanced tab gives you options to set image size , rotate the picture and adjust the contrast. Moreover the "alt" text which is very important for images to get into search engines is present under Alternate Text. never forget to add it.
Important thing to notice here is , Under image size you can predefine your image size settings, This works great again for people who deal with images more. You can set the maximum size according to your image resolution which will come very handy.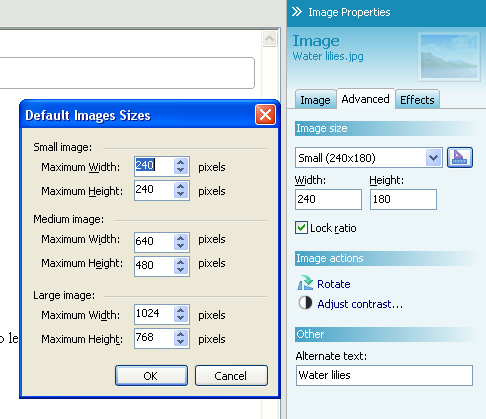 #4 Using Effects Tab in Image Properties
In case you want add effects like Black and White, Sepia Tone and Color pop. This is a right place.
Go to Effects and there You will see Green plus button and Red minus button.
This will gibe you two options, Adding Transformations and Overlays like Watermark.
If you have noticed, I had been adding my blog name in every image. In case you don't want to others to use your photograph, add with your custom name. This will make the sploggers at least think once.
Some of the features you might find it easy to use and could have not been mentioned. I was skipping too but then I thought it will serve a better continuation for beginners who come from the configuration article for live writer. I would like to hear if you have any more tricks on using images with windows live writer. Do share with us in comments. I would accept one thing, writing a list article is very tiring.