Fraps is the perfect freeware for anybody who is completely into games all the time. This software lets you benchmark any of your games using DirectX or OpenGL graphic technology by letting you calculate frame rate or FPS and save it to your hard disk. This will help you when you compare it with other games and do benchmark tests.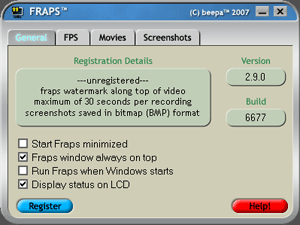 Apart from benchmarking and FPS, you can also record a video of the game you had been playing or take any particular game scene screenshot which you would like to keep as a remembrance or would like to put across in forums. Here is a sample of a youtube video that was created using fraps for the WOW game
However, with this free part of the software, you would get watermarks and limitations on how long you can record a game. So if you are not looking for commercial usage where watermarks give trouble, then it's all good to use. Find more about Fraps.