If you ever wanted to create a fake text message or SMS on your Android because you needed an excuse, then it's possible to generate one. You don't need to ask someone to do it for you, but instead, create one with whatever text you wanted. In this post, I am sharing apps which can help you get fake text messages on Android.
Get Fake Text Messages on Android or Fake Message Screenshot
At times when we need a fake text message, we would end up asking someone to do it. It also means you need to share the details and answer why you wanted to do it in the first place. So instead, here are two solutions you can use.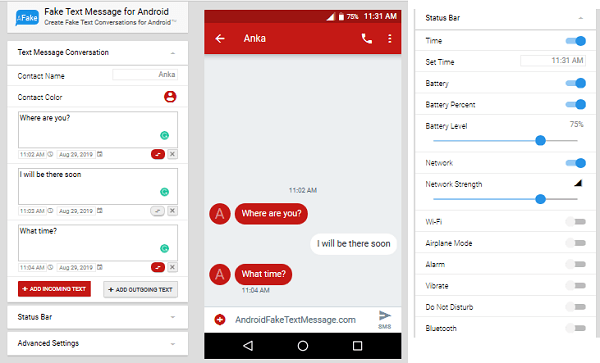 Generate Fake Text Message Screenshot
It offers you to create a full range conversation of SMS with whatever name you want and whatever conversation you want to have in the message. In the end, you can save a screenshot of the same which you can share to anybody. The screenshot will almost look like the stock Android message.
Choose a name and contact color
Create a conversation between you and the contact.
Set date and time stamp for each of the messages
Set Statusbar to match with the timing of the fake messages
Advanced settings allow you to add a blackout mark on the contact name, hide info bar, hide status bar, and so on.
Save image and then share it with anybody you want.
I think it is a lot better way to create a screenshot like this because it's much more comfortable, offers customization and so on. However, the theme resembles the stock android message experience. If the receiver knows that you use something else, and can figure out, it will be easy to spot the fake text message. Try it out.
Fake Text Message App (Free)
It's a native Android application which can generate Fake messages for you. The best of this application is that you can schedule a message with a predefined name, message. The delay can be set as 15 min, 1 min, or 3 minutes. Once done, the message will arrive in your SMS app.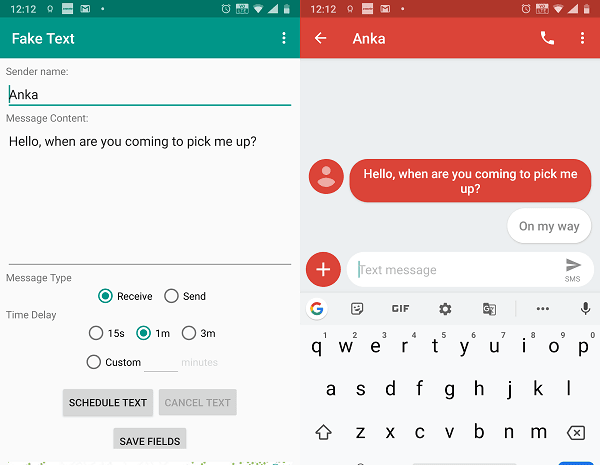 Download the app from here
Fake Text Message from NeuroDigital (Premium)
If you are ready to pay around a dollar a year, you can get this one. The most significant advantage is that it can create a  fake text message for WhatsApp, Messenger, and more.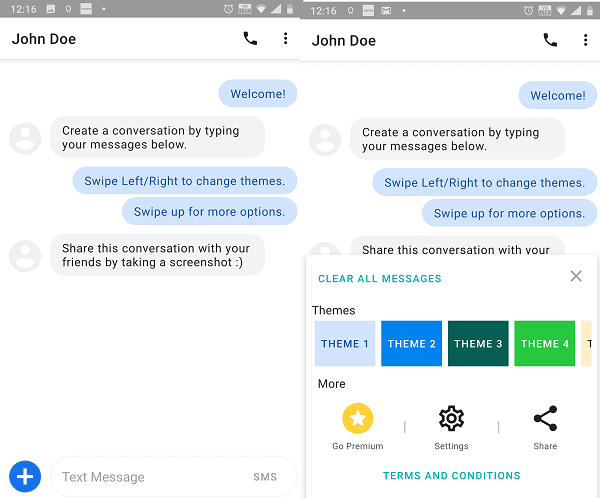 Download the app from here.
This app is exactly like 'Fake-a-Call' which is an app to get Fake incoming calls on your phone.