Cache files are created by almost any app running on almost all the platforms, right from your PC running a version Windows to the operating system of your mobile, to keep it simple, we can say that these files work as an intermediate resource. When you run an app on your device, it keeps saving some files in the storage of your system, so that when you run the app next time, it doesn't have to create these files again, and it can use the cache to get those files instantly. Now, though the cache definitely improves the performance of an app, and even the device, but even if you clear the cache, it won't affect the accuracy of the app, all that can be actually affected is the time taken.
At times, this may happen that cache files for different applications are taking some substantial amount of storage capacity of your device; here is a free Android app, named as aCCleaner Free (Cache Cleaner), which can be used on your Android device occasionally to free some space.
Simply install aCCleaner Free (Cache Cleaner), as soon as the app is launched after the installation, you will come across a screen that will show you the amount of space taken by the cache files, and later you can delete these files to free some space on your Android device. Here are the snapshots of the device –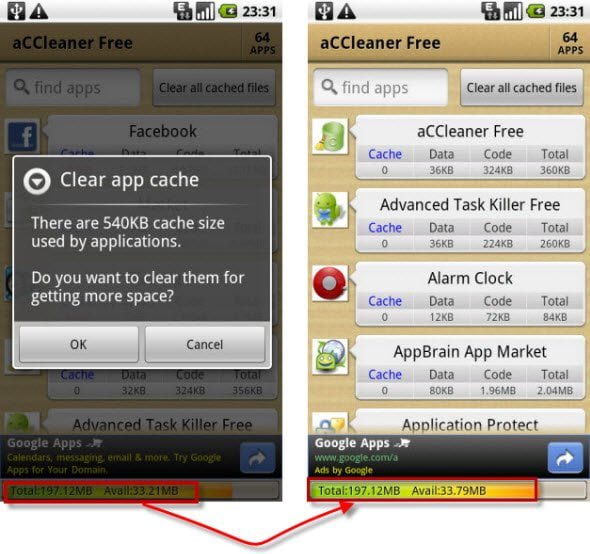 If you don't want to delete cache files for all the apps installed on your device, you can even go for a selective delete, by selecting and deleting the cache files individually for the each app. There is also an options, which can be reached using the 'Settings' of the app, here you can enable the feature so that the app notifies you on startup if a particular app has created a cache file larger than 500KBs.
aCCleaner Free (Cache Cleaner) seems to be a great app for freeing up some space on your Android device, try it out and share your views about it with us.
Update: This app is now available in Android Market with a new name, 1Tap Cleaner Free.Visit the 1Tap Cleaner Free app page to install.