Looks like 2011 is going to be a busy one especially for the Cricket Fans, ICC Cricket World Cup just came to an end with Indians as the World Champions, and now the other tournament is all set to start soon. IPL 4 starts on April 8, 2011. And hence Cricket fans must be busy looking for an app for their Android device so that they can stay updated on each and every happenings of the tournament.
Here is a Free Android app named as Cricket IPL 2011, which will deliver all-round updates of the IPL 4. This is actually the same app which was there with the name Cricket World Cup 2011 – LIVE by Appli, it has now been updated to new name Cricket IPL 2011, as of now, the app is showing only the fixtures, but if we look at the World Cup app, it gave us fixtures, past matches and their results, news (related to Cricket World Cup), participating teams, team players and their bio, etc. Seeing this I am expecting the app to deliver all the updates on same line for IPL 4 too. Other than fixtures other features aren't updated as yet, and show the updates from the World Cup.
Here is the snapshot of the app –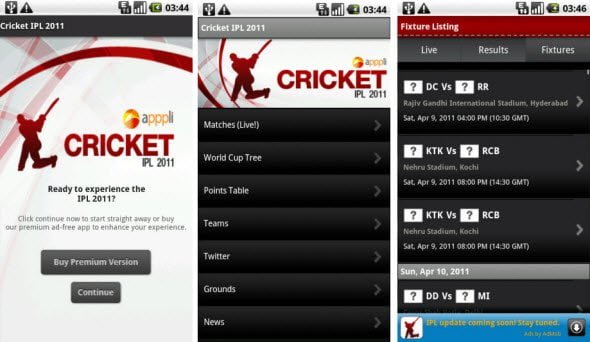 If you installed the Cricket World Cup 2011 – LIVE at the time of World Cup, simply update it to get the Cricket IPL 2011 on your device or you can install the app from the Android Market as well.
Visit and Install the Cricket LIVE Pro from the Android Market, this keeps updating for the currently ongoing Tournament.
Update: This app was Free while writing this post, but now is a paid one.
Also if you want you can view the Participating Teams and Fixtures in IPL 4, there are two news Teams in this IPL, first is Pune Warriors under the Captaincy of Yuvraj Singh, whereas other one is Kochi Tuskers under the captaincy of Mahela Jayawardene.