Can you imagine the dropdown in traffic if your website server crashes? It is true that sometimes websites might crash without any warning. While you might not know what caused the issue immediately, the consequences are immediate. This post will share some of the best Android apps for server and website uptime monitoring.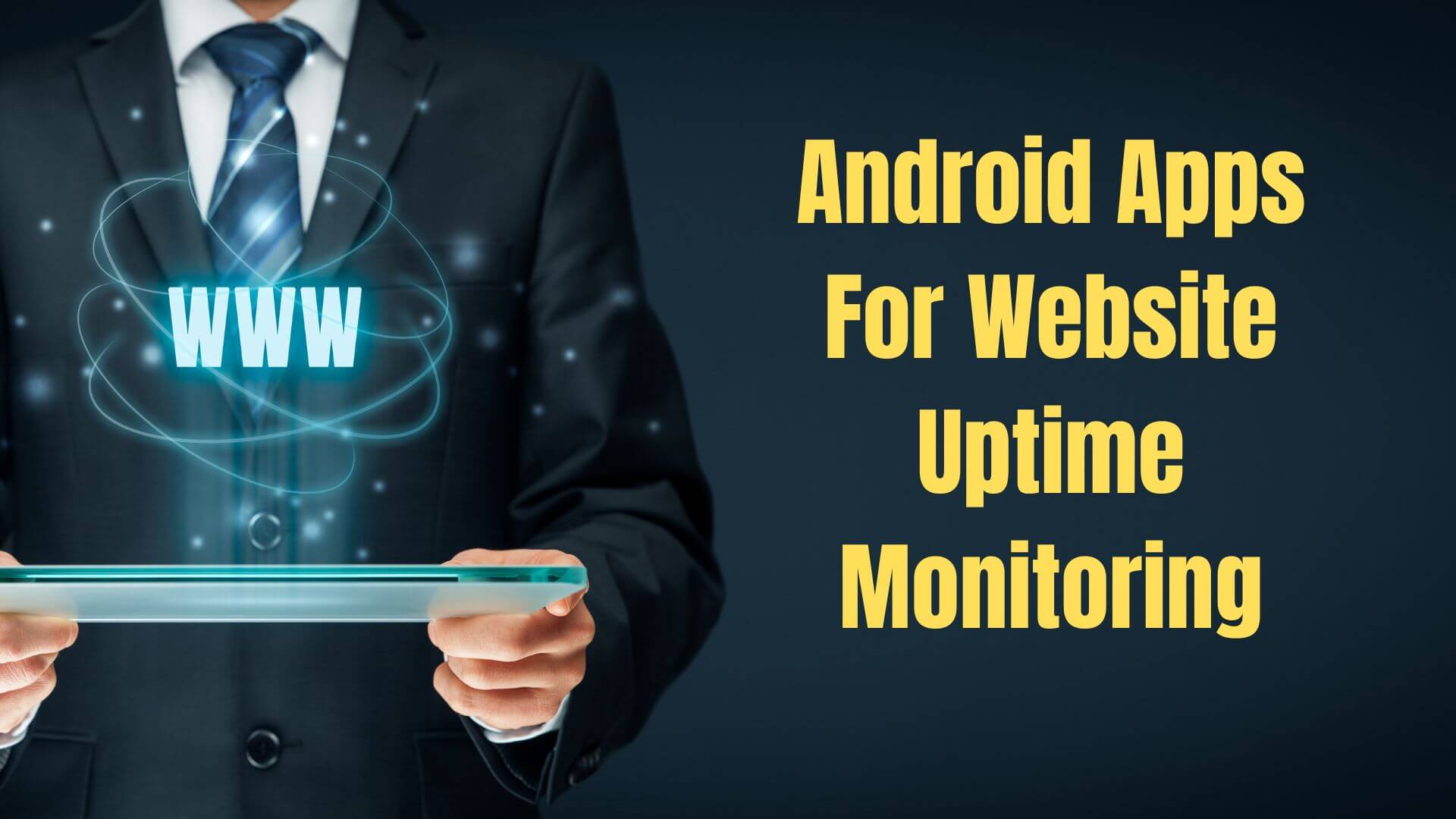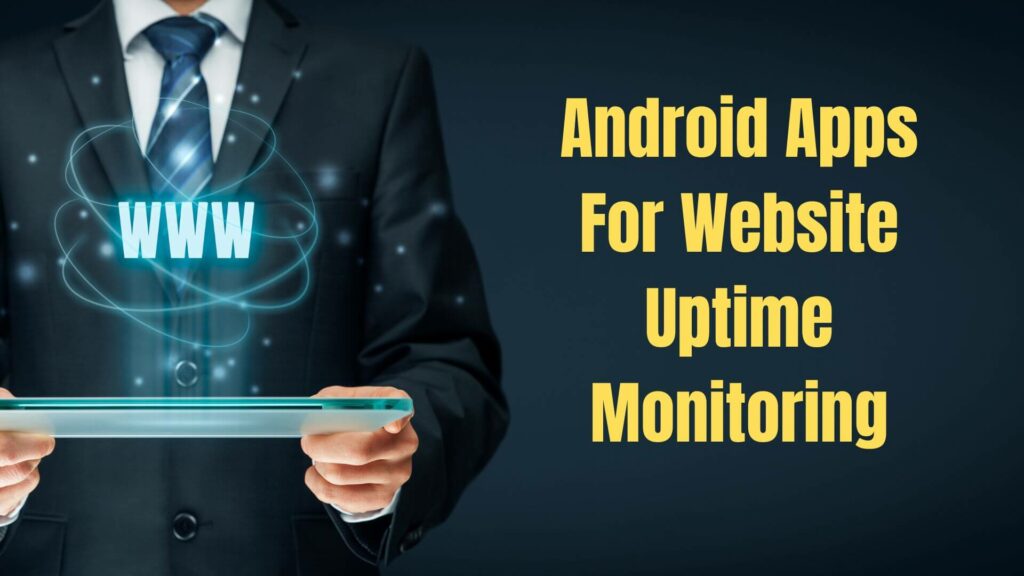 Best Android Apps for Server and Website Uptime Monitoring
Investing in a reliable yet hassle-free server and website monitoring Android app makes sense to keep a tab and get immediate notifications. However, many such apps are in the market, making the right choice difficult. To help you out, we have compiled a list of the best apps for website and server monitoring.
1. Pulseway 175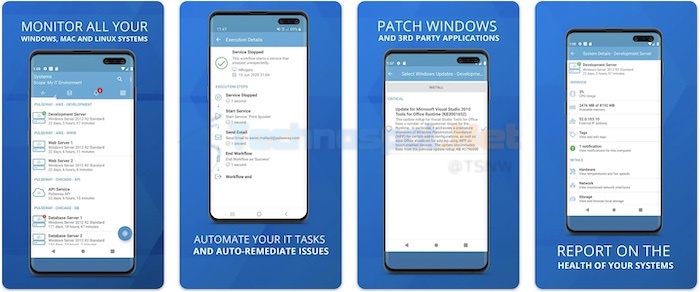 Do you want to opt for an excellent monitoring app that manages IT systems seamlessly? In that case, choosing Pulseway is a great idea. With this app, you can gain total control over different applications and devices remotely whenever you want. It is possible to monitor and regulate Mac, Linux, and Windows operating systems with API monitoring.
This IT management and monitoring solution offer easy and hassle-free features to users. That makes it easy to control and manage systems from a tablet or smartphone. The app also sends notifications to system administrators to see and solve issues quickly. Besides, the app offers many lucrative features, indicating its ever-growing popularity.
The automation feature of the app offers auto-remediation workflows, allowing issues to be resolved fast. Apart from that, the app makes it possible to patch different applications from various devices. You can also use Pulseway Network Monitoring to gain complete network visibility. However, the most appealing aspect of the software is its scalability, as it aids businesses in growth.
Download from Google PlayStore
2. UptimeRobot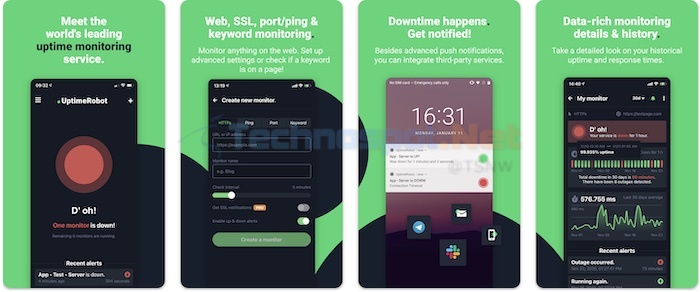 One of the top-rated monitoring service apps you can check out is UptimeRobot. The web-based software is specifically designed to monitor websites frequently. That way, the administrators can know whenever an issue occurs and take active steps immediately. It leads to websites working in perfect conditions and alerting administrators whenever necessary.
The app checks out different factors before sending out alerts. These include port, HTTP, keywords, ping, and then sends alerts through email or SMS. This app can perform different tasks with a REST API interface. It also allows the sharing of the details and stats with clients and other members of the team.
Different features of the app make it even more appealing to businesses. These include event tree analysis, Let's Encrypt support, SMS reminders, User profiles, location, and so on! Apart from that, the app is easy to understand and comes in two versions – free and premium. The free plan offers 5 minutes monitoring intervals, while the Pro (billed $4.50 per month) provides 1-minute monitoring intervals.
Download from Google PlayStore
3. PRTG for Android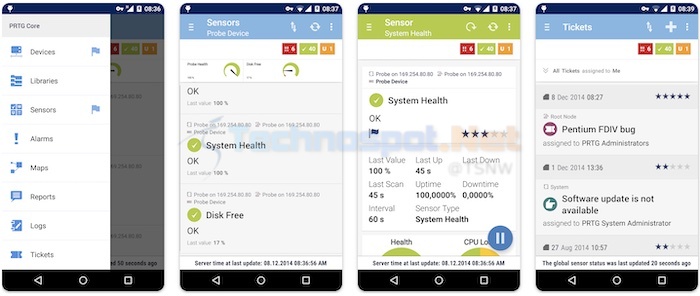 Another excellent website monitoring software to look out for is PRTG for Android. It is compatible with devices having Android 4.0 and later. The app connects with the PRTG servers via Wi-Fi or VPN using HTTP or HTTPS. You can take advantage of the vast features, making your business more productive.
The app allows the usage of different user accounts to monitor various PRTG installations and their data. Apart from that, you can even choose the app's language (Dutch, German, or English). Since the PRTG apps connect to the PRTG servers, you can view the device tree, sensor data, etc. You can also display current logs and object comments and view libraries and maps.
The app will instantly notify you whenever a breach or outage occurs on the website. Integrating the app's push notifications into your mobile's notification bar is seamless. These notifications offer details on what triggers the alert. After that, you can set the frequency with which the app must check out new alarms.
Download from Google PlayStore
4. NinjaOne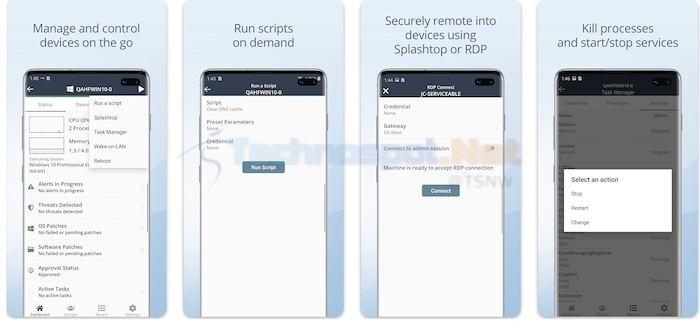 One of the most well-known and reliable IT management solutions for website monitoring is NinjaOne. It is a unified solution that offers a single view of the tools and endpoints necessary to handle problems. It automates the day-to-day activities of IT experts and managed services.
With this platform, IT professionals can attain a wide range of functionalities. For instance, you can render proactive monitoring, patch management, IT asset management, and so on! The all-in-one platform makes NinjaOne the desired choice for various businesses. The platform is cloud-native, so you can quickly complete tasks with a responsive UI.
Identifying and resolving issues before the users detect or report them is crucial for the business. Here, the app aids in improving the satisfaction of the end users. Apart from that, the robust remediation and automation tools enable the IT team to attain better results. Also, the platform offers excellent pricing plans, making it easy for companies to choose the best one that suits their needs!
Download from Google PlayStore
Other similar services on the same lines –
Conclusion
This concludes the list of the best Android server and website monitoring apps. While all the apps are excellent, you must choose the best one that fits your business needs. To do that, you need to understand the requirements of your business. 
For instance, you can choose PRTG for Android as it offers many features. However, if you want to handle IT problems without much hassle, choosing NinjaOne is a great idea.