If you are a webmaster or you own a website (or a blog), naturally, you will never like it to be down. But there are times when the site is down or maybe just the response time is too much. It could not only affect your earnings but also is not good news for your website's reputation. In this post, I am sharing Best Android Apps for server and website monitoring
Best Android Apps for server and website monitoring
1] Pingdom
There are several website monitoring services, which can help you to keep track of it. Pingdom is one such service which can be used to get an instant intimation about issues being faced by your website. There is also a Pingdom desktop application, which allows you to keep a constant check on your website right from the desktop.
Now, Pingdom also has an Android App. You can now get to know about the response time, uptime and downtime on the move. The process is simple, register an account with Pingdom. Later install the app on your Android device, enter the account info, and sit relaxed, here are some of the snapshots of the app.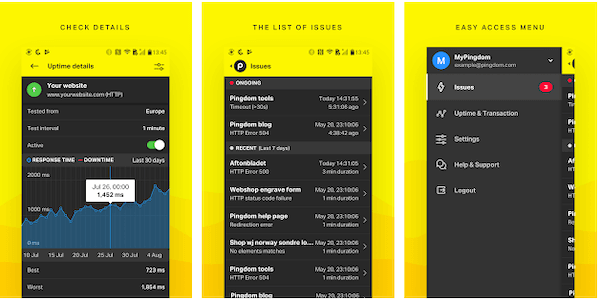 Sounds interesting, isn't it, Pingdom's Android app looks like an excellent way to keep an eye on your website's performance. You can grab the app from the Pingdom app page in the Android Market. Pingdom also has an iPhone version, checkout if you are an Apple fanboy.
2] Server and Website Monitor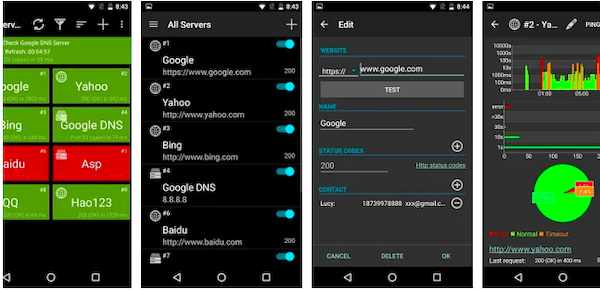 Easily view all server/site status in the same interface
Check the server/site status details and charts
Add contacts to server/site
You can monitor Web server, Email server, DNS server, FTP server, VPN server, etc.
Monitor web sites based on the domain name / IP address, support HTTP / HTTPS protocol,
You can manually add/modify HTTP return code for monitoring.
Download from Google Play Store
Other similar services on the same lines –