Friends and colleagues playing around with your phone is a very common scenario, and in this process it often happens that people end up getting an access to your personal photos or videos, here is a free Android app to help you out. 'Vaulty Free Hides Pictures' is the free Android app which can hide your photos in the password protected vault and the photos and videos hidden in vault don't appear in the Media Gallery.
All you need to do after installing 'Vaulty Free Hides Pictures' is, set a password for your Vault, now tap on a photo or video which you want to hide, select 'Share' and choose the option which reads 'Vaulty Free'. It will ask you for your password, and soon the photo or the video will disappear from your gallery.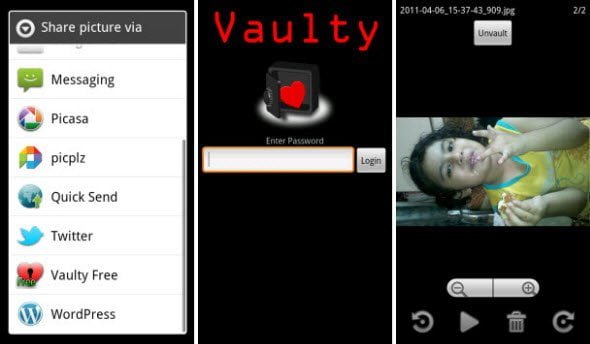 Now, whenever you want to access this photo or video, go to the application, launch the 'Vaulty Free Hides Pictures', enter your password, and you get too see the list of photos in vault and to see the videos in vault, tap for the menu, and use the video option. Later, if you want the photos or videos back in the phone's gallery simply use the 'Unvault' option.
If you too want to hide your photos and videos in order to restrict the access, go ahead and install this app on your Android device right away. Well, for some reason the app is working great for Photos on my phone, but isn't working on videos, I am not able to vault the videos.
Visit and Install the 'Vaulty Free Hides Pictures' page.
Here is another Free Android app to Password protect almost anything on your device.