Here is a free application, known as CADE, is a very impressive application for drawing different types of diagram. Once you install and launch this application (Microsoft Visual C++ 2008 is must) you can see the types of ready-made components on the left panel, these can be used to create diagram easily. In order to bring these components on your diagram, you need to Drag and Drop them from the left panel, later you can resize them go well with the diagram.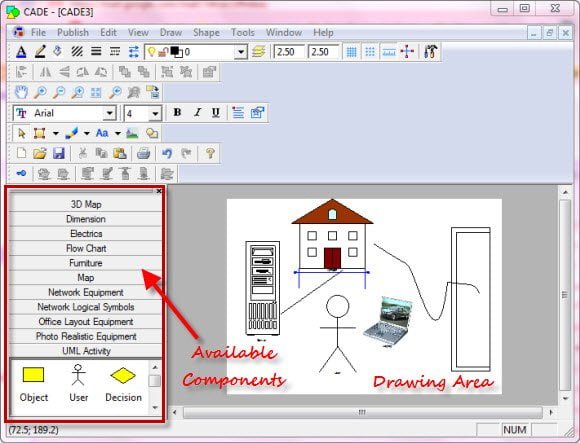 There are several other options, as the snapshot shows, you can utilize them and draw any type of diagram you want.
Other features of CADE (as seen on the product page) –
Every block can have attributes and these attributes are displayed as labels on the diagram, and they automatically in diagram when the change is made in attribute.
Extensive Draw cable functionality, free hand lines, and poly lines drawing functionality. Its is possible to add, delete and modify them
Smart connectors to connect different types of components on the network, connections once made, remain intact, even if you re-arrange the block on diagram.
Layering functionality
CADE utilizes DXF 12 format. The latest DXF, DWG and DGN formats support is available under request. Export formats include EMF and JPG.
Overall CADE looks an awesome way to create diagrams, however the options available for exporting a created diagrams are less as compared to Dia. Dia is another tool on almost same lines.
So, go ahead and try CADE, and share your views about it with us. If you are looking for an online tool –
Creately is a great option to Draw, collaborate and share Diagrams online.
Draw Anywhere is also an online option which allows you to create diagrams and export them as PDF or Image file.
Download CADE