Folder Hidden is an awesome utility to hide and unhide the folders and files, it is damn easy to use, and has a very simple interface.
Once you install Folder Hidden, it will ask you to create a password before the first run, as soon as you create a password, the window will appear in front of you.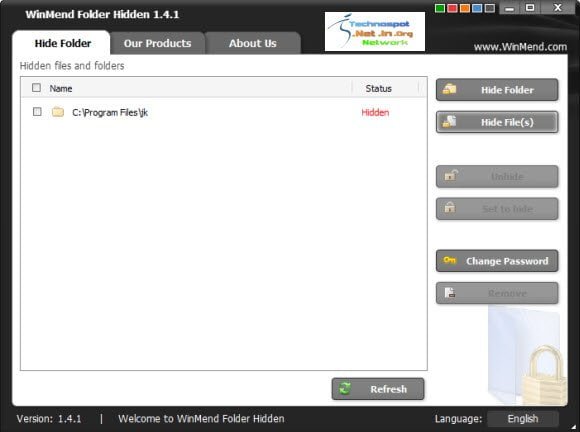 Now, in order to hide a folder or file, simply select the option from right panel, i.e. either 'Hide Folder' or 'Hide File', now browse to select the file or folder to hide, once done with hiding, exit the application.
Now, if you want to unhide a hidden folder or file, launch the application by providing the Password, and use the checkbox to select it, and later click on the 'Unhide' button.
Also you can remove a folder or file from the list, using the 'Remove' button. 'Change Password' button is there so that you can keep changing your password, may be periodically or as per your need.
Folder Hidden comes with five color themes, you choose your favorite colored theme on the top of the program window.
So, if you want to keep certain files or folders hidden in order to restrict their access go ahead and grab this ultimate utility now.
Download Folder Hidden