If we talk about the calendar or to-do list organizer applications, the list is huge; almost every application is unique in its own way. And no doubt, this class of application is pretty useful and must have. We need a digital assistant, which can remind us of important appointments, to-do, deadlines, etc. I am sure you might already be using one on your desktop or may be one on your phone (Smartphone). Here is another choice, a calendar app designed especially for Windows. Named as 'Interactive Calendar' this application allows you to have a floating widget and planner on your desktop.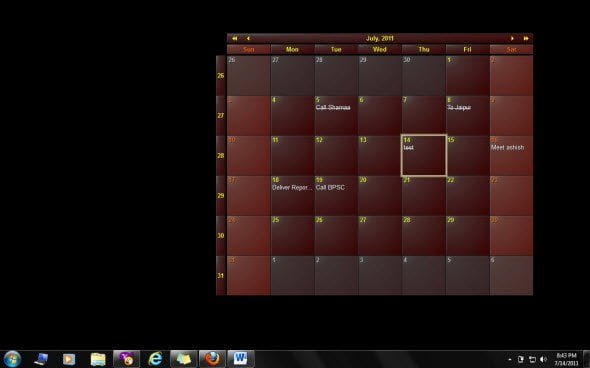 What it does?
Interactive Calendar when installed on your system –
Allows you to have a floating Calendar on your Desktop.
Shows the current month.
Allows you to easily navigate through other months.
Also shows which week of year does a date fall in, like July 14, 2011 falls in 28th week of the year 2011.
Allows you to add events on specific dates.
Events can be added for a certain time of the day, or even for the whole day.
Events show on the date in the calendar/planner itself.
When marked as completed, an event is shown with the strike through text.
Simply double click on any date to add an event.
When the event is complete, double click to mark it as complete.
Interactive Calendar can also be customized for the look and feel as per your choice.
Customization includes, color schemes, size of the calendar on the desktop, Fonts etc.
Interactive Calendar also has a system tray icon, which can be used for going to specific date, going to today's date, also allows you to access the options, which has all the customization options. Also the right click menu of this tray icon has an option which reads "Open Interactive Calendar", this brings another interface of this Interactive calendar in front of you, as shown below –
You can perform the operations like adding, editing etc. for an event from this window as well, also you can perform search for your tasks, and option to export and import them to different formats like CSV, etc. is also there.
Here is a short video which shows the complete working of Interactive Calendar, have a look –
Overall, I loved using this simple tool, I liked the simple and damn easy to use interface, and also the quality of being embedded on the desktop is great. All I wish is, it would have been one of the best calendar/planner tools if it has an alarm option too, I hope the developers are listening.
So, go ahead and try it out, share your views about this tool with us.