Tired of using File explorer where you need to copy one thing then go down and click and then paste to the destination? Here is an excellent alternative, Free Commander. It's a stand-alone program which I would say its a Double File Explorer which makes your file related activities much more comfortable. You can copy the whole installation files in a USB and use it anywhere on any computer.
Free Commander: An Alternative to Windows File Explorer
While Windows 10 is yet to introduce Tabs, this feature is the core of Free Commander. It not only makes file copy process easy; it comes with advanced settings for pro users. You can change file settings and permissions, read binary files with inbuilt file viewer. You can also compare folders and files and create MD5 Checksums, search in an archive file, which is cool. There are more. Read below.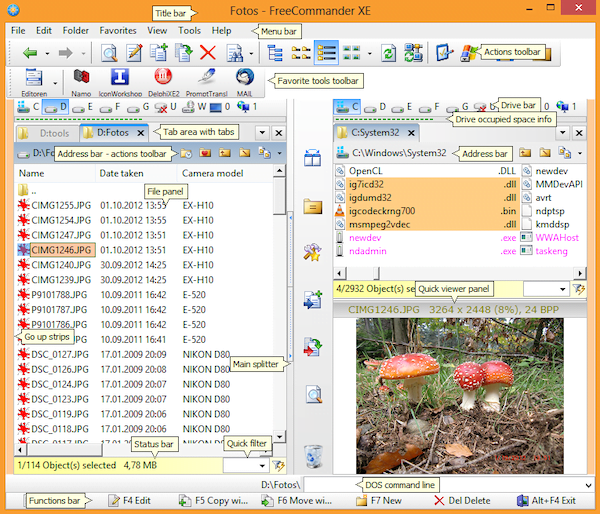 Features of Free Commander
Dual Panel and Tabbed Interface
For each panel, you can fade in a tree-view
Create File search filters (e.g., only for doc files )
Pack and unpack files.
Wipe files, split and all usual file activities.
Take a desktop snapshot
Preview Images
Access Network files, Find same folders ( If they have the same name)
Copy full path as text.
Integrated DOS command prompt
Sort files by name, size, type, file time and attributes
Save Layouts, i.e. Customize Layout as per your need, and keep using it.
Rename multiple files.
Timeshift of several files is possible
Make Directory list
Compare and synchronize Directories to make sure both have the same files.
Supported archive formats: ZIP and other with plugins
Intern file viewer enables a quick view of the files in the formats such as text, hexadecimal, binary, and images.
File names and paths can be copied into the Clipboard