Grooveshark is an online music sharing community, and is damn popular among the music lovers; in case, if you haven't been on Grooveshark, personally, I am sure we all have seen some of our office mates constantly using it for online music listening throughout the day along with the office work. If there resides a music fan in you, here is an awesome app for you. 'SciLor's grooveshark™.com Downloader' is an awesome free app, which allows you to download music from Grooveshark. The application allows you to search, or you can simply have a look at the popular tracks. Later you can select the tracks and download them in one go.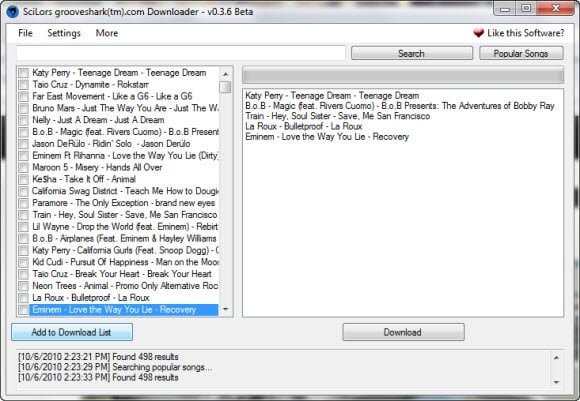 It is a standalone application, doesn't need any installation, simply unzip the setup zip file, and later run the .exe file in it (.net Framework is a requirement).
Search for a specific track, or click on the 'Popular Songs' button to get the list, select the desired tracks using the adjacent checkboxes in the left panel. Later click on the 'Add to Download List' button to enque the track in download list, one done with this, click on the 'Download' button, and relax, it will download all the tracks you have selected. By default it saves the downloaded tracks in .Mp3 format in the same folder as this app. If you wish to, you can change the default download folder, and save the downloaded files in some other folder.
'SciLor's grooveshark™.com Downloader' seems to be a must have for all the music lovers; this definitely is a great way to get your favorite tracks on your local drive, isn't it?