Probably we all use Facebook; and hence we do upload several photos and videos too, generally we do this in the browser itself, here is a small app, which can be used to upload Photos and Videos on Facebook, Bloom, which is very easy to use and damn convenient as well.
Once you install and launch Bloom, you come across a window which has a 'Login' button on the top left corner, click on it and allow it to access your Facebook account. Later you can add photos and videos easily, as shown below.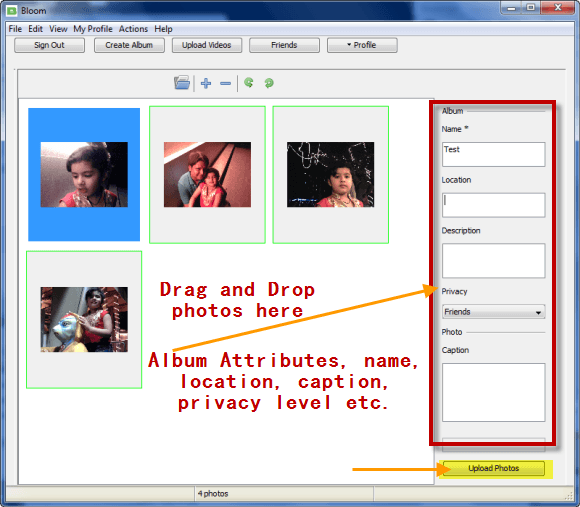 You can choose the properties of you album, name, location, privacy level etc. Once done with these, simply click on the 'Upload Photos' button, and as soon as uploading is done, it will open your Facebook album page in a new browser tab, to let you see the uploaded pics.
Same process can be done for videos as well. Also you can add and remove photos from an existing album, privacy level and other album attributes can also be changed. You can view and download the photos from a Facebook friend's album as well, and that doesn't even require a browser.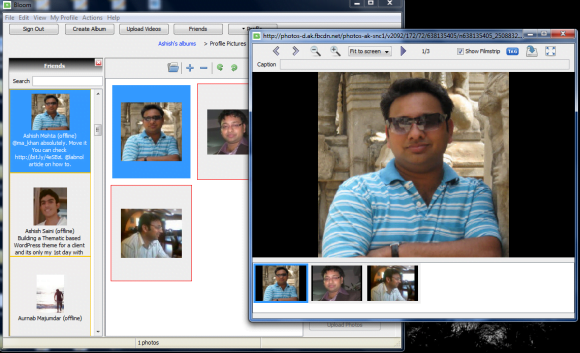 Here is the complete feature list for Bloom –
Upload photos and videos to Facebook which includes tagging people: (more than 200 photos supported and privacy)
Import custom photo Exif info (IPTC) into the photo caption
Download albums from Facebook
View your friends photos
Save individual photos
Support for uploads behind a Proxy server
Windows/Mac/Linux/Solaris compatible
Bloom is a nice app, and makes it really convenient to manage your Facebook albums, and it is available for Mac, Linux, and Solaris as well.
Related –
Flickr Uploader
Upload images to Photobucket account from browser