If you searching for a nice Internet TV and Radio application, your search ends here, here is a small application named as Solway's Internet TV and Radio Player.
Once you download and install this small application you can have an instant access to several Radio and Internet TV stations.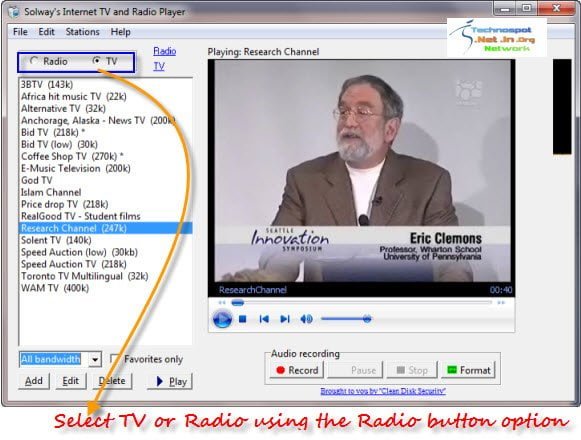 Using the radio button option as shown in the above snapshot, you can choose to play Radio or Internet TV. As soon as you select one from Radio or TV option the list of available channels or radio stations appear in front of you, you can now choose to play whatever you want.
Solway's Internet TV and Radio Player requires Real Player too, so make sure that is installed on your system before you start enjoying it, even the basic version of Real Player works fine enough.
It also allows you to record as well. So go ahead try this, Download Solway's Internet TV and Radio Player now.
However, if you are looking for another app to Record and Listen Radio Channels, Radio Sure is pretty impressive, and Screamer too works fine as a portable Internet Radio Player.