Malicious Software Removal Tool for Windows (all versions) is a free offering from Microsoft. As the name says, it scans your system for Malicious Software which has been installed on your system silently with the intention to harm you or your system.
This application scans the system for specific prevalent malicious software (like DOS/Alureon, Win32/Alcan, Win32/Alemod, Win32/Antinny , Win32/Atak, Win32/Bubnix, Win32/Cissi, Win32/Corripio , Win32/Doomjuice, Win32/FakePAV, Win32/FakeRean, Win32/Ganda, Win32/Hamweq , Win32/IRCbot , Win32/Lovgate, Win32/Msblast, Win32/Oderoor, Win32/Rimecud, Win32/Spyboter , Win32/Wukill, Win32/Zafi, etc.) from computers that are running Windows 7, Windows Vista, Windows Server 2003, Windows Server 2008, or Windows XP, and helps you to remove them if any infections are found.
Type of Scans :
It allows you to do 3 different types of scan,
First is Quick Scan mode (scans areas more likely to contain malicious software, if infection is found, it prompts you to run a full system scan),
Full Scan mode which scans the entire system,
and the Customized Scan mode to scan specific folder along with quick scan.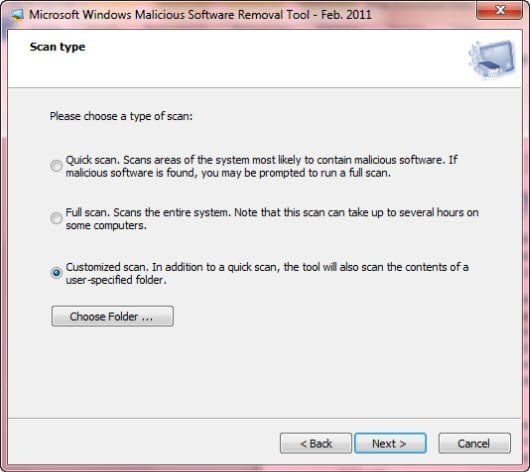 Once the scan is complete, you can view the detailed results of the scan, also you can get to know that which malicious software has been found on your system.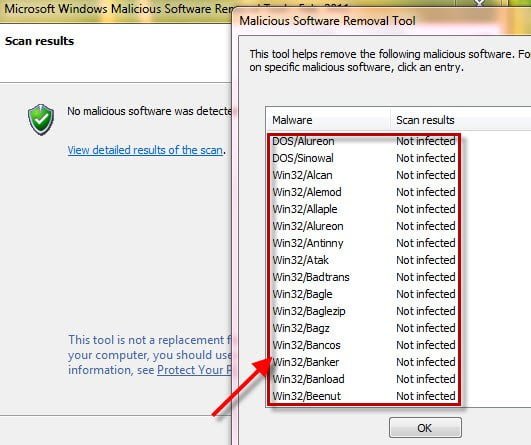 This definitely is a great application, in my opinion this is a must-have for everyone. Generally, the Anti-virus software comes with the ability to block any type of Malicious programs, so using Malicious Software Removal Tool allows you to enable an added security.
You can either download this tool manually or run it to scan your system, or you can choose to run it automatically by enabling the Automatic Windows Update.
To know more and download, Visit the Microsoft Windows Malicious Software Removal Tool