Microsoft Office 2010 is in Beta now, and is definitely one of the current most discussed topics over the internet now.If you too have fallen in love with Microsoft Office, here is something you will like to have; it is the Microsoft Office 2010 skins for Yahoo Messenger 9 and 10.
This Microsoft Office 2010 skin for Yahoo Messenger is actually a pack of two skins, Microsoft Office 2010 Blue Skin and Microsoft Office 2010 Silver Skin, have a look below, icons which have changed after installing MS Office Skin are highlighted.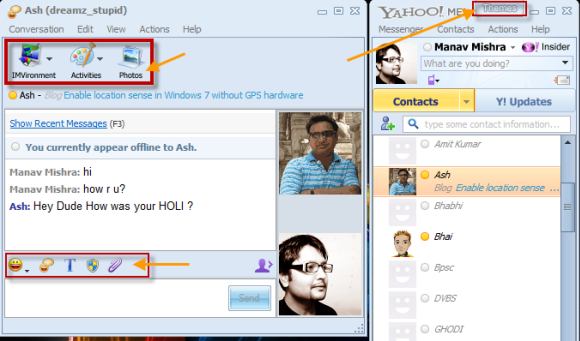 You can download this pack of Microsoft Office 2010 skins for Yahoo Messenger here.
Later extract the contents of this file, and then you will have to extract 'Y!M 9.7z' or 'Y!M 10.7z' depending upon the version of Yahoo Messenger installed on your system.
Extracting 'Y!M 9.7z' or 'Y!M 10.7z' will give you two folders, 'OFFICE 2010 Blue' and 'OFFICE 2010 Silver', go ahead and paste these in the 'skins' folder of your Yahoo Messenger, as shown below.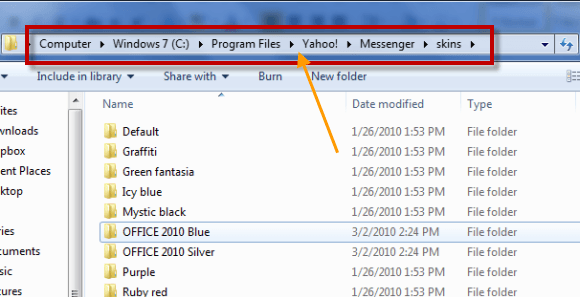 Now click on the skin button of your Yahoo Messenger to get these 2 new skins in the skins list. Enable the one you want, these new themes will probably remind you of Yahoo Messeneger 5 and 6, they reminded me of 5 and 6 version of Yahoo Messenger, what do you say, if reminded you too of these versions, share with us via comments.
Thanks to Mr. Thien for giving us this lovely pack of Microsoft Office 2010 skins.