We have been hearing about different news regarding the Microsoft's next OS, Windows 8. We heard about several new features, looks, etc. in the upcoming Windows 8. Lee Whittington developed W8 Clock Logon Screensaver, which is inspired by the (Leaked) images of the Windows 8 Logon Screen Clock.
This clock looks awesome as screensaver, and here are the features (as given on the download page) –
Easy Install/Uninstall with option to auto apply Screensaver and load settings.
Themes for BackgroundFont ColorTime&Date Background.
Transparency settings for normal use. Transparency not supported for screensavers on Logon Screen and non-transparency will be used.
Displays TimeDate and Day of Week.
Display Time 12 Hour or 24 Hour Format.
ShowHide Seconds.
Alarm Clock: Lights up Time and plays Sound of your choice. Supported audio: MP3, Wav, WMA and Midi. Choose DayDays to run.
Move mouse or press key to unload the Screensaver and stop Alarm.
Here is a snapshot of the clock taken on my system –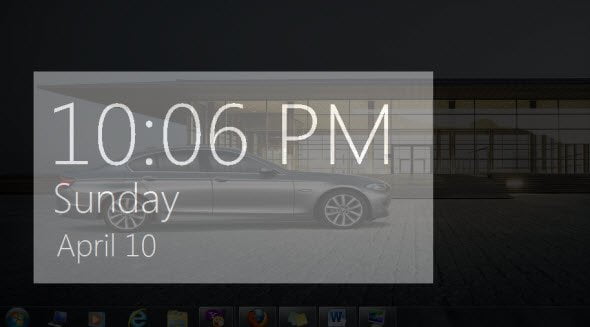 Simply download the zip file, unzip and run the "W8Clock Setup.exe", a window will install option will appear in front of you, once you select the install option, it will be installed and show you the settings window.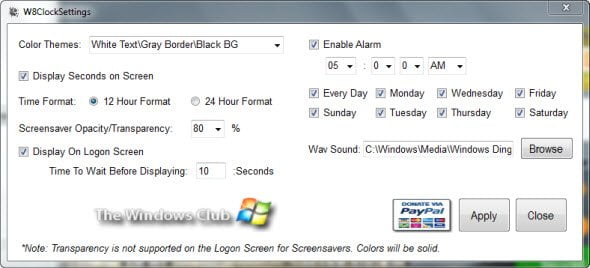 Here you can fully customize the looks and other features of this screensaver.
So, go ahead and grab it now, and enjoy the look and feel of Windows 8 on your system, the Alarm feature is definitely an added attraction to it.
Download W8 Clock Logon Screensaver | You can also get Windows 8 like User Tile in Windows 7 Taskbar, and get to know about more features coming in Windows 8.