We have been posting about several types of EBook Readers and other possible options; here is another free EBook reader, named as KooBits. KooBits is an Adobe AIR-based desktop application, so before you plan to install it, make sure you have the AIR installed on your system.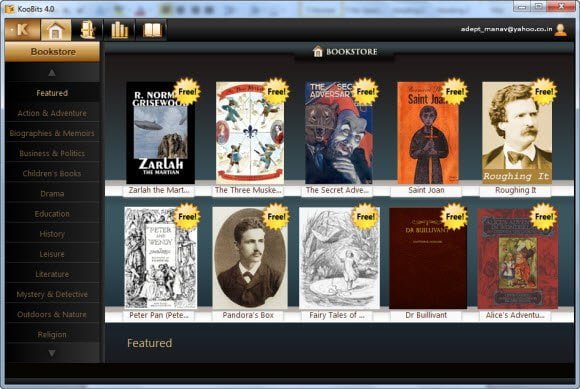 Free EBook Reader supports multiple formats: KooBits
If I say that KooBits is an EBook reader on steroids, that won't be false at all. This free EBook reader not only supports several EBook file formats but also gives you an option to download free as well as several paid books too from the KooBits bookstore, which reminds me of Kindle.
Features of KooBits
You can easily read EBooks in popular EBook file formats like PDF, EPUB, XML, HTML, KBJ, etc.
Personalize the copy of your EBook with the Highlight and Stamp tool. That means you can mark essential or favorite snippets from the book.
Extraction tool to copy content and keep it in the native scrapbook section for future reference.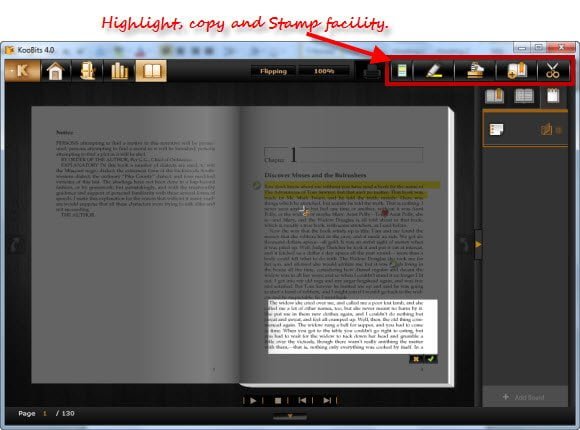 There is a library feature where there are three sections:

Free Books (shows available books for free in the bookstore as well as the ones you have already downloaded)
Paid Books (shows available paid books and the downloaded ones)
and Local books (shows the books which are available on your system, and has been added to the library).
The books you download from the Bookstore can be read in flip-style, just like a real book reading experience.
The best thing about KooBits which impressed me most is. Generally, you need to dig deep in PDF tools to find an appropriate PDF reader for you, when it comes to EPUB, again you need to search, and decide on your choice of EPUB Reader, but KooBits handles them both at one place.
Overall the KooBits is an excellent EBook reader; this is one of the best EBook readers I have ever seen.