I love accessing Windows Desktop from my iPad because it not only gives me an option to use all my applications on desktop but I am at ease to be lazy on bed or to show the accounts details to my dad without asking him to get to laptop or carry the laptop to him
Till now I had used the Team viewer application which works very smoothly but it has just one major drawback, it needs an internet connection even though you have your desktop / laptop in local network.
Today, we got our hands on a free but limited application which lets you remote connect your windows or mac desktop on local network from iPad. This app is Splashtop, for which we did initial review here ( Video ) which comes in both paid and lite version, I am using the lite version for the demo and writing this post this remote connection feature of this app.
You will need to install the client app on your desktop which will connection set for port, ip address and password. The app on your iPad will find your desktop and lets you connect using the password.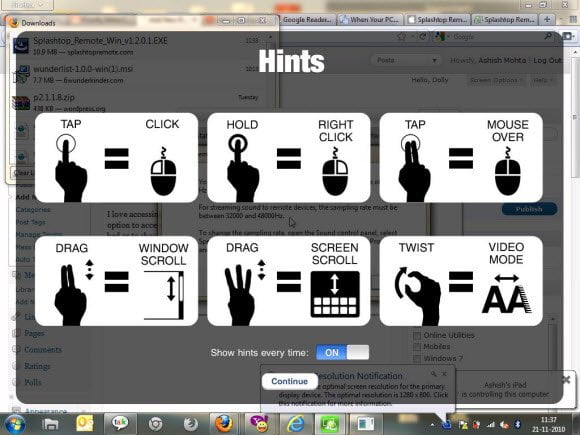 Now coming to the drawback which might be major for you but if that's the case then you should buy it. This app lets you remote connect windows or mac desktop for just Five Minutes which is useful for many if they need it occasionally or dont mind reconnecting it every five minutes.
What I liked most :
Very Responsive with buttons, mouse and tabs. It's like a seamless experience.
It lets you cut the quality of the video when viewing a movie which makes video viewing experience very smooth. In fact you can do it for normal browsing but you wont like the resolution getting blurred.
There is no compromise with the quality of picture when you switch to iPad resolution which I have seen using the team viewer. It's a perfect fit.  The screenshot which you see above is taken from the iPad.
The Drawbacks :
If you disconnect before Five Minutes the resolution in Windows Desktop, I don't have MAC here, remains to what iPad has. You will have to manually change. If the app disconnects your automatically then the resolution switches back to what it was in windows.
Second I did not find a close remote desktop option any where and since the lite version has the problem of resolution so disconnecting it all of sudden can create issue.
The pro version of this app costs 1.99$, it was 6.99$ before according to our first review and now should be affordable for many app buyers. Download SplashRemote
Related : Turn your iPad into powerful presentation remote control