If you're an independent contractor, small-business owner, or entrepreneur, you're probably aware of the stress that comes from managing and preparing invoices. Without invoices, you'll not be paid. That's why they are crucial for doing business.
As a fact, not all invoice solutions are created equal. The best one depends on your business's specific requirements, how complicated your invoices are, and your set budget.
It is not surprising that the most effective invoicing software will cost money. If you're not willing to spend on such paid ones, you'll need to look for unique invoicing services that are free. They're available online and for Android as well as for iOS.
What Makes Great Free Invoicing Software?
To find the free online invoicing software should meet the following criteria:
Online payment acceptance: The most crucial aspect of invoices is getting paid. The tools below allow you to accept payments through bank, credit card, and wire transfer.
Easy and intuitive to use: We chose tools that make billing as easy as typing into a word processor. The software also offers tools to speed up the process by saving client details, information about the product or service, standard pricing, etc.
Unlimited invoice generation: Software allows unlimited invoice generation without upgrading to a premium plan.
All of them allow you to create invoices and then send them to your customers quickly; they're the first and foremost free applications. If you want advanced features, you should look into their paid plans or take a look at the more powerful invoicing tools we've written about in our article on the top invoicing software overall.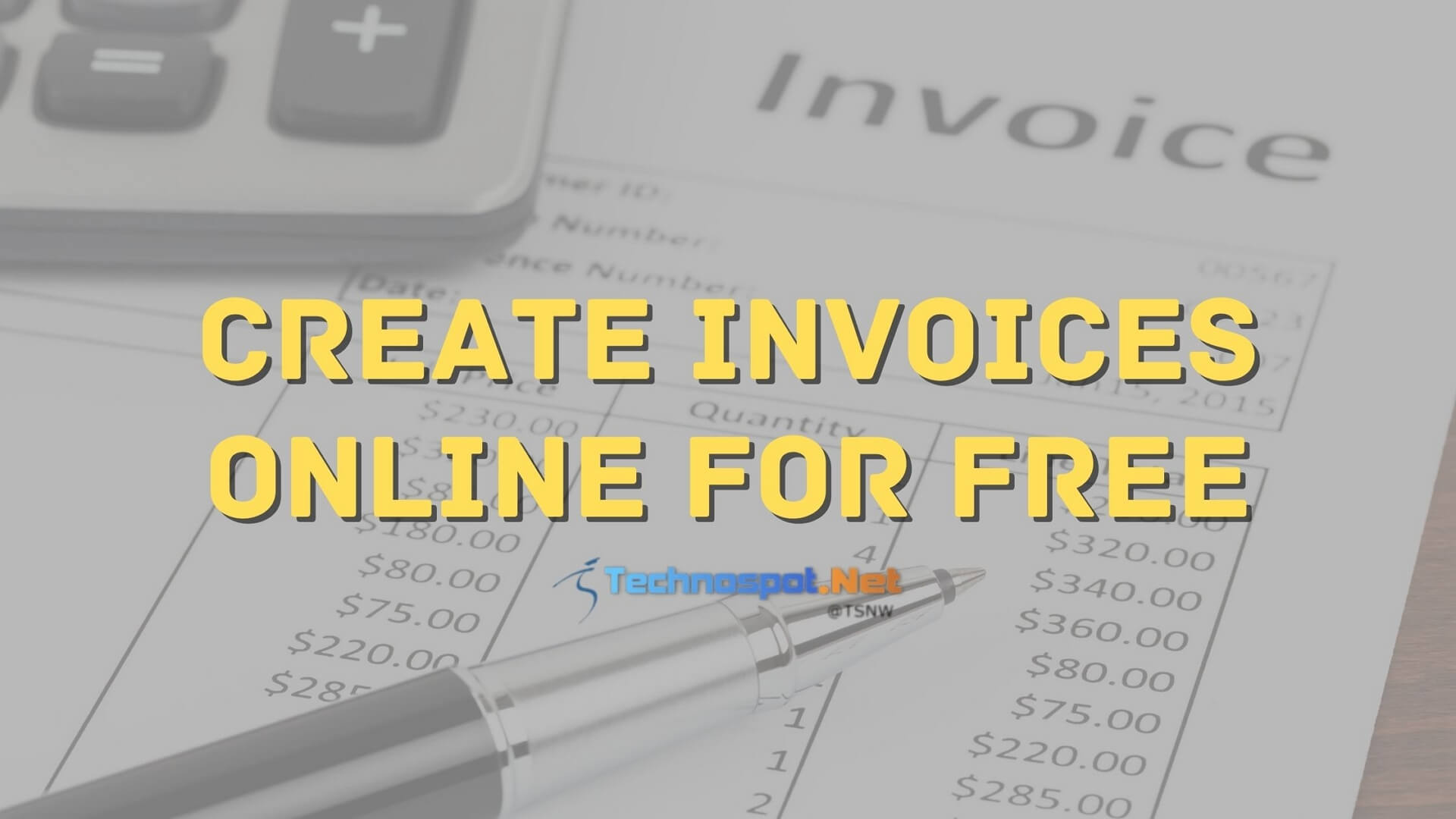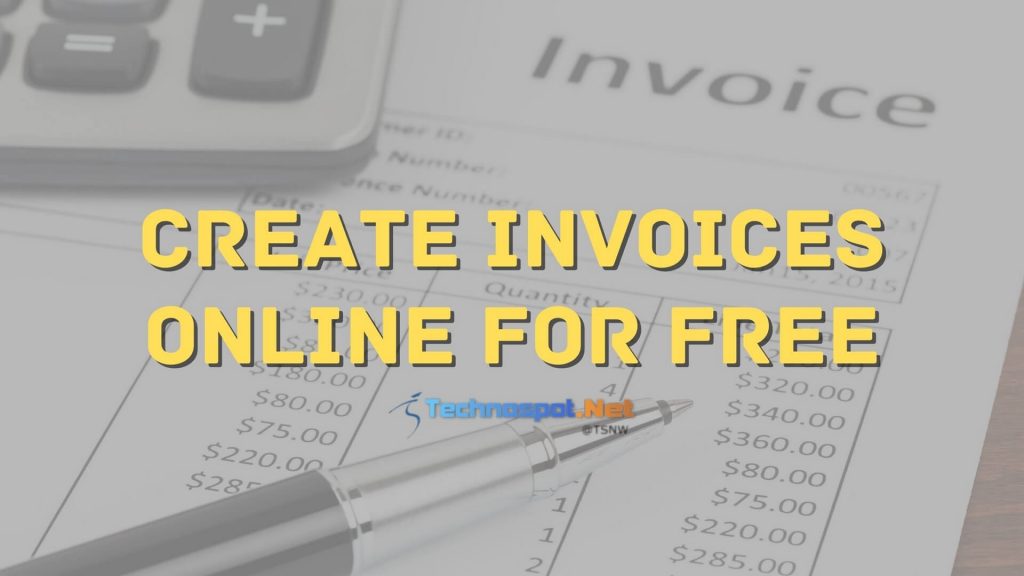 Best Online Tools To Create Invoices For Free
Below is a list of online tools to create invoices for free. These tools are preferred by thousands of entrepreneurs, freelancers, and other professionals worldwide. Make sure you check them all:
Wave
Paypal
Zoho Invoice
Invoice Ninja
Invoice Generator
Invoice Simple
Let's know more about how each of these tools works for you.
1] Wave
It is the most effective free invoice software to provide all-in-one invoices for small-scale businesses. This software lets you track your invoices, payments, and expenses. It enables you to design an invoice template that is professional to give your company an edge. With Wave, it is possible to create invoices and send them to customers in a matter of moments, automatic schedule billing for your customers who come back and accept online payments and view the history of transactions made by customers and cash flow analysis, etc.
2] PayPal
It is a free and mobile-friendly invoice software. It helps you create and send invoices within minutes on any device, saves online invoice templates for easy entry, and even automates payments reminders.
Paypal is widely known as a payment processor that handles bank and card transactions and accepts payments from all over the globe. With plenty of easy tools available to send professional invoices, PayPal is easy to use. The free mobile application for invoicing has been known for over 20 years.
3] Zoho Invoice
It is a no-cost billing and invoicing program for small businesses with less than five customers to invoice. Zoho Invoice efficiently monitors and manages the invoices you send while you unwind. This software is ideal for tracking time, expenses monitoring, invoices, and sending reminders.
The most important thing is that it allows customers to pay with credit cards or debit cards and bank transfers. In addition to a free invoice maker, Zoho Invoice comes with free generators, such as an estimate generator, income tax calculator, income forecaster, expense report creator, and an SKU generator.
Zoho Invoice seamlessly integrates with Stripe, Paypal, Google Drive, and Dropbox.
4] Invoice Ninja
It helps you create and manage invoices easily. You can select from a range of pre-designed templates or create one from scratch according to your requirements. In addition, you can send invoices by email. They accept credit cards as well as PayPal, ACH, and Bitcoin as payment choices. It gives you the option of currency and language used while invoicing.
It is an excellent software for freelancers and small-scale business owners with more complicated requirements than simple handmade invoices. You can control up to 100 customers and unlimited invoices for free, and advanced features such as time-tracking and auto-billing, customized invoices and direct payment integration, etc. Invoices are, however, marked with a "Created by Invoice Ninja" watermark.
5] Invoice Generator
If you don't have many invoices to mail, It is the perfect tool for you. It lets you create and mail invoices to customers and accept online payments without the need to sign up for an account or sign in to the software. All you have to do is input the details of your invoice, add your logo on it, and choose to display tax, shipping, and discount prices. You can also include links to different payment options.
6] Invoice Simple
It is a quick and straightforward invoicing software application to provide estimates to your customers and clients. It's perfect for medium-sized and small companies, freelancers, creators, and others who require professional but straightforward software for invoices. It is easy to keep on top of your invoices by using your Android or iOS apps or the internet.
It can help you cut down on administration. There are many templates available to modify using your logo, pictures, and signatures. In addition, you can easily send a text or email invoices and get notifications to ensure you are on top of your payment obligations.
How Do I Send My Invoices?
The most preferred way of sending invoices to your clients and customers is through emails, as they are the primary formal mode of communication. Online invoice generators allow you to export your invoices in PDF file format, easily attached to the emails. Some Online invoice generators also will enable you to automate your invoice deliveries through various channels like SMS, E-mail, and messaging apps.
How Do I Charge Taxes Using In My Invoices?
You can add taxes in the total amount due in most online invoice maker tools; make sure that you charge the right amount of taxes for your services. There are separate settings in most invoice creators for adding taxes.
Can I Change The Currency In My Invoices?
Yes, you can change the currency according to your preference in most invoice creator tools by selecting your preferred currency in the taxes. It is recommended to have the same currency as the payer's to avoid confusion.
How Do I Make An Invoice For Time As A Freelancer?
The easiest and most efficient way to make an invoice for a freelancer is to put the number of hours worked in the quantity section and the rate per hour in the price section.
Invoices add a professional touch to your services and are very important from taxation and legal perspectives. A good, simple, and attractive invoice will always leave a good impression on your clients. Make sure you send a good one to your clients. Happy Invoicing.