Round Pic and Cut my Pic are online tools which creates rounded corners for any image you upload from your computer or available online. You do not need to use Photoshop for making these simple changes!!.
Round Pic  :
RoundPic is an free online tool which can give your images anti-aliased rounded corners and allow you to download it too.
How to use this tool ?
You can either use Image on your computer or an online image to create rounded corner image a You should use the link of the image. Once you add, click the Round it button and you will get option to
Change Background Colour.
Set Size of the picture.
Quality of the Picture or Image.
Size of Round Corners
Done that you can not add a file name and download it. Any time you make a change, you will need to click the preview button to view it.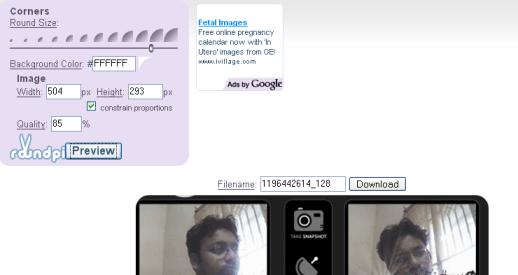 Check out RoundPic
Cut My Pic :
This online tool lets you reisze and add drop shadow to your pictures part from making it round. However there is no control on the size of round corners. Read more here