We have posted a couple of solutions for Watermarking the images and photos, here is another free online tools which allows you to add watermarks to your images in few clicks.
Watermarktool can be used for watermarking the images, you just need to choose the attributes of the watermark i.e. 'Personalize' the Watermark, like –
Text font, size, color, transparency
Position of the Watermark on image, or by checking the 'Repeat' checkbox, you can fill the whole image with Watermark.
Color of the Watermark box and its transparency.

On the left hand side of the page you can get the option to browse and upload the image.
Once done with all this, simply hit the 'Generate' button, and a preview of original image and watermarked image can be seen on the page, if happy with the results, click on the Watermarked preview to open in a new tab in your browser to download it.
Limitations –
Supports jpg and gif only.
Images can be watermarked only up to file size 100Kbs
Here is the image which I watermarked.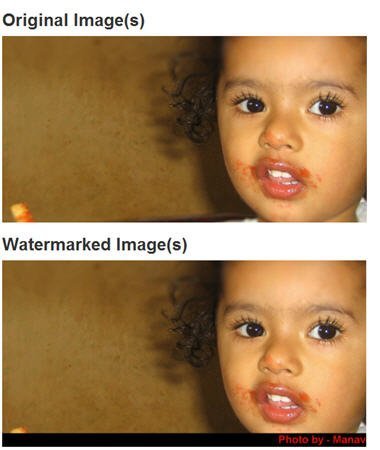 Tool works fine and is fast enough, definitely a nice way of easily adding watermarks on your photos.
Try Watermarktool ( Via Tech Spikes )