PDF reader is probably one of the most sought applications for any device. If you own an iPad, and you are looking for a PDF Reader, here is iRead PDF which is a PDF reader application for iPad.
Apart from general PDF Reader features, it also allows you to open PDF files from your emails. iRead PDF is based on the popular iPad annotation app,  iAnnotate. Also iRead offers tabbed browsing of PDF files.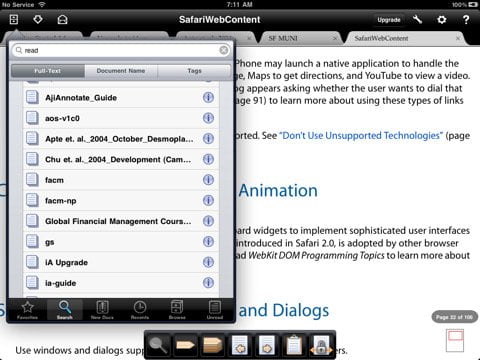 Here is the Feature list from the official download page of iRead PDF –
Full-featured PDF reader: Continuous-scrolling page display with all standard scroll/zoom gestures supported and full screen reading mode.
Easy transfer of PDFs: Send and receive PDFs via email, through iTunes sync, and by browsing to any PDF link.
Tabbed PDF Reading: Quickly switch between multiple open documents. Tab setup and page locations are always remembered, whether switching tabs or quitting and returning to the app.
Document and full-library search: Search your entire PDF library to instantly find all documents with any keyword. Tabs sort new, unread, and annotated documents.
Fully Customizable Toolbars: Reposition and resize toolbars, and drag-and-drop to configure tools.
Comprehensive PDF support: View existing PDF annotations, internal and URL links, and PDF outline/bookmarks support. View fully integrated, standard annotations, just like Preview or Adobe Reader.
APS (Aji PDF Service): Free companion desktop application for easy sync with your existing desktop PDF collection. Recommended for large libraries of documents.
Aji Support: integrated application help and tips, and top-notch email and forum support.