Watching the same wallpaper every day is a boring job so here is a list of free software which you can use to get new wallpaper every day or change wallpaper automatically from online services like Flickr or use your favorite images to make your day and if you have multiple monitor, check out Johns Background switcher to have one wallpaper for each monitor.  Every software comes with its own configuration so make sure you read the details on how to configure.
Favorites from Flickr Account :
If you want to have your favorite images from your Flickr Account, Flickr Wallpaper Rotator is what you need.  Once you add your username or tag, this application will download the wallpaper and keep on rotating them one by one.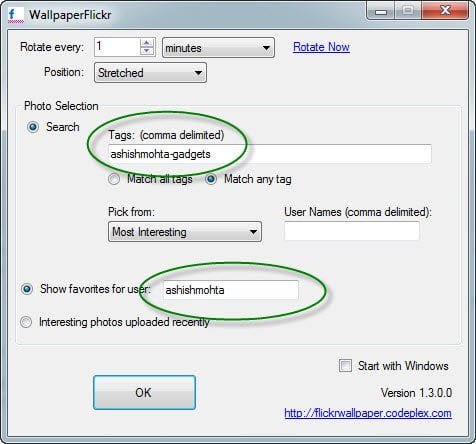 Wallcast :
This is a combination of  online service and a software. You need to register with WallCast and upload images. The uploaded images are then downloaded on your computer but instead of just changing you get a wall with images you uploaded. It creates a beautiful collage of all the photos for which you can have a different theme.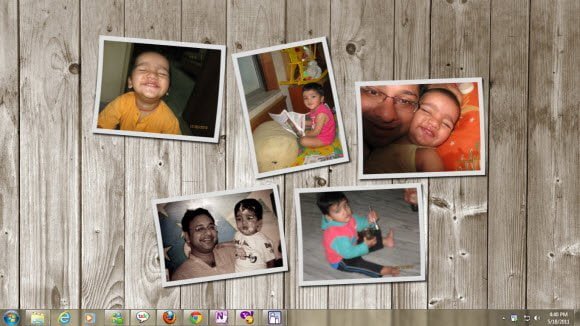 The only drawback is that it does not integrate with any online service or images on your desktop. The good thing is the wallpaper stays back even if you exit the program so you can very well take a screenshot and save it with other applications.
Use Windows 7 Built in Wallpaper Shuffler :
When you select Windows 7 Desktop Background, you can use the option "Change Picture Every" to a configurable time. All you need is to make sure you have the wallpapers selected from a folder. If you want to add multiple folders here, read how you can do that.
ThetaWall :
This application pics up images from sub folders, create collage and then changes the wallpaper. So every time you get a new wallpaper from existing wallpapers. The collage can be configured for size.
John's Background Switcher :
This application can download wallpapers from online services like Flickr, Picasa or even a RSS feed or Google Image Search. The best part of this application is that it supports multiple monitor and you can even choose different wallpaper for different monitor.
Wallpaper Juggler
This application downloads wallpaper from sites like InterfaceLIFT.com and WallpaperStock.com or any number of folders which you add from your computer and supports sub folders. You can also change wallpapers manually using the Juggle Now button.
Download and read details.
Weather Desktop Background Changer
This application tracks weather based on your current location and then changes the wallpaper accordingly. The wallpapers change after a certain period of time only.