Windows by default doesn't allow you to change the Windows Logon Screen i.e. The screen which asks for a password for your account ( if it is enabled ) or when you have more than one account on your computer. However customizing this is another passion for us here like we use themes for Windows 7.  Today I have picked up three free software which changes the logon screen starting from basic to complex.
Clear Lock :
Like the name says it locks down your computer prompting for a password but you can still see what is on the desktop. For example if you have started a download which will take a couple of hours and you want to see when you are on bed, it works like a charm. Below is the video demo ( direct link ) and notice how twitter update changes in the background while screen is locked.
The password gets configured when you launch it for the first time. To note this does not actually uses the traditional windows lock but the program replicates the same functionality.
This is the simplest Logon Alternative you can have. Download it from here.
Windows Logon Screen Rotator
This application can change your Logon screen every time you lock your computer to every day or once in a week. This gives you a fresh new logon screen every day. It can take images from a  folder or you can even add individual images.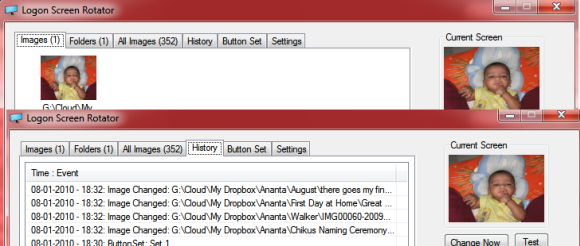 Download from here and you can read our in-depth review.
Logon WorkShop
The most complex application for a logon screen I have seen till now, so if you hate too much of work skip it else you would love it. This application lets you customize each and every part of logon screen, right from the buttons to how the list of users will be displayed. For example if you hate horizontal listing of users you can make it vertical using this.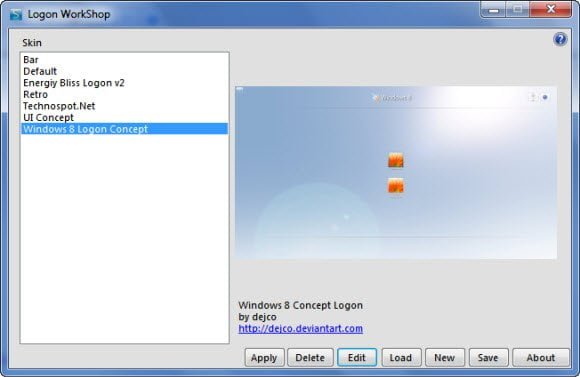 List of things you can change in Windows Logon Screen using  the Logon Workshop . Here are few of the options :
Buttons : Accessibility Button , Shutdown Button, Power Button, Submit Password Button etc
User Title
User List to Horizontal or Vertical or using scroll bar.
Download LogonWorkshop from here