Splitting a file is something that we may need at times. When sending a large file to a friend or uploading to a website, it is preferable to split large files in Windows as it is much easier to send and upload smaller files than the entire file. Another compelling reason to divide files into smaller chunks is for security reasons. You can easily divide your essential files into sections and store them on various storage devices.
This article will look at six free tools for splitting large files in Windows. They provide far more functionality than simply splitting a file. You can combine two files into one or split files such as documents, logs, archives, images, backups, etc. You can go through our entire list and choose the best option for you.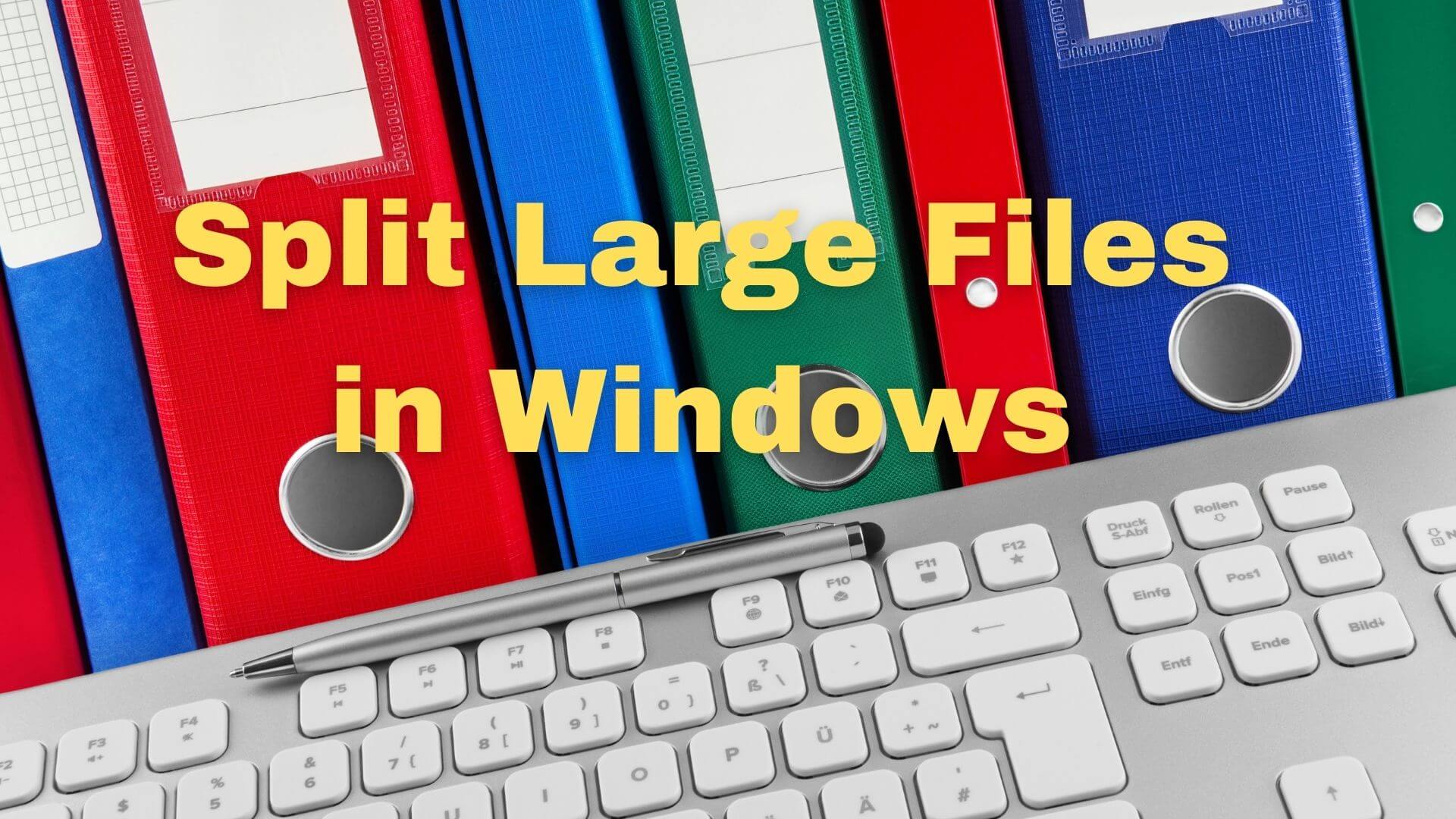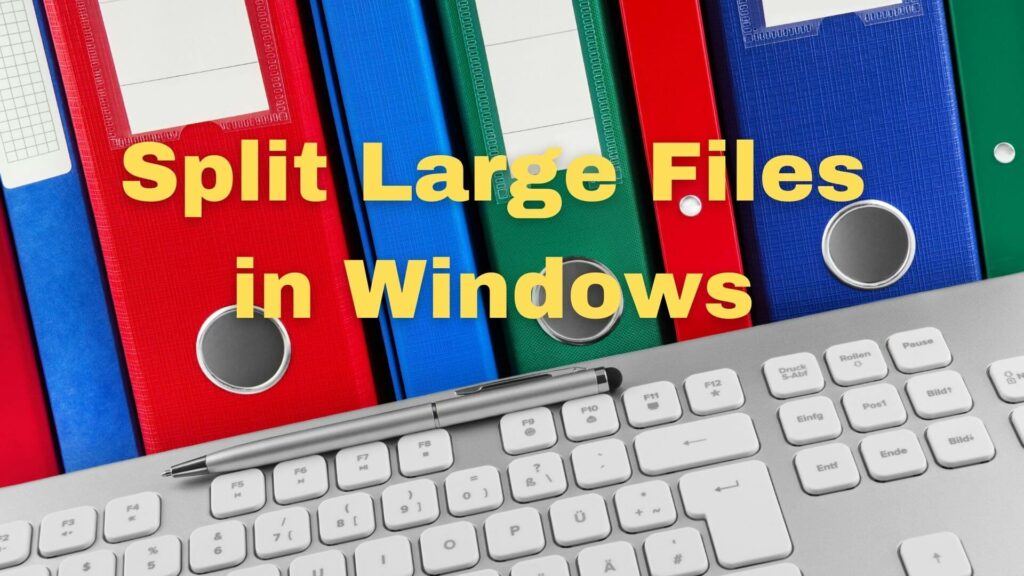 Free Tools To Split Large Files in Windows and Merge
Here, we discussed some of the best free tools to split large files in Windows. These tools are trusted by thousands of users and work very efficiently, so make sure you check them all out before finally choosing one:
Free File Splitter
FFSJ: The fastest file splitter and joiner
Gsplit
NoVirusThaanks File Splitter
Splitter Light
KFK File Splitter
Let's try to know more about all these tools.
1. Free File Splitter
Free File Splitter is one of the best software available for splitting a file into smaller sections. You can also use this freeware to combine two files into one. First, click the Browse button on the freeware's main interface and then select the source file to use this freeware. Then, click the Browse button once more to choose the destination folder. The final step is to split the file by clicking the "Split" button.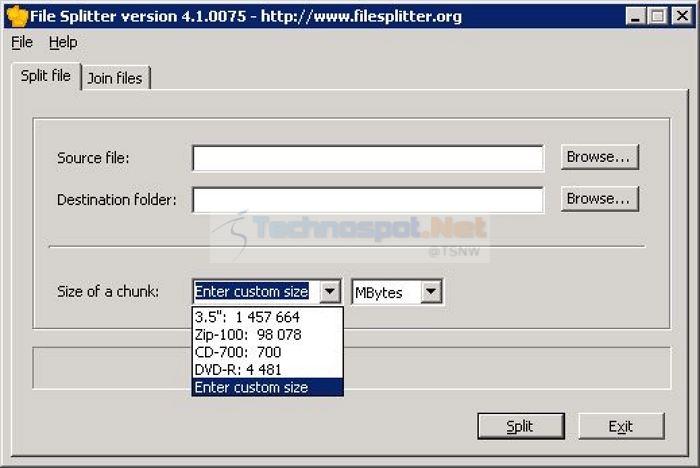 It is a portable application, so installing the Free File Splitter is unnecessary. Place the program on an external device (like a USB flash drive), plug it into any computer, and directly run its executable file.
2. FFSJ: The Fastest File Splitter And Joiner
As the name itself suggests, it is a self-proclaimed freeware that one can use to split large files into smaller files. Also, you can do the exact opposite, which is joining multiple files together to create a single big file.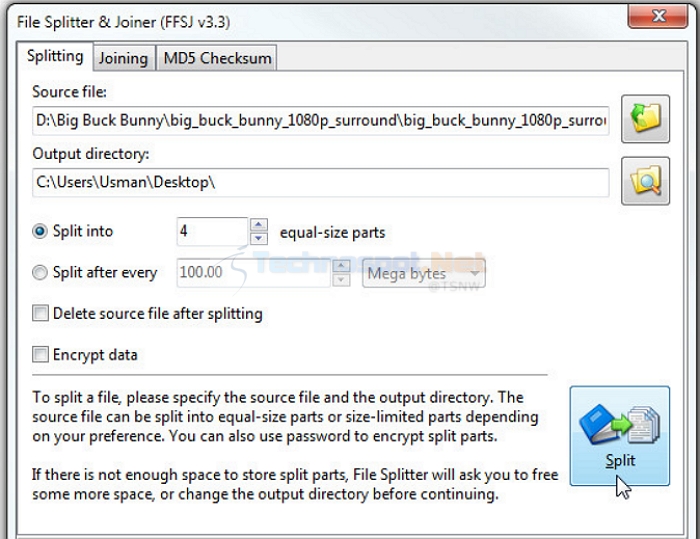 Although it is the fastest file splitter and joiner, there's no evidence that it is the fastest. It's ideal for tasks like backing up large amounts of data to DVD because it allows you to divide files into smaller sizes quickly. You can specify the file's size and location and optionally assign a password.
3. GSplit
It's never been easier to split large files like images, videos, backups, zip archives, etc. You can just point to a file and choose to split it with the help of GSplit. You can configure the utility to default to a specific number of pieces and placement, or you can have it ask you each time. Also, the interface offered by GSplit is near perfect for users as it is one of the most user-friendly interfaces out there.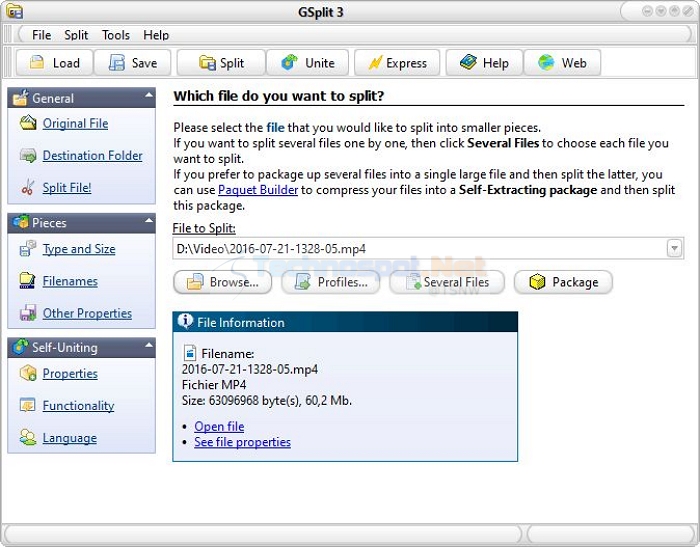 GSplit can split any file type, but it cannot split media files into playable chunks. It also offers multiple features like automatic integrity control, making pieces self-uniting, etc. For automation or build environments, GSplit also provides batch and command-line options. Furthermore, GSplit can run as a daemon and split multiple files simultaneously.
4. NoVirusThanks File Splitter & Joiner
As amusing as it sounds, it is quite frankly one of the best freeware that allows you to split large files into smaller pieces and vice versa. There's also a portable version of this particular free software available to the masses. It is a small and lightweight piece of software. This software is a godsend for those who frequently work with large files.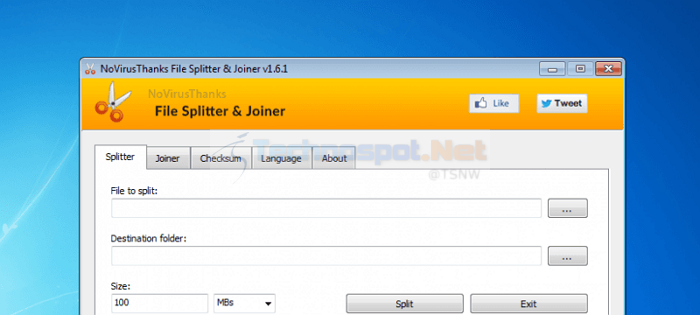 As for the installation process, it is rather simple. You must go through a relatively smooth and quick setup process because it does not include extra unwanted bloatware. It offers a reasonably straightforward GUI with a few tabs for easy access to all available options and some buttons and boxes.
5. Splitter Light
Splitter Light is a free file splitter program for Windows. You can easily split a file into smaller parts with the help of this free software. This software is handy if you need to send a large file to a friend or another person via email. Then you can split the large file into smaller parts of the required size and send those smaller pieces or files through email.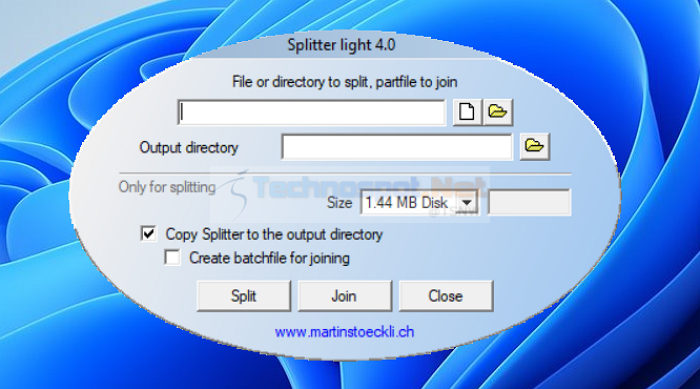 However, the core design of this software creates a bit of an issue. Still, it is brilliantly efficient to break up large files, mainly folders, into smaller parts. Thankfully, this design flaw does not affect its functionality, and the file or folder splitting process takes only a few steps.
6. KFK File Splitter
KFK is a simple file splitter. You can use KFK to cut large files into smaller chunks. It can help you transfer a large file from floppy discs to a CD or DVD. KFK can also burn the files to a CD/DVD and generate an automatic retrofit file, eradicating the need for KFK to regenerate the file type.
It has a multithreaded application core which allows this application to perform with maximum efficiency without any hiccups. This application is solely built for you if you're really into CD/DVDs.
It brings us to the end of our article on the six best free tools for splitting large files in Windows. All of the programs on our list are freeware, which means they are entirely free to use and download. You can choose either application because they all have some unique characteristics and the ability to fulfill the basic functionalities. We hope you found this article useful.
Can Splitting Files Save Space On My Computer?
Yes, Splitting files can save some space on your computer, but the difference isn't noticeable in most cases as most of the file splitter software breaks a file into smaller bits for easy storage and transfer of files. To save space on your computer, we recommend using file compression softwares.
Can Splitting The Files Corrupt Them?
Splitting the files can corrupt your files if not done correctly. We recommend using trusted file splitter and joiner software. Also, having a backup of your files is always better in any unfavorable circumstances.