In the modern business world, any company needs a good customer support software package to manage customer interactions in various communication channels – social networks, websites, or mobile applications. The industry leader is Zendesk, which has dominated the Help Desk software market for the past decade.
But is it the only proper tool in 2023? In this article, we want to compare Freshdesk vs Zendesk according to the following parameters: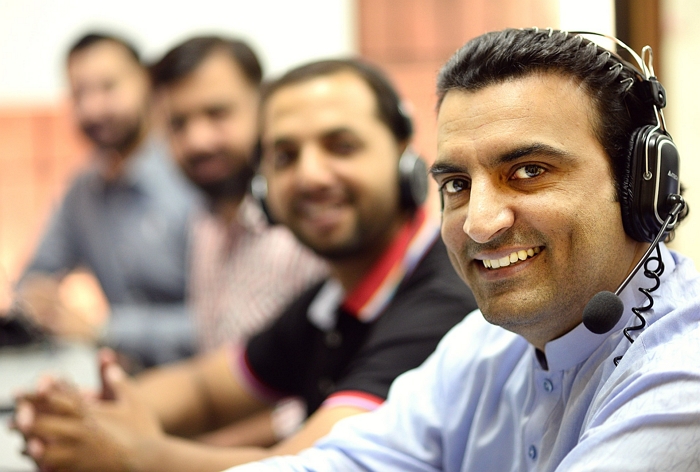 Cost
Let's not beat around the bush – the amount of money to be invested in a customer support software suite is essential. And it can significantly impact your bottom line and long-term ROI.
In this post, we compare different pricing plans and the key features they offer to determine the best balance between price and features offered at that price.
Core features
Customer support software should simplify your entire help desk with basic functionality like an intuitive control panel, chatbots, and a ticket management system. This is functionality that should be present in one form or another in any Help Desk system and be both reliable and inexpensive.
Advanced features
Workflow automation, FAQ sections with answers to the most frequently asked questions, and other advanced features will allow you to impress your users and increase the speed of your responses.
Reports
You probably want to have a good overview of how your help desk handles customer requests and identify areas of work that can be improved. These capabilities can be provided by analytics functionality and other reporting tools. Therefore, whatever software package you choose for your company, it should have advanced reporting functionality with the ability to conduct an in-depth analysis of the results and the effectiveness of your work.
Integrations
Integrations with third-party software products can make a big difference, especially when it comes to e-commerce platforms. For example, with a Shopify integration, you can make returns, view customer purchase history, and more.
What is Zendesk?
Our readers are well aware of this tool, but let's recall some basic features for newbies.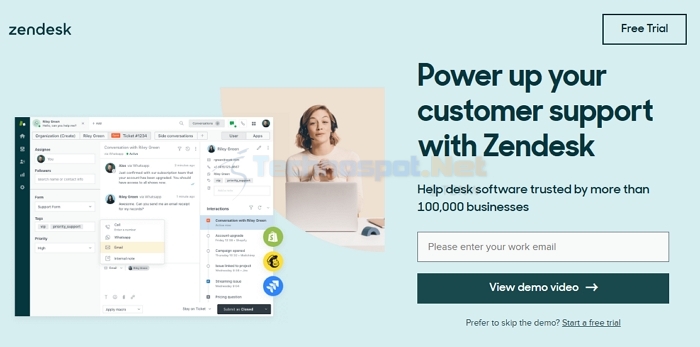 Zendesk is a feature-rich and versatile solution with a built-in virtual PBX and community forums where customers can search for answers to frequently asked questions or chat with other users. As a result, customer support agents will have more time to work with more complex customer requests.
At the same time, just like any other software in almost any field, Zendesk was not designed to function in absolutely any type of company. In some cases, it may not be fully adaptable and scalable. So, for some companies, the prices for this software product may be unacceptable or lack any essential functionality.
Zendesk provides the following features:
Work with all modes of displaying support requests;
Viewing a list of events in the form of tickets and notifications;
List of actions with tickets in real-time;
Convenient search for tickets and available knowledge base;
View and edit comments, recipients, tags, and other ticket settings;
Application update notices;
Submission of prepared answers (or macros) to requests with frequently asked questions;
Bookmarks on tickets to return to them in the future;
Downloading and displaying files attached to cases;
Create images and attach them to tickets.
In addition, a mobile application helps you quickly view summary data from tickets – the volume and speed of actions, responses, assessment of the quality of support, etc. Zendesk allows you to view a customer profile with tickets and even interact with the app with gestures.
The service is also convenient with unlimited applications, cloud storage, integration with social networks, blogs, chats, receiving calls, blacklisting, and much more.
What is Freshdesk?
As soon as you log in to Freshdesk, you will see that its work is built around the ticket management functionality. The main window of the system is a dashboard that displays overdue tickets, unresolved tickets, the total number of open tickets, and other indicators. The dashboard can be customized by adding widgets like customer satisfaction statistics or scorecards.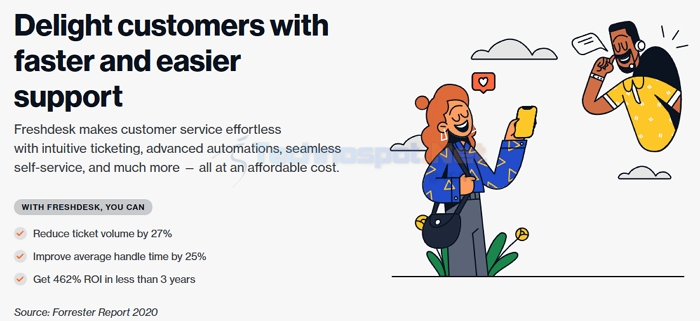 Features such as message stubs, automation scripts, and custom ticketing tools help agents become more productive by freeing them from repetitive tasks.
Unique to the Freshdesk system is the 'Freshdesk Arcade' feature, a gamification tool that allows you to track the ratings of operators in their work with tickets and reward the best workers with special badges. The best thing about this feature is the ability to customize your gamification: you can set which events give workers how many points and create your quests.
It can also be helpful to have collaborative functionality such as linking similar customer support tickets, presenting a case-by-case solution, and more sophisticated ticket management systems.
What makes this system different from Zendesk?
In addition to having a gamification feature, Freshdesk has another advantage over Zendesk. And that advantage is convenience and ease of use, not only for your customer support professionals but also for your customers.
By integrating with Enterprise Bot, your customers' AI-generated automated responses look natural and spontaneously written, giving the impression of human authorship. The chat available in the system is also intuitive and resembles Whatsapp and other similar messengers.
In Zendesk, however, these processes are a little more cumbersome, email messages are more robotic, and customers get into a queue with their requests, after which they need to fill out a form before their ticket is assigned to an operator.
In addition, Freshdesk is cheaper, especially the maximum packages: the 'Enterprise' plan per operator per month costs $79 here, while Zendesk costs $99.
Afterword
All Zendesk competitors are worthy alternatives developed and refined by experienced software developers over many years.
At the same time, while they are all undeniably quality software products, some are better suited to your needs than others. Take a close look at their pricing and the unique features that make them different from Zendesk. All of these products have a limited-time free trial period – use it to learn as much as possible and learn more about each of these tools.
What you can't go wrong with, however, is the Freshdesk software package, which is a fast, intuitive, and highly customizable system that provides its customers with 24/7 support.