Fruit Ninja is an extremely addictive and high-definition game for iPad which brings totally different experience of using touch on iPad. This game is basically about slicing as many fruits you can in a row and to do that you actually slice ( no tapping allowed ) using one or all ten fingers if you want.
How do you play it :
You play this game using fingers ( one or all ) to slice the fruits when thrown to you from below. For every fruit sliced you get reward points but that will not make you win the game or score high.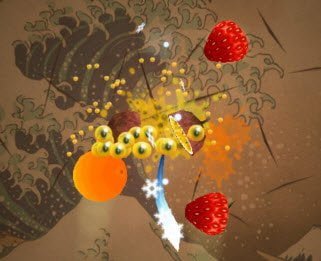 To get high score in Fruit Ninja HD you need to slice at least of 3 fruits in a row. This gives you bonus point which is way high than normal. However you don't get 5 or 3  fruits thrown over to you in one go so you will have to wait for the right time to slice when the fruits are almost in a line.
Video Demonstration ( Direct link )
How many modes or levels it has :
There are three modes :
Classic : This is life based. You drop a fruit without slicing you loose one life. There are three life in total.
Zen : 90 Second game without any restriction life. There are no bombs either. Most scoring.
Arcade Mode : Lot of power ups, the most scoring but its only 60 second round. There are also bombs which take away 10 points if you slice one but if you slice too many you get bonus of bomb lover at the end.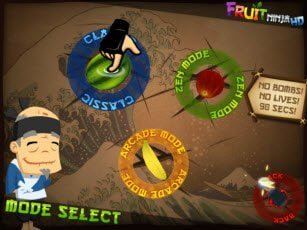 Multiplayer support :
Fruit Ninja Supports multiplayer for Classic and Zen Games.  You can control the speed in the Classic Level and for Zen you can increase the time to 180 seconds which is just 90 in single player.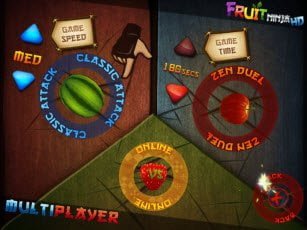 The iPad screen gets divided into two and both the players can face each other and keep it in between to play along. However if you are getting bored and nobody is there you can still play both the sides with both of your hands, keeping the iPad in your Lap 😀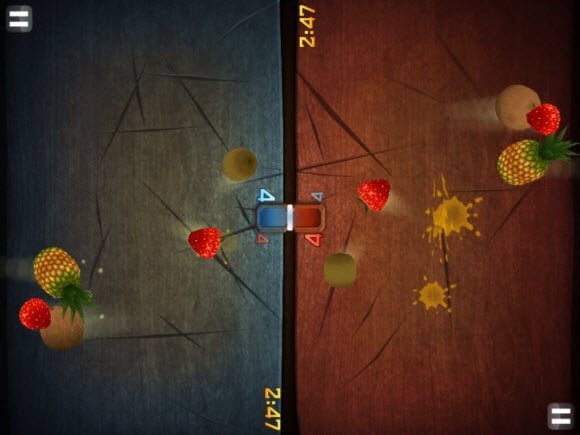 Can I play Fruit Ninja online ?
Yes you can. When connected to internet you can randomly play with anybody or if you have friends you can play with them. Multiplayer Support  is probably one of the best aspect of Fruit Ninja.
What Gaming controls it has :
It has two.
Blade : There are a different type of blade like Disco Blade, Red Blade, Butterfly blade and so on. The blades have different effect when you slice on the iPad.
The Background : 5 Background images with wooden touch.
Should I buy Fruit Ninja HD ?
Absolutely. For a game lover this is very addictive game and even kids can play it. If you are in train or in flight and need to kill some time, this is just made for it.
It costs 2.99 USD and you can  download it from iTunes from here.