Taking the snapshot is something we need often, Snippy and Snagit are nice applications for this purpose, and recently, I came across this tool, Gadwin Printscreen.
Gadwin Printscreen is an easy to use one-click screen capture tool; output of this capture can be taken in several formats. Its light weight, free and needs a small download.
Once downloaded and installed, you can easily customize it for you.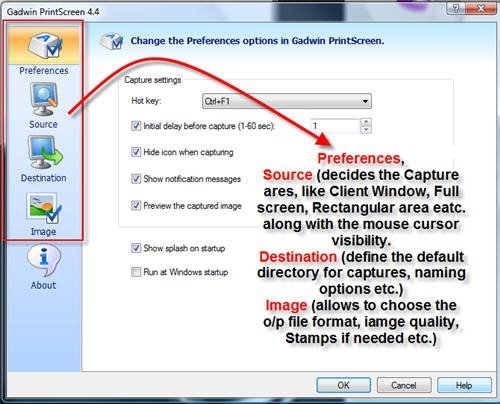 As explained in the above snapshot, you can define preferences, the source of capture, where the snapshots will be stored by default, the quality of image, file format in which output is to be generated, and Stamping (watermark) can also be done.
Things I Liked about Gadwin Printscreen –
Even if you have defined some folder as default o/p location for you screenshots, while taking a screenshot, you can change the default storage location to other for the current capture.
 Before finalizing the screenshot, you can view it with up to 500% zoom, if required.
'Image shadow' and 'Quality ' options under the Image tab, are impressive, shadow makes the image look more pleasing, and deciding the quality percentage will allow you to generate screenshots with optimized file size.
Another good thing about Printscreen is, 'Stamp', automatically insert predefined text, and date and time of the screenshot.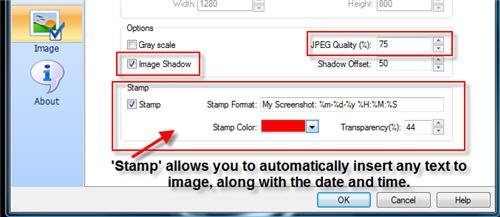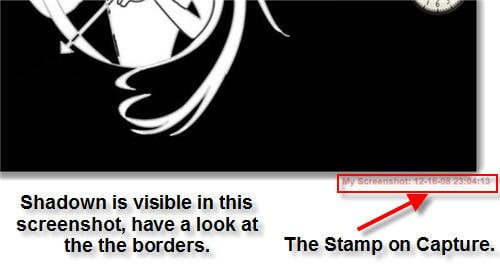 This tool is certainly a nice option for capturing screenshots, at least, as long as you don't want to pay for screenshot capturing application and lightweight too. Download Gadwin Printscreen