Gaming has taken a big leap with Windows Vista and Directx10. Now even the in house games of windows comes with 3D support, not the least Games on Windows  7  and Vista have their on explorer now.
Yes you heard it right!!. Games when installed on windows either leave a shortcut on desktop or a link on program menu but now whenever you can just find them real quick with Game Explorer which is right off the start menu. 
The Game explorer can manage all the games. And not only this it can tell you more.
Features of Game Explorer
Start Menu in Windows, provides a central launching pad for all games.
Icons for each game provide easy access to the games.
Display detailed information about the game, such as the game publisher and developer
When you last played; which version of the game you own
Box cover art and the release date, genre, and rating for each game.
Right-click on a game's icon for easy access to a menu of play tasks (which can be customized by the game developer for each game) and any online options, such as linking to the game's website.
You also have support section there, which can tell you what kind of configuration is required and get help, support, and important publisher updates; or easily add or remove games.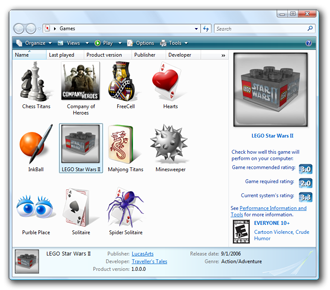 Related : How to control games in Windows 7 and Windows Vista