Adding location data to images is very useful for just one reason, You know precisely where you were. Most of the online tools which specialize in images like Flickr or Picasa have abilities to read the Geotags, which means create an album share with friends, and they know which place you went.  You can also create custom Maps using Google Maps and Geo-tagged Images. In this post, we will share how you can change location or GPS data in images.
GeoSetter: Change location or GPS data in images
Today we are taking another software, GeoSetter which lets you update location data of your image. It's useful if you want to make it more accurate or and add location data to images which don't have it.
GeoSetter is an advanced tool compared to other GPS tagging tools which we have seen till now. In simple words, you can mass edit location of images. Add all the photos in folders, select and search for a place on Google maps and save it.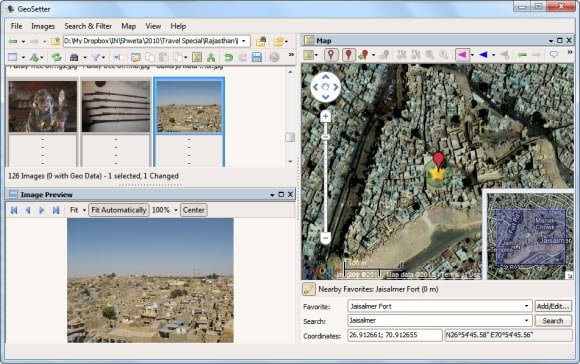 Features:
Integrated with Google Maps and Google Earth.
Shows existing geo coordinates, image directions and tracks on embedded Google Maps map.
You can add the same GPS location to multiple images.
Change date and time or use the timestamps of the image.
Create Templates: Here, you can add a location, Copyright descriptions, Date, Contact, and Keyword ready to be applied.
You can also create templates from a Geo-Tagged Image.
Star Rating for Images.
Supports Tracks, i.e. import tracks file which has GPS data.
Advanced Filter to sort images with our without location tags etc.
Possibility to change taken date of images
Automatically fill up location IPTC fields and altitude values.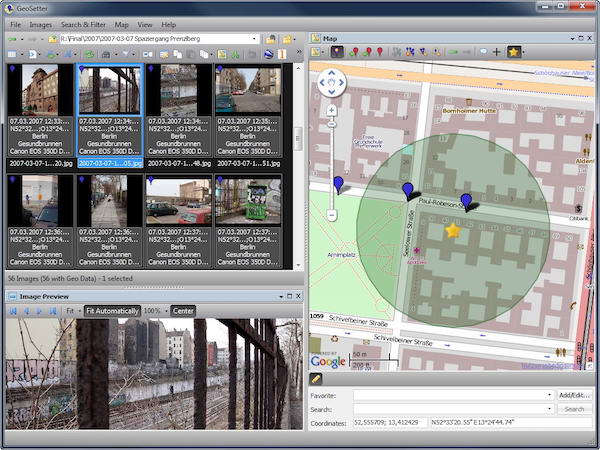 Maps are integrated with GeoSetter, which is pretty amazing for travelers obsessed with geotags.  It supports all types of plans, including Google Maps and OpenStreet Maps. It works with the GPS files meaning you can pin things according to directions.
So if you have a couple of images taken on the move, arrange them first and then map it like you were moving. Any tool which understands this can create a tour like a show for you.
This application is entirely free, and if you are a traveler, you should grab this now — download from here.