If you want to turn your desktop into a 3D ( almost ) and have some fun rolling those icons and files with your mouse in any direction then you just need Real Desktop. If you have a computer with even a normal graphic card this piece of software will make you pretty happy. Long back we did talked about some good 3d virtual Desktops but this beats all of them. Here is one image you would love to see.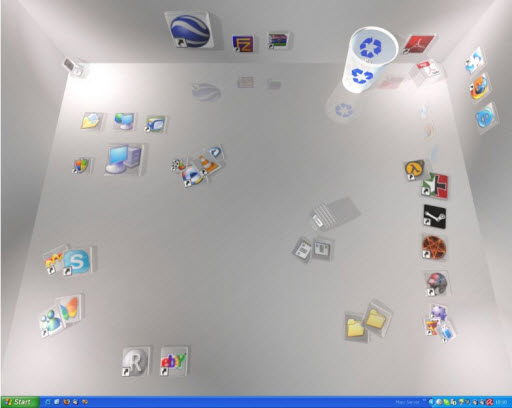 You will need a minimum requirement of
Operating system Windows® XP / Vista
Windows® DirectX 9.0c
Intel® Pentium IV 1500 MHz
256 MB main memory
DirectX able graphic card: 64 MB NVIDIA® Geforce™ 3 or better,
ATI® Radeon™ 8500 or better
Screen resolution 800×600 at True Color (16 million colours)
You can do almost everything with this 3d desktop and here is a 52 second video for you.

So if you are impressed and suits you go and get the Real Desktop ( Lighter Version ) and its free.