Dropbox being the holy dump of thousands of file you had synced results in situation where you never know what file was changed.  Though Dropbox Event screen on web account lets you know all the changes but it is still not that easy.  In this post I will explain how you can use certain tools to get instant notification on your mobile, email or wherever you are active of any file that was changed in your account.
Rss or Feed Alerts :
Dropbox Event Page gives you a feed URL for every shared folder and a global feed for all the changes taking place in your account including the folder which you have not shared with anyone.  This feed url can be added to feed readers like Google Reader and you can check it anytime to see the changes.
To grab the feed, Go to the events page and select which folder you want to subscribe to or grab the global feed which is available right at the bottom of the event list. Copy the feed and add to any feed url and you are good to go.
Feed will form the base for our notification system as there is no direct support of notification system except the popup you see in your computer lets make it instant now.
Google SMS Channel for SMS alert :
Google SMS Channel is a free service from Google which lets you send mass SMS. Using this service you can create your own channel and users can subscribe to the SMS service ( verification required ) and get SMS.  Since we want instant notification we can set Google SMS channel to send sms as it happens and you can subscribe to your own channel.
Go to Google SMS Channel Service
Look for a link which says Create Your Own Channel which will take you a screen where you can add your name, time, frequency. Now since we will add our feed which we picked above there are three things you need to know
First when you select the Feed option make sure you check the box which says Body instead of title. The body of the feed has url to folder and file changes so you get to know exactly what changed. The title doesn't have that much info.
Second set the sms channel to Invite Only and Allow Publishing by Only Owners. This will make sure nobody get the sms except you.
Third I will suggest you to choose SMS notification for only folder where update is not very heavy as there is some limitation to number of SMS sent every day.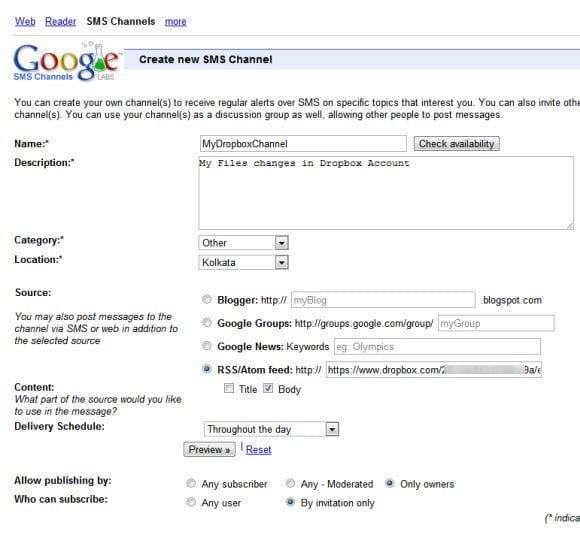 Using BoxCar on iPhone and iPad
BoxCar is a service which can send you instant notification from lot of services like Twitter, Facebook, Email etc. It also supports RSS and if you are connected to Internet all the time this is a better alternative to SMS because of the limitation on the number.
Download BoxCar from iTunes
Create an Account with them, its free.
Add your Feed URL to it and set the notification sound.
If any file changes, feed gets updated and you get notified.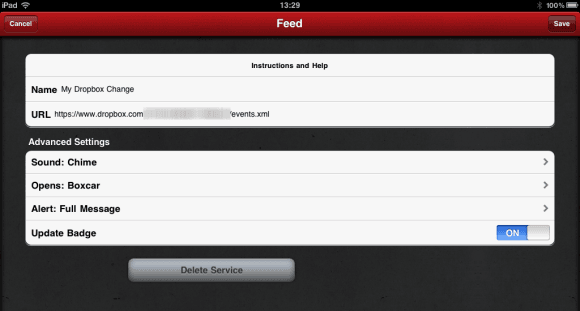 Email Notification for File changes in Dropbox :
Now if you are in a situation where getting email is the only option to get notification, specially for BllackBerry users on limited service, we will talk about couple of options which generates Email from RSS. Every option has its own advantage and disadvantages so you will have to make choice at the end. I am mentioning service which I see will work for you in long term. There are lot of service which started before and had shutdown.
RSS to Email :
RSS2Email is a free software which can be installed both on Windows, Mac, Unix or Linux. This application can read the feed and create an email which can be sent to you using your personal email account.  First Download it from here. You might have to install some additional software to make it run. Read complete instructions here. Once your setup is ready you, you will have to add the feed and then configure to which email id it should be send and which account to use. You can make it run using Windows Task Manager to continuously check and send.
There two drawbacks of this. First your computer should run all the time with internet connection on and second its bit complex to install for novice users.
Use Professional Email Service :
There are a lot of paid email services like Aweber which lets you create broadcast channel to send feed as email. So if you are using any of these services you can set them to send an instant email if that is what is your requirement. Most of these services costs you on number of email subscribers
Use Free Email Services  :
Feedburner is your best bet here but is not instant.
First Burn a Feed
Then Activate Email Subscription Service for it.
Under Delivery option you can set when to get email and it is limited to once a day.
Subscribe yourself.
Find complete help here.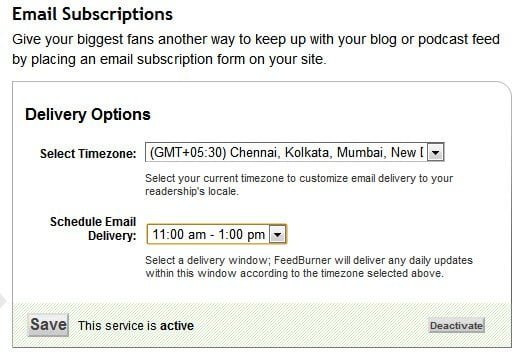 Add Feeds to Email Clients such as Outlook :
Most of the email clients support feed. You can add feeds to them and you will get a popup on any change. This is as good as email service as long as you are on your computer.

Dropbox File change On Twitter :
You can also get notified on twitter by using an account which you only know.
Create a new Twitter Account and Keep the update as protected. This means only users whom you have approved can see the update.

Next create a feed using FeedBurner and use the event feed as source.
Next you need to add a Twitter account with Feedburner using the Social Feature. Part of that is explained here, skip the Google SMS channel section.
Next Follow the account and you will see the tweet when a file changes in your Dropbox account.

At the end there is one thing you should know. Since all the applications make use of the feed generated from Dropbox directly, any delay in the feed will result in delayed notification for you, but most of the time it should work for you and if you haven't used Dropbox yet, read our rock solid guide to get started with it.