If you are fan of Samsung's S View which rolled out for their Flip Covered supported phones, Galaxy S4, here is a great news for you. XDA Developers Hatroid has made it compatible to work with any device which supports Flip Style magnetic cover and has a window cut for you to see the details.
Features of S-View App:
The app once turned on displays lot of information which can be configured to your need. You get to see
Caller id when somebody calls in, the current time and date.
Unread messages and unattended calls
Music you are listening to or is paused.
It will not interfere in landscape mode which is usually used for watching video or playing games.
Integrates with status bar notification so you can lunch and configure it quickly.
Set delay time for those accidental taps.
Like I said it can be configured, you can choose to enable/disable Caller ID screen, message/missed call icons and Music title.
Change what gets displayed where
Use S View Caller ID to accept or reject call, or use default Caller ID screen.
There is a beta feature which still needs a fix on some of the devices — Auto Wake Up. This turns on your when the cover is opened. Also there are two version of the app. The pro version adds more customization, hides the s-view logo to give the exact look as in original, hide notifications from view screen and so on.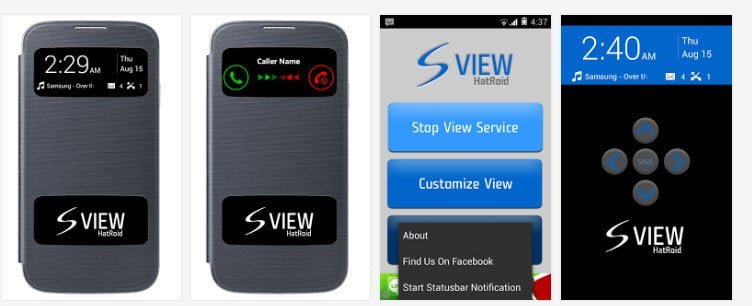 Download
[appbox googleplay com.hatroid.sviewpro]
[appbox googleplay com.hatroid.sview]
The developer is giving out the APK for users who don't have a playstore for their region. So if you want to grab this up, follow the link here