The disk drive of a computer is a core part of the system. It is where all our data, including our documents, photos, videos, music, games, etc., are stored. It'd be pretty unfortunate if our disk drive were damaged by constant health depletion. This post will share how you can get a warning when your disk drive health gets critical.
Why Does Storage Device or Disk Drives Reach Critical Health?
Many possible reasons can lead to a disk drive reaching a 'critical health' point, which is alarming. The most common reasons include minimal storage on the drive, malicious content in the stored data, or some external damage inflicting elements. All of these reasons can cause your disk drive's health to decline over time, and you might have already lost some precious data by the time you notice it.
We have to keep checking up on its health from time to time. Though relatively simple, it is not practically possible to keep checking everything in our drive that may cause a critical health condition. That is precisely why, in this article, we'll be discussing some third-party tools that will give us a warning whenever our disk drive has reached critical health. So without any delay, let's begin.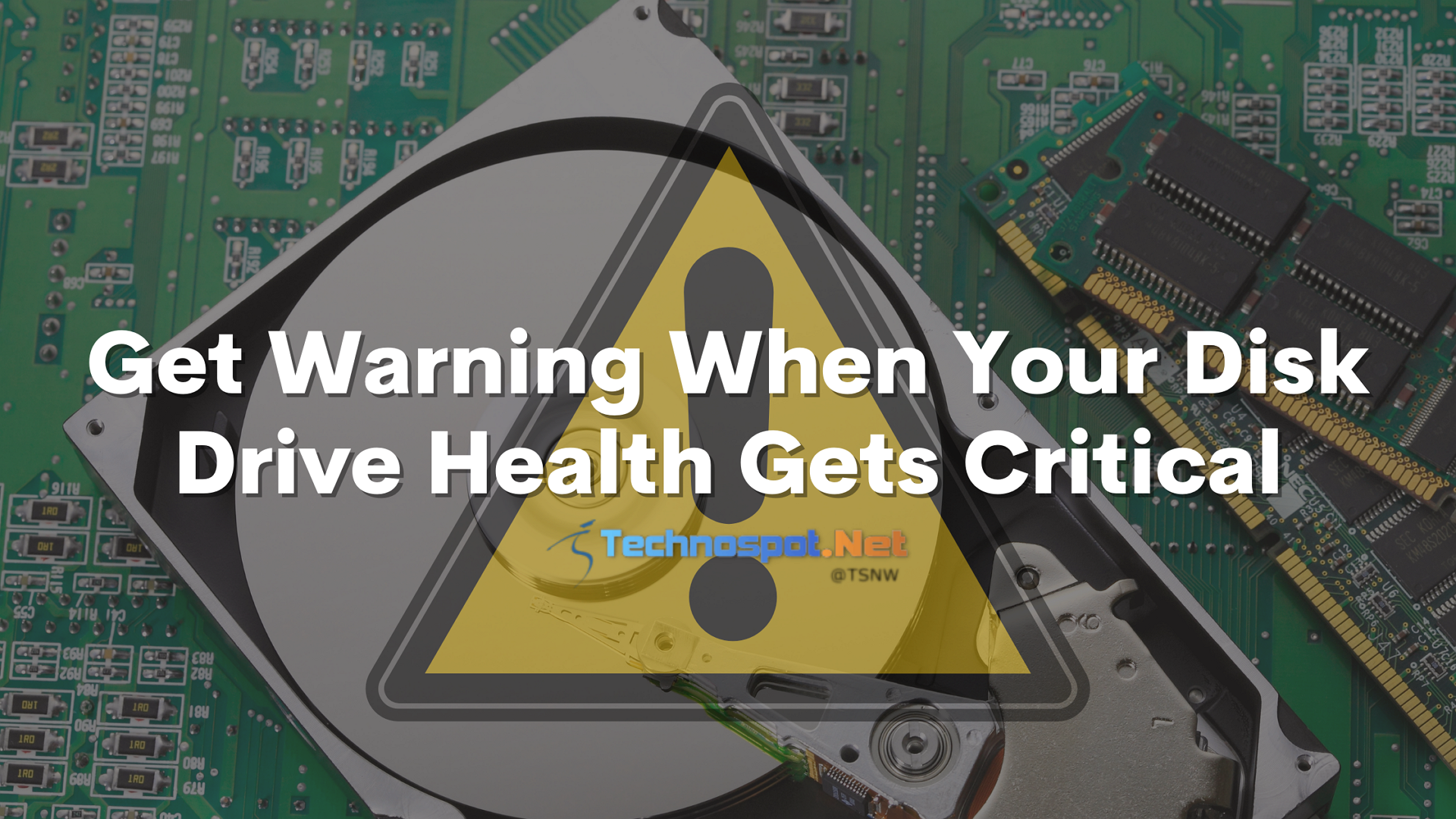 How To Check Disk Drive Health In Windows
Before moving on to the third-party tools that will warn us when our disk drive reaches critical health, we will discuss a resource present in Windows itself that can be used to check on the disk drive's health. Follow the steps listed below to do so:
Press Windows + E to launch My Computer.
Find the disk drive you wish to learn about and right-click on it.
Click on Properties from the menu that appeared.
Next, please navigate to the Tools tab and click on Check Now.
Windows will run a basic scan of the disk drive, fix any problem that it encounters that fall under its fixing capabilities, and provide you with a report at the end of the scan. You can read the report to determine whether your disk drive's health is critical or not.
However, this feature has limited functionality, and it will not be able to elaborate and solve the problems even if they're identified. Without any further ado, let's look at some of the best third-party tools that we can find across the internet for diagnosing our disk drives and warning us of their critical health.
How To Get A Warning When Your Disk Drive Health Gets Critical
This section will present a few handpicked third-party tools that can be used to get warnings whenever our disk drives are about to step into a critical health state. Softwares like this are handy, and notifying us of the poor health of our disk drives helps us take measures as early as possible.
These applications work based on Self-Monitoring, Analysis, and Reporting Technology (S.M.A.R.T) for disk drive reading and can generate accurate results.
HDD Scan
PassMarkDiskCheckup
CrystalDiskInfo
SeaTools For Windows
HDD Health
Let's have a detailed look at the list of software.
1] HDDScan
HDDScan is a great tool to scan storage drives on your computer. It is a lightweight software that is super quick to scan disk drives and produce accurate results. The user interface is pretty friendly, and beginners are not likely to face any trouble using this tool, even if it's their first time. Although using a scan tool doesn't require much knowledge beforehand, we must be aware of the S.M.A.R.T attributes mentioned earlier.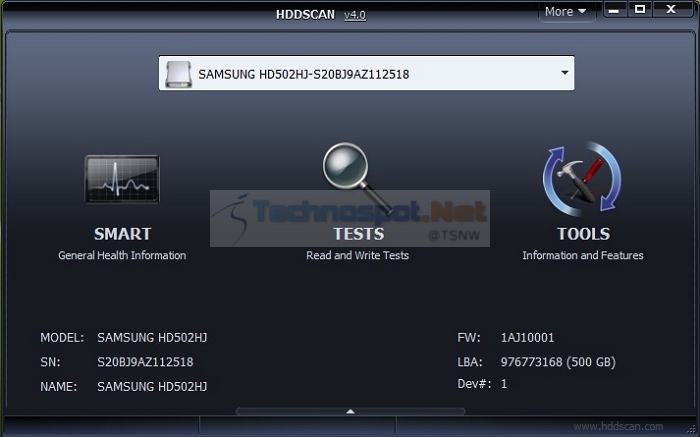 It uses these attributes to scan your entire disk drive while checking for any problems. If this tool comes across any sort of issue whatsoever, you'll be immediately notified, which stays the same for the overall health status of your disk drive. You'll be warned instantly and constantly reminded that your disk drive's health is in a critical condition.
Moreover, HDDScan is free to use.
2] PassMarkDiskcheckup
Yet another globally popular software is used to scan hard disk drives for various possible threats. It is crucial to maintain a healthy disk drive so that the data stored in it isn't exposed to any danger whatsoever.
PassMarkDiskcheckup makes sure that it notifies the users of every detail of the diagnosis that it runs on the disk drive. You can get the info regarding your disk drive's capacity, health status, interface, read/write, and latency from a single scan. Isn't that amazing?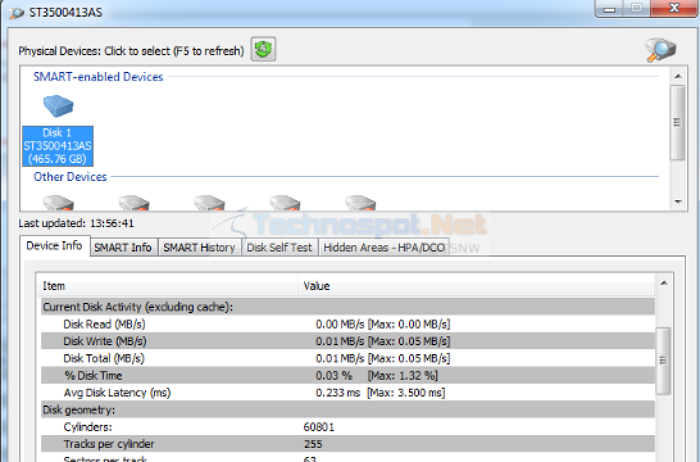 This tool uses several advanced tests that aid in creating a detailed and precise report. These tests allow the software to scan any disk drive as thoroughly as possible. Using PassMarkDiskcheckup will undoubtedly help you get a warning before any damage is done to your disk drive. This tool is entirely free for personal usage.
3] CrystalDiskInfo
As the name suggests, you can use this application to see every piece of information about your storage disk drive after a single scan. What makes CrystalDiskInfo a great utility and reasonably easy to use.
CrystalDiskInfo is a lightweight software that will quickly warn you if your disk drive's health is depleting at an alarming rate. CrystalDiskInfo is known for providing detailed insights into whatever drive it is used on, and that is of great value to any PC user concerned about the well-being of their discs.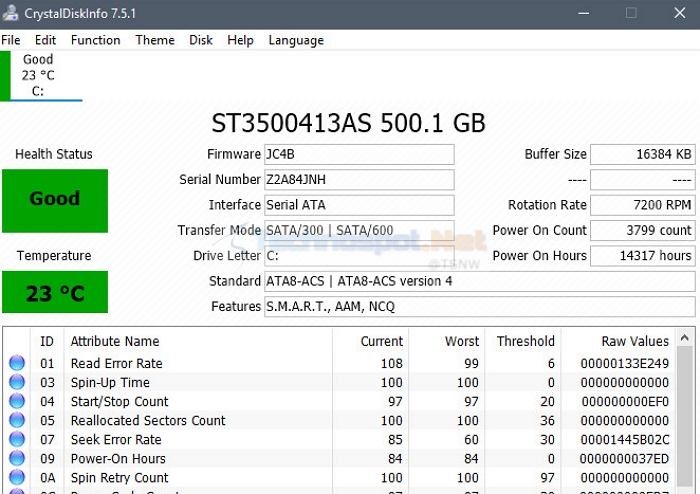 It also hints at the well-being of a drive disk by providing a head-to-head comparison of the values it determines during the scan with the values that determine the low health status of any drive.
This way, users can get a rough idea of how good or bad the health status of their disk drive is. It has one of the best sets of features, and it is entirely free to use as well.
4] Seatools for Windows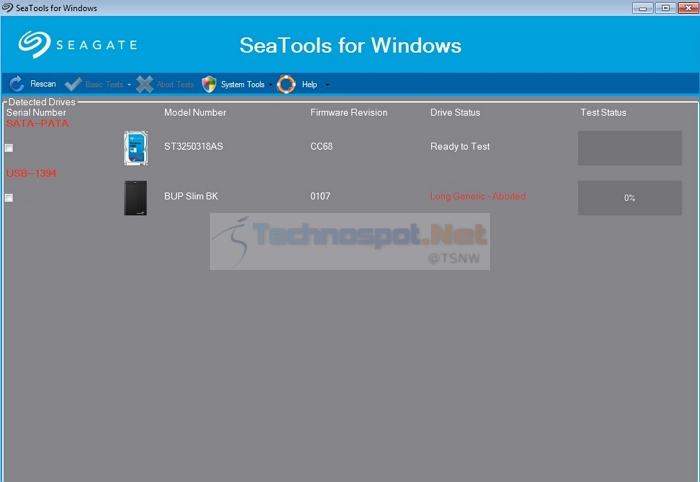 It is one of the most efficient disk scanning tools out there. With a user-friendly interface and super-fast scanning process, Seatools will ensure the well-being of your disk drive over a long time. It is free, and the user experience from people who have used it has been phenomenal.
Available for Linux, Seatoold is an excellent software that can immediately alert you whenever your disk drive is about to reach a critical health condition.
5] HDD Health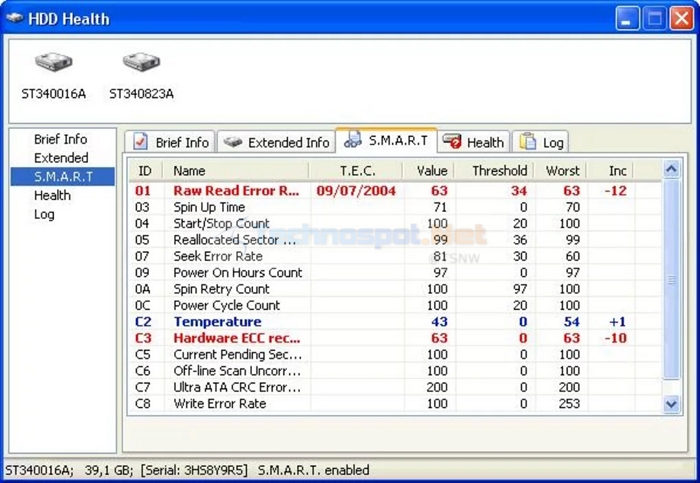 HDD Health is one of the most lightweight tools we have mentioned on this list so far. It comes with a minimalist user interface that hints that this tool emphasizes quick and fast scans that will immediately notify you if something is wrong with your disk drive. HDD Health is an excellent pick for those who wish to merely check their drive's health status without jumping into technical details.
Conclusion
Who doesn't want their computers and laptops to be as good as new for a long time? That is why we must take the best possible care of them from the outside and inside.
A critical disk drive health is something we should fix as soon as possible, and we can do that if we are warned about it at the right time. The softwares mentioned in this article are all freeware, easy to use, and trusted by countless tech geeks worldwide. We hope that this article was of help to you and that your disk drives stay safe and healthy.
How Often Should I Defragment My Drives?
Defragmenting them once or twice a month is fine enough for most hard drives. However, for heavier usage, you may need to defragment your drives more often, as the more you use a drive, the more fragmented and deranged it gets.
If you are using an SSD, defragmenting won't be a good idea as SSDs have a finite life, and you'll be wasting a few cycles while doing so as defragmenting SSDs is generally not required. It is best to use the SSD software, creating provisional space to increase disk life.
The Read and Write Speed on My Hard Drive Is Extremely Slow. What Should I Do?
To improve your hard drive's read and write speed, you can first try defragmenting it. If the issue persists, try using a drive repair tool. But, first and foremost, take a complete backup of your hard drive as this can indicate a possible drive failure in the future.