Data is critical specially when its on computer or any digital device and devices do get out-of-order which in turn can make your data inaccessible completely. So there are two ways to take care of it. First take regular backups and secondly check your device's health.
Taking computer as one example, hard drives are the place where our entire data is stored and we should manage it and take care of it so that our data stays in good mode. But how do you know how good is your hard drive ? Are there any errors in it ?. Today I will talk about one tool which is free and will help you in this regard.
Acronis Drive Monitor is a basically a disk health checker which uses S.M.A.R.T. (Self-Monitoring, Analysis, and Reporting Technology) factors to calculate your hard disk health. For example my hard disk reported Spin Retry Count which means that there is some problem with motor and bearing of my hard drive but since total health is 98% I should always take backup.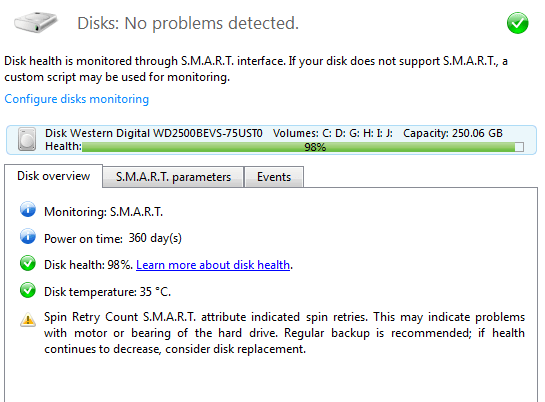 This tools also
Lets you configure to send an email for when the health of the hard disk is too low.
Monitor Hard disk temperature and pops up a warning
Gives detailed value of all SMART factors.
Event Log critical warnings.