If you want to find which of the Flickr pictures were popular say by comments or views but you forgot it as its been a year-long, welcome to Photojojo's Time Capsule. This service allows you to get an email of the most interesting pictures on your Flickr account even if it's a year old.
How it select images ?
The idea behind this service is to remind you of the awesome, memorable pictures you took years or months back and was much appreciated by your friends, family with loads of emotional comments.  So "Interesting" is determined by the number of comments or views or by the number of time the particular photo was put into someone's favorites.
How to set it up ?
All you need is to allow this service to keep track of your account and give an email address where it can send you those interesting and popular pictures. They have options for 6 and 3 months too if you have a very new Flickr account.
How does the newsletter looks like ?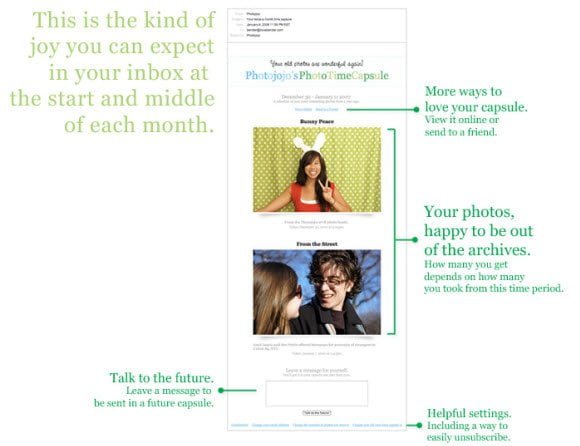 There is also an option to add a message to your newsletter if you want to it come back to you after sometime. Just leave a message to an image which you want to get reminded about.
This is the 5th online tool we have on our Flickr tools collection. Check out Photojojo's Time Capsule