Update : In case your notifications are not displayed, add mail.google.com to Popup Exception and restart your browser.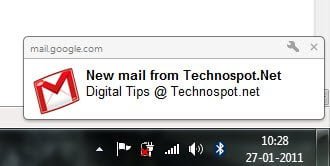 Gmail surprised me today with new feature displayed as notification on top, Click here to enable desktop  notifications for Gmail. I went and enable it and I had to give it permission for that.



You can find the settings for Desktop Notification for Gmail Under settings which you can configure for Chat, New Email, only important emails or turn it off completely.
Done that the notification will now work using a pop up for which the permission  should be given exclusively but that doesn't work yet. There was no entry in the Chrome's Popups, the help page is not up yet and even after adding mail.google.com to allow pop ups it still doesn't show notification for any of the new email. I tried sending couple of emails from different accounts but nada, did not get the pop ups. Once you add it as exception, restart the chrome browser and it will work.

Apart from this, Desktop Notification is only available for Chrome and not any other browsers yet. When you open the settings page Firefox it displays the message below :