Web Clipboard is a Chrome extension which brings plain text and html clipboard support which in simple words mean that you can copy any number of items and then paste the one which you want.  This is officially developed by Google Team. To use this, select the text you want to copy and then click on the Web Clipboard icon on top right. This will copy your text and it will be listed at the same place. See how it looks in the snapshot below :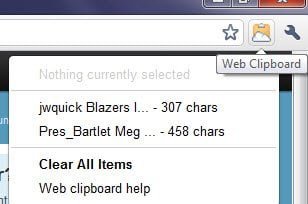 The only disadvantage I see is there no option to paste it as simple text if the text is HTML which is required many a times.  Looking from advance user point of view, there are lot of features missing like deleting particular items, preview etc but then this is a simple clipboard support not a complete manager.
Download Web Clipboard | Looking for Powerful Clipboard Managers ? Try this list.