Google Cloud Print, an extra ordinary stuff like HP ePrint which lets you print to your home computer while you are sitting in a cab is here.  Basic need  for Cloud Print is
Install Chrome 9.
Go to Options > Enable Google Cloud Print
Sign in with your Google Account.
Go to this page and Test a print.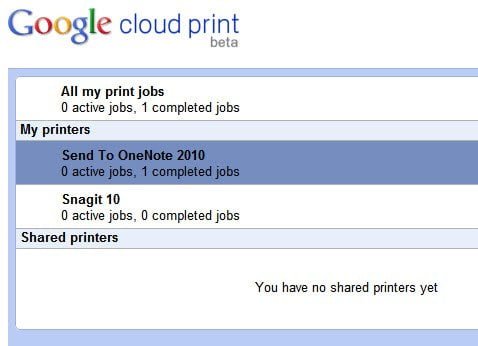 Google Cloud Print vs  Hp ePrint Solution
One thing which I liked most about Google Cloud Print is that it will have all print job in spool in case your printer is offline which is missing in HP ePrint Enabled Printers. Google Cloud Print is way ahead when it comes to Management of printers.
Google Cloud Print will work with any printer you can think of, right from virtual printers to Real printers.
In HP ePrint there is an email id which is give to each printer but there is no such thing in Google Cloud Print. Everything is controlled using your Google Accounts. So there is no way your family members can use the Google cloud printer option.
Hopefully Google Cloud Print will evolve with time and there will be more means of sharing and integration with Applications. Read more about Google Cloud Print