If you make a search which is similar to "Flight from San Francisco to Las Vegas" and see the list of flights right into the search result,  then you should say big thank to Google Flight Search Engine behind it which you can reach  at http://www.google.com/flights/
Though it just works like any other Flight Search tool but what makes a difference here are :
Interactive Map
You change airports which are located around the airport you want to start right on the map.
Get to see the price of the ticket for every airport in the list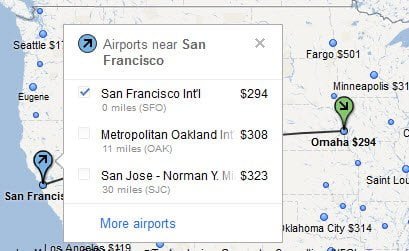 If you zoom in a bit, you can also see the price of ticket without even selecting it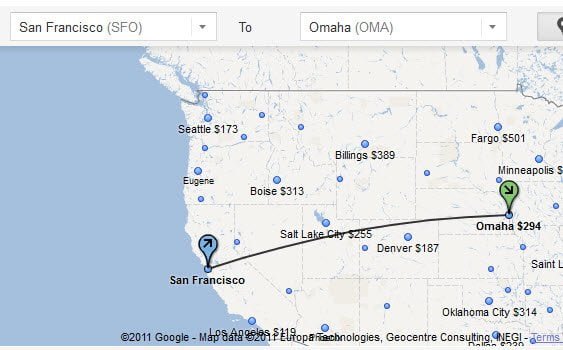 Change Destination by just clicking any airport.
You can choose Multiple Source to Multiple Destination. This gets a bit complex here.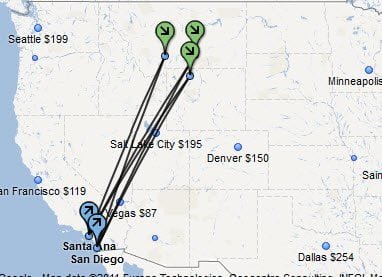 Feedback : Though the tool works great but Map interaction is but buggy. Sometimes choosing a destination on map or even source is not each as the map moves when you move your pointer.
Also it needs to include the ability to drag and drop so one can change source and destination faster.
Smart Calendar :
The Calendar Button displays the flight price in the range of date, Five Days from the day you had selected. What is interesting is it displays then in line graph which gives you idea of flight rates and you mouse hover the graph, you can see the dates highlighted in the calendar. This is reciprocal.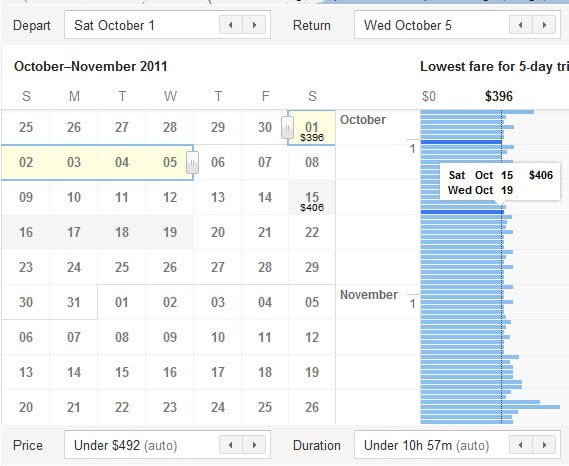 Feedback :
If signed in I would love to see if the day I am trying to book a flight is set busy for me so I don't book my flight on that day or at least get aware of any even or scheduled meeting on that day.
Also it will be great if the Line bar can highlight more low price according to range I have selected i.e. If i have 5 days chosen in calendar, I would love to see more low rate flight marking for consecutive span.
Price Duration Filter :
This is the most interesting tool which you will love to play. Price Duration filter lets filter flights based on these factors and reflects immediately on the map. Meaning you will see some Airports Go from Blue dot to white dot means the flight is not available in those locations.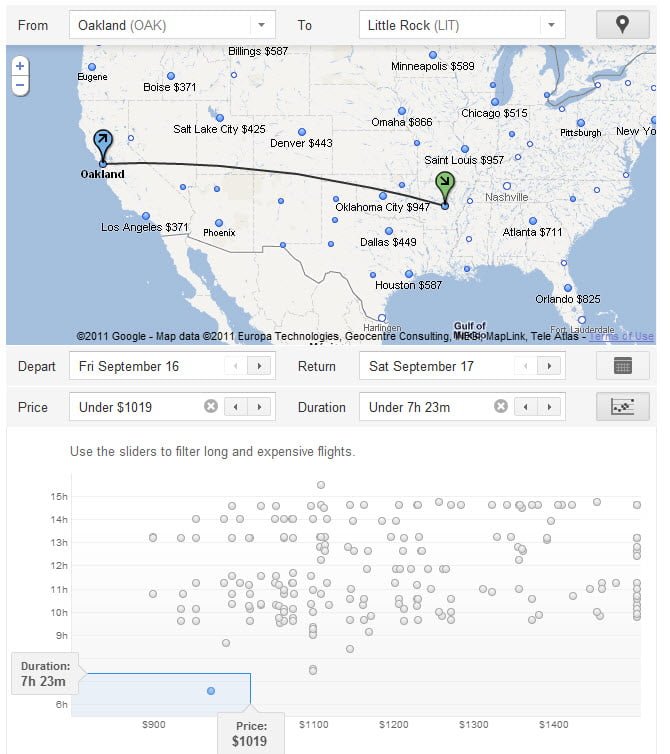 Overall Google Flight Search looks like a great tool but it still needs to evolve to integrate with other Google Products specially Events, Calendar and may be with Google Plus in Future where I can see where people in my circle are going and If I can get along with them or take opportunity of a premium offer.